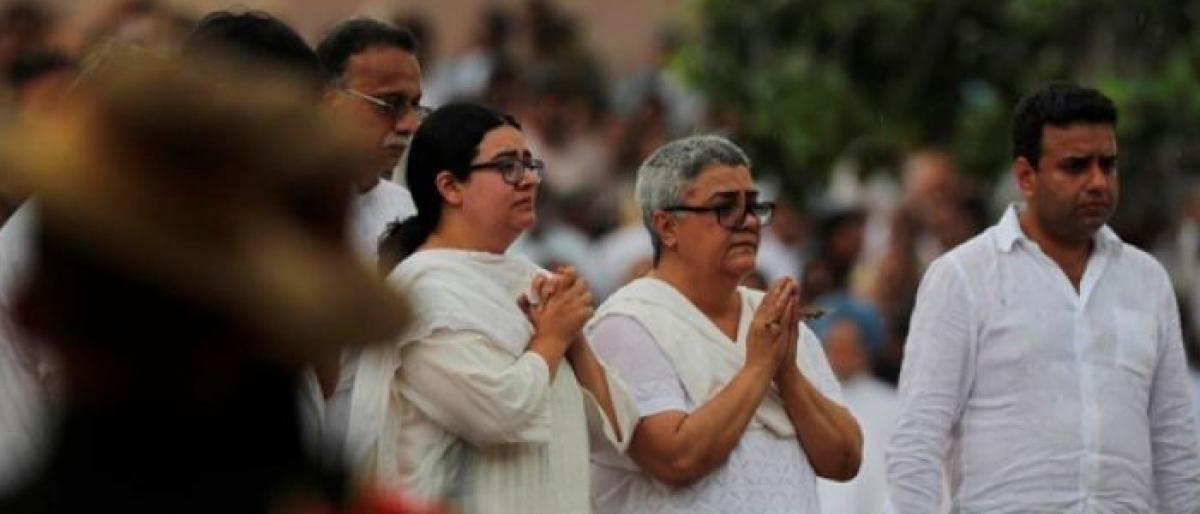 Highlights
Its a custom Not a complicated patriarchal gender conspiracy Traditionally men have performed things which require a colder, stonier heart to do, including butchering, hunting, police torture, killing other human beings in a war etc but there is no strict ban as such, just a convention It is part of chivalry, said a post on social media four years ago
"It's a custom. Not a complicated patriarchal gender conspiracy. Traditionally men have performed things which require a colder, stonier heart to do, including butchering, hunting, police torture, killing other human beings in a war etc but there is no strict ban as such, just a convention. It is part of chivalry", said a post on social media four years ago. This was also the year when Pankaja Munde daughter and political heir of BJP leader Gopinath Munde performed his last rites breaking away from tradition.
As foster daughter Namita Bhattacharya lit the funeral pyre amidst the chanting of Vedic hymns and a 21-gun salute to Atal Bihari Vajpayee, former Prime Minister and one of the country's tallest leaders at Delhi's Shakti Sthal, twitter mourned the loss of the great leader and simultaneously applauded Namita's gesture as a strong message for "gender equality'. Considered too frail to even go to the burial ground, Hindu women have been kept away from these rituals, with those who have no sons depending on other male relatives or priests to pitch in and perform the last rites. Breaking away from this tradition then, is letting go of another taboo concerning women.
"Seen without bias, it is an act of love, devotion and duty that daughters feel as much as sons "says Sandhya, a software employee who feels that this taboo is difficult to break for many middle class women, who are made to feel inferior to men and helpless when they are told that only a male heir can liberate the dead person's soul from languishing in hell (Punnama Naraka)'. Acceptance of daring deviation is easier for those from the upper crust of society and in positions of power she avers, citing the case of her domestic help who was ostracized from her community for performing the last rites of her mother.
"Anthyeshti Samskara' the last of the sixteen samskaras prescribed for Hindus is considered important as the journey of the soul has as much importance as that of life with the rituals marking this phase having great significance. Former minister and Congress leader Renuka Chowdary was one of the prominent women from the empowered lot of urbanites in the Telugu states, breaking this tradition when she performed the funeral rites for her father many years ago.
While there are instances of lesser known women doing the same, they lack the attendant publicity that celebrities garner. Khap Panchayats have as always been notorious in clamping down on many women in the rural pockets of N. India where they have performed these rituals in the absence of male members.
Opponents harp on the fact that it is against custom and can result in unfavourable consequences for the family. With women challenging many customs that are discriminatory from temple entry to rituals that intrinsically patriarchal, social media witnessed a campaign by women with the hashtag #mydaughterwill, urging parents to let their daughters be part of the final send off early last year.
The televised image of a daughter lighting the funeral pyre of a much loved leader who introduced many reforms that changed the face of the nation could ultimately pave the way for a reform of great magnitude making gender equality a reality.