Beauty contest for mom to be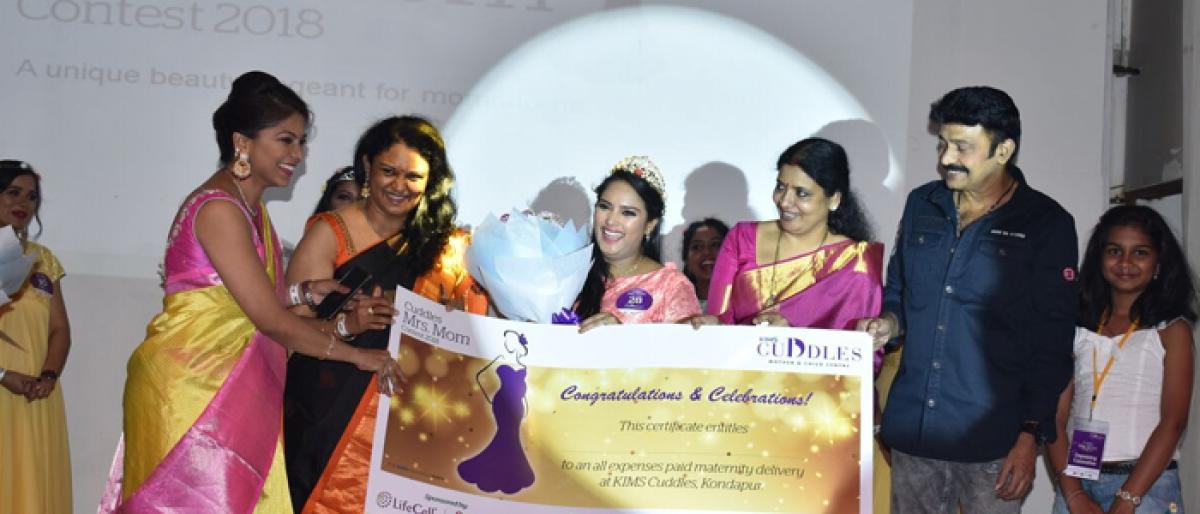 Highlights
It was a momentous night for the future mothers who descended on the stage drenched in bright lights The women were stellar as they showcased their skills, style and charm much to the applause of the audience and organisers Breaking myths and shaking the floor with a ramp walk and a fashion show, the motherstobe made the annual fare of KIMS Cuddles Mrs Mom contest a true feast and a thorough
It was a momentous night for the future mothers who descended on the stage drenched in bright lights. The women were stellar as they showcased their skills, style and charm much to the applause of the audience and organisers. Breaking myths and shaking the floor with a ramp walk and a fashion show, the mothers-to-be made the annual fare of KIMS Cuddles Mrs. Mom contest a true feast and a thorough success which was organised by Dr K Shilpi Reddy, consultant obstetrics and gynecologist, KIMS Cuddles. The objective of this event was that best and healthy way to have stress relief is through prenatal activities.
The yearly rendezvous, KIMS Cuddles Mrs. Mom was held by KIMS Cuddles, Kondapur at Snort, recently. Soon-to-be-mothers participated in the event where the panel of judges consisted of experts from healthcare, fashion and the business world. Speaking on the occasion, chief guest Dr Rajasekhar Varadharajan and Jeevitha Rajasekhar expressed happiness at the immense response and popularity the event has won. "For more than a week, a colourful blend of buildup activities had engaged the mothers-to-be in the right spirit and heights of excitement.
These included garbhasankar yoga, woga (Water Yoga), lamaze childbirth education, dental check, lifestyle, nutrition and personality development sessions, mothers' makeover session and lot more." "KIMS Cuddles is proud to pioneer and anchor such an event in the city, and is a pride for us," she said adding that the contest was quite innovative with a broader objective of steering the minds of the mothers-to-be in right direction, inspiring and motivating them to relish every moment while being participative, competitive and well-engaged," she said.