Interlinking of Rivers: Benefits and Challenges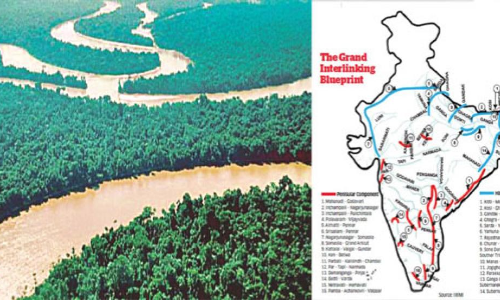 Highlights
Is the proposed interlinking of rivers a bold and ambitious engineering project that will resolve the country's water woes or is it an ill-conceived plan built on obsolete ideas that will devastate the country's riverine ecosystems? Expert opinion on the matter remains as sharply divided as ever.
Is the proposed interlinking of rivers a bold and ambitious engineering project that will resolve the country's water woes or is it an ill-conceived plan built on obsolete ideas that will devastate the country's riverine ecosystems? Expert opinion on the matter remains as sharply divided as ever.
Background
The idea of interlinking of rivers in the Indian subcontinent is atleast 150 years old. During the British Raj in India, Sir Arthur Cotton, a British general and irrigation engineer, first suggested linking the Ganga and the Cauvery for navigational purposes.
Dr. K.L. Rao's Proposal (1972), which had 2640 km. long Ganga - Cauvery link as its main component involved large scale pumping over a head of 550 m. The power requirement for lifting the water was huge, estimated to be 5000 to 7000 MW, for irrigating an additional area of 4 million hectares only. The scheme was also not having any flood control benefit.
Dr. Rao had estimated this proposal to cost about Rs. 12,500 crores, which at 2002 price level comes to about Rs. 1,50,000 crores. The Central Water Commission, which examined the proposal, found it to be grossly under estimated and economically prohibitive.
Capt. Dastur Proposal (1977) envisaged construction of two canals – the first 4200 km. Himalayan Canal at the foot of Himalayan slopes running from the Ravi in the West to the Brahmaputra and beyond in the east; and the second 9300 km Garland Canal covering the central and southern parts,
with both the canals integrated with numerous lakes and interconnected with pipelines at two points, Delhi and Patna. The cost estimated by Capt. Dastur was Rs. 24,095 crores. The cost estimated by the experts in 1979 was about Rs. 12 million crores. The realistic cost at 2002 price level comes to about Rs. 70 million crores.
River-linking project
The sheer scale and scope of the project: 30 river linkages and more than 3,000 storage structures spread across a 15,000km canal network that will transfer 174 trillion litres of water every year, and will cost a total of Rs5.6 trillion.
This puts the river-linking project on a par with some of the most daring feats of engineering attempted in the history of mankind.
It is a reimagining of the entire aquatic ecosystem of a country as large and diverse as India.
The Indian Rivers Inter-link aims to link India's rivers by a network of reservoirs and canals and so reduce persistent floods in some parts and water shortages in other parts of India.
The Inter-link project has been split into three parts: a northern Himalayan rivers inter-link component, a southern Peninsular component and starting 2005, an intrastate rivers linking component.
The project is being managed by India's National Water Development Agency (NWDA), under its Ministry of Water Resources.
The idea to link rivers got a shot in the arm with the establishment of the National Water Development Agency in 1982 by then prime minister Indira Gandhi.
The first National Democratic Alliance government (1999-2004) was keen to implement the interlinking of rivers (ILR) project, and the Supreme Court, following a public interest litigation, in 2003, asked for it to be implemented by 2016
I 2002, Supreme Court asking to expedite the project.
Component of National River Planning project
It has two components
a) Himalayan Component
b) Peninsular Component
Basic idea
Connect the Himalayan and peninsular rivers via a network of canals so that excess water from one channel can be diverted to another which has inadequate flow.
Himalayan Component
The Himalayan component envisages construction of storage reservoirs on the main Ganga and Brahmaputra Rivers and their principal tributaries in India and Nepal so as to conserve monsoon flows for irrigation and hydro-power generation, besides flood control.
Links will transfer surplus flows of the Kosi, Gandak and Ghagra to the west.
In addition, the Brahmaputra-Ganga Link will augment dry-weather flow of the Ganga.
Surplus flows that will become available on account of inter-linking of the Ganga and the Yamuna are proposed to be transferred to the drought prone areas of Haryana, Rajasthan and Gujarat.
With this proposal about 14 Mha-m of additional water would be available from these river systems for irrigating an estimated 22 M-ha in the Ganga-Brahmaputra basin apart from Haryana, Punjab, Rajasthan and Gujarat.
It would also provide 1120 cumec to Calcutta Port and would provide navigation facility across the country.
It will also provide flood moderation in the Ganga-Brahmaputra system.
The Himalayan component will benefit not only India but also Nepal and Bangladesh.
Fourteen links are proposed in the Himalayan component.
Proponents
It will irrigate about 87 million acres of farmland, control floods, and generate 34 GW of hydroelectric power.
These are tantalizing prospects: India's rain-fed farms are forever hostage to the vagaries of nature, so much so that even one bad monsoon has a direct and debilitating economic impact.
At the same time, simultaneous floods and droughts in different parts of the country continue to wreak havoc, destroying the lives and livelihoods of millions.
India also desperately needs clean energy to fuel its development processes, and if river water can be leveraged and redirected to serve these purposes, that's an option worth exploring.
Peninsular Rivers Development Component
The main component of Peninsular Rivers Development is the "Southern Water Grid" which is envisaged to link Mahanadi, Godavari, Krishna, Pennar, and Cauvery rivers. The peninsular scheme was envisaged to provide additional irrigation benefits of over 13 million ha. The Peninsular component comprises the following four parts:
Diversion of surplus flows of Mahanadi and Godavari to Krishna, Pennar, Cauvery and Vaigai.
Diversion of west-flowing rivers of Kerala and Karnataka to the east.
Inter-linking small rivers flowing along the west coast, north of Mumbai and south of Tapi.
Inter-linking the southern tributaries of Yamuna.
The peninsular component of ILR has 13 major water storage/diversion structures situated in four basins. Three non-storage structures, viz., Dowlaiswaram barrage, Prakasam barrage, and Grand Anicut and storage node (Narayanpur) cater to only irrigation, while six storage nodes, viz., Inchampalli, Almatti, Nagarjunasagar, Pulichintala, Krishnarajasagar, and Mettur will serve both irrigation and power needs.
One storage node, viz., Somasila is operated to meet domestic and irrigation needs and two storage nodes, viz., Polavaram and Srisailam are multi-purpose projects serving domestic, irrigation, and hydropower demands.
Pros and Cons of the Project
It will lead to massive displacement of people
Since the Ganga basin's topography is flat, building dams would not substantially add to river flows and these dams could threaten the forests of the Himalayas and impact the functioning of the monsoon system.
The transfer of such enormous amounts of water will inundate forests and land for reservoirs, and the weight of billions of litres of water may even have seismic implications in the Himalayan region.
Challenges
Inter-linking the great rivers of India is a dream that has been around for a while. The idea was first proposed in 1970's and revived again in 2003 but nothing concrete has been done till date.
Advantages of this project
Problems related to flood control, irrigation, limiting droughts and boosting farm output—can be sorted out by linking the country's rivers.
Potential benefits to transport infrastructure through navigation, as well as to broadening income sources in rural areas through fish farming.
But, what about the feasibility of the Project ?
A north to south inter-linking of rivers is physically not possible. The barrier imposed by the Vindhya mountains makes it expensive to lift water along the north and south axis. It is also unnecessary.
Henceforth, the river-water linking plan – one for peninsular India and the other for linking rivers from the east to the north is an ideal solution.
Other issues
River inter-linking is an expensive business from building the link canals to the monitoring and maintenance infrastructure. Implementation of the project not only needs a huge financial capitalbut also political support, both are scarce commodities as of now.
Another important issue is building consensus among states and Land acquisition.
Once the project is implemented it would lead to large scale displacement of people and animals. Hence appropriate rehabilitation measures should be taken by the Government.
A careful scientific assessment of the project and its impact on the environment, is necessary in case of a project of this magnitude especially with regard to Biodiversity
Critics
The project is built on bad science and an outdated understanding of water systems and water management.
Specifically, the concept of surplus and deficit river basins—which is at the core of the river-linking project—is contested.
A new study by researchers at the Indian Institutes of Technology in Mumbai and Chennai, analyzing weather data over 103 years (from 1901 to 2004), has found that rainfall has decreased over the years by more than 10% even in river basins that once had a surplus, such as those of the Mahanadi and the Godavari.
The project seems to view the river as a uni-dimensional water pipeline when it is, in fact, an entire ecosystem—and any changes to its natural course will have an impact on all the flora and fauna, the wetlands and the floodplains that are intricately linked to the river system.
The long-term environmental impact of such a project is a major concern.
For example, one of the reasons why the Ken-Betwa link, which is now receiving priority attention, has been stuck for several years is because it requires environmental clearance for diverting 5,500 hectares from the Panna National Park, a tiger reserve.
Less than positive experience other countries have had with such projects—be it the Soviet regime's decision to divert the Amu Darya and the Syr Darya, which fed the Aral Sea, to irrigate the desert, or the Australian government's experiments in its Murray Darling basin.
Political challenges as well. Water transfer and water sharing are sensitive subjects that have already spawned century-long disputes.
Moreover, water is a state subject in India, and even though the Centre is empowered to bring an inter-state river under its control to serve the national interest, it has effectively never done so owing to enormous resistance from the states.
Way ahead
Given the concerns and the massive investment required, perhaps the government would do well to consider other interventions, both on the supply side and the demand side, such as conservation of water resources and more efficient irrigation and agricultural practices, etc., to deal with India's looming water crisis.
Expected Questions
Given the concerns and the massive investment required for river-linking project, the government should consider other interventions like conservation of water resources, more efficient irrigation and agricultural practices, etc., to deal with India's looming water crisis. Analyze
What can be the practical solutions to the above mentioned issues, regarding interlinking of rivers? (Or) How effectively this project can be implemented?
Impact of Interlinking of rivers on all the stakeholders involved from the Central Government, State Governments, common man to the environment?
What is your take on this project? Yes/No. Justify.
Syllabus
General Studies 2
Governent policies and interventions for development in various sectors and issues arising out of their design and implementation.
General Studies 3
Conservation, Environmental pollution and degradation, environmental impact assessment.
By Gudipati Rajendera Kumar