Model United Nations for India meet, a roaring success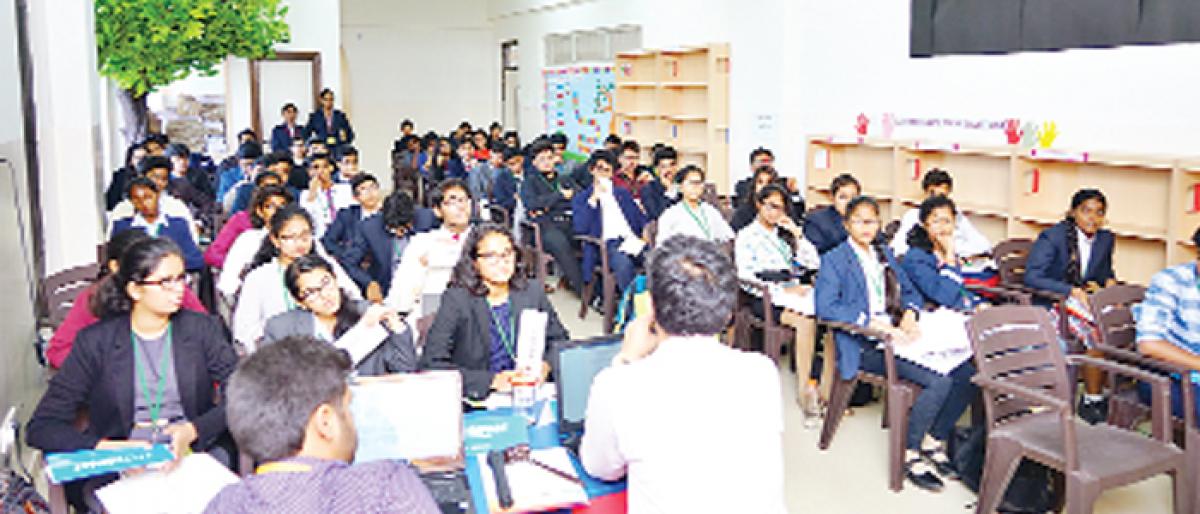 Highlights
Furthering its mission to develop GenZ into a Generation of problem solvers, Worldview Education, the leading personcentred experiential learning platform, recently hosted the Model United Nations for India conference at Global Edge School in Hyderabad A special preconference training programme for internal and external delegates was also arranged MUN for India in Hyderabad saw the active pa
​Hyderabad: Furthering its mission to develop GenZ into a Generation of problem solvers, Worldview Education, the leading person-centred experiential learning platform, recently hosted the 'Model United Nations for India' conference at Global Edge School in Hyderabad. A special pre-conference training programme for internal and external delegates was also arranged. MUN for India in Hyderabad saw the active participation of 400 students and teachers from 30 schools across Hyderabad.
The conference was flagged off with a welcome address by the Worldview Team, which later declared the conference as 'open'. The opening ceremony was followed by a committee session on delegate training and troubleshooting, allowing the executive board to introduce themselves. The Worldview Team also delivered a speech for the faculty advisors on the topic, "What is Model UN and MFI: An Overview of the Current Ecosystem".
Post-lunch, two more committee sessions took place, introducing the agenda of Worldview's 'MUN for India' initiative and talking about the key issues that need to be addressed. Day 1 of the educational simulation came to an end with another session by the Worldview Team highlighting "The E4J Mandate and Schools as Engines of Positive Change" for building today's students as the leaders of tomorrow.
Day 2 of the MUN for India in Hyderabad, consisted of two committee sessions, guided tour of the committee sessions for all faculty advisors, an open forum discussion, a faculty advisor session on the sustainability of education, and a feedback session conducted by the Worldview Team and the Organizing Committee for Faculty Advisors. The two-day long event winded up with the facilitation of the Executive Board members, and award and certificate distribution for delegates and the organizing committee.
Speaking on the conference, Sampreeth Reddy Samala, Founder and CEO of Worldview said, "Our 'MUN for India' programme aims to bring together more than 7000 students and 500 faculty advisors across 250 schools in India to actively participate in developing a greater understanding about the UN's Seventeen Global Goals for Sustainable Development.'