Rumours doing rounds on IT raids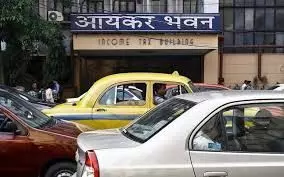 Highlights
Rumours are doing rounds on IT raids on top leaders of Telugu Desam in Andhra Pradesh They had conducted raids on firms of senior TDP leader and member of Amaravati Capital Development Advisory Committee Beeda Madthan Rao on Thursday
Nellore: Rumours are doing rounds on IT raids on top leaders of Telugu Desam in Andhra Pradesh. They had conducted raids on firms of senior TDP leader and member of Amaravati Capital Development Advisory Committee Beeda Madthan Rao on Thursday.
Freshly, rumours were there that IT officials from Hyderabad, Chennai, and Bengaluru have freshly started raids on Narayana institutions owned by Municipal Administration Minister P Narayana on Friday morning.
It was said they had started raids in Guntur, Vijayawada, Nellore and other places along with police personnel. But, sources from the Narayana group denied the raids.