Best Telescopes Guide for Kids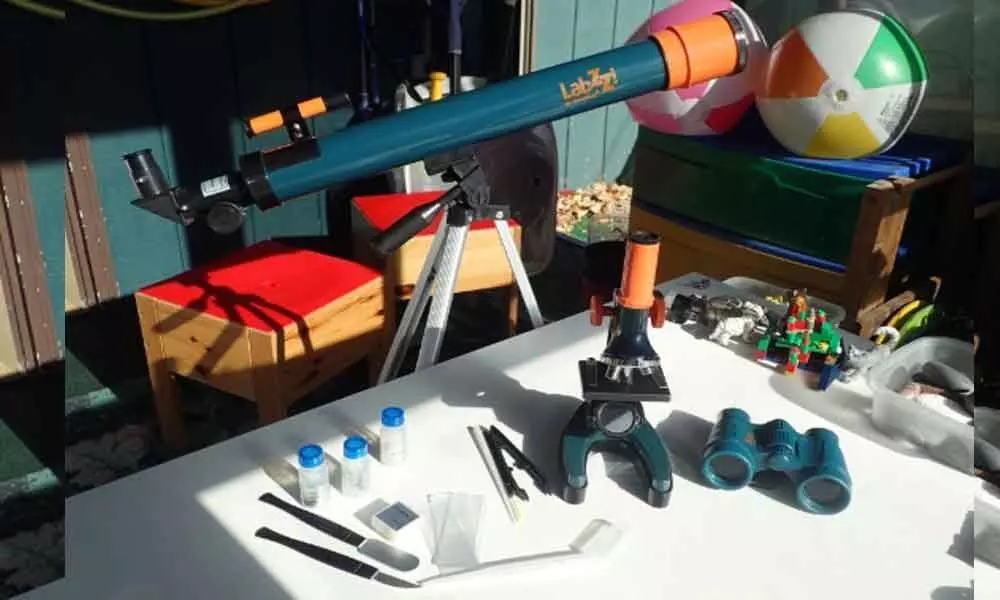 Highlights
For exploring the sky, a child's age may define the right telescope.
Watching the night sky can be inspirational for kids, and a good telescope can initiate interest in science for a lifetime. But telescopes from a toy store or a department store can be of inferior quality.
If you're planning to buy a telescope or any other space gifts, check out our picks for the Best Space Gifts and Best Kids' Space Gifts and Toys for more ideas. See our full Best Telescopes Guide, as well.
For exploring the sky, a child's age may define the right telescope. We've gathered the information for the best telescopes for kids in different age groups:
For Age 6 and Below:
Talking Telescope from Educational Insights GeoSafari Jr.
This is perfect for the youngest stargazers. The Talking Telescope from Educational Insight offers facts and questions about the objects on the slides, which includes animals and planets. Its talking function features the voice of Emily Dawn Calandrelli, host of the "Xploration Outer Space" science TV show.
The 4x-magnification telescope comes with a wide binocular eyepiece, and one needs to be focused on nearby magnifying objects, so it gets more comfortable to use for youngsters. The telescope gets attached magnetically to a broad, sturdy base that has the slide viewer.
This telescope toy offers 24 slides, but unluckily, no additional slides are available if you want to buy. The telescope toy is stable and honestly durable. The toy is recommended for ages 5 to 8 by the maker's website, but we feel three years kids will also enjoy it.
Age 6 and above:
Celestron FirstScope Apollo 11 50th Anniversary
It is effortless to operate and has excellent optical quality at a low price make Celestron's FirstScope an unexpectedly great choice for kids to help bond with the night sky. If you are patient enough then planets, nebulas, star clusters, several galaxies and occasional comets are in the range of this telescope. And the optional dark, the anti-glare filter gives a spectacular view of the moon!

If you want to operate this telescope, insert one of two eyepieces (20mm or 4mm) for wide and close-up views. FirstScope's 3-inch (76mm) aperture is small, but the telescope's fast focal ratio (3.95) gives kids a view of objects in the deep sky on dark (moonless) nights. The scope can pull in almost 120x more light than a child's eye, so he or she can catch the photons of the Andromeda galaxy if the sky is dark enough.
The scope weighs less than 5 lbs; it can be easily taken along on trips to remote stargazing locations. It does not have a tripod, so you need a stable outdoor table. This telescope also comes with a red-dot "StarPointer" that makes it easier to find and focus on targets.
Age 10 and above:
Kids of 10 years age and older are ready for a telescope which is more advanced than a tabletop instrument. With proper instruction on safety and instrument care, older kids should be able to operate these scopes independently. Adults will also enjoy the view.
Levenhuk Skyline Travel 80
Levenhuk's Skyline Travel 80 gives a spotting scope-style refractor at a fraction of the cost of the typical spotting scope. These kinds of instruments are used by birders, target shooters and other outdoor sports-folk; less often, by amateur astronomers. But it's good to have one telescope that assists a lot of different uses. Tuck it with its aluminium tripod, in its nylon transport bag and get it for less than $150.

On the brightest planets, you can see colour, but not a whole lot of surface details or cloud-forms. Under very dark skies the Skyline will pick up the most luminous galaxies and star clusters. But it's neither optically fast enough nor powerful enough in magnification to look very far into deep space
Subscribed Failed...
Subscribed Successfully...