Cops play spoilsport to RTC JAC's protests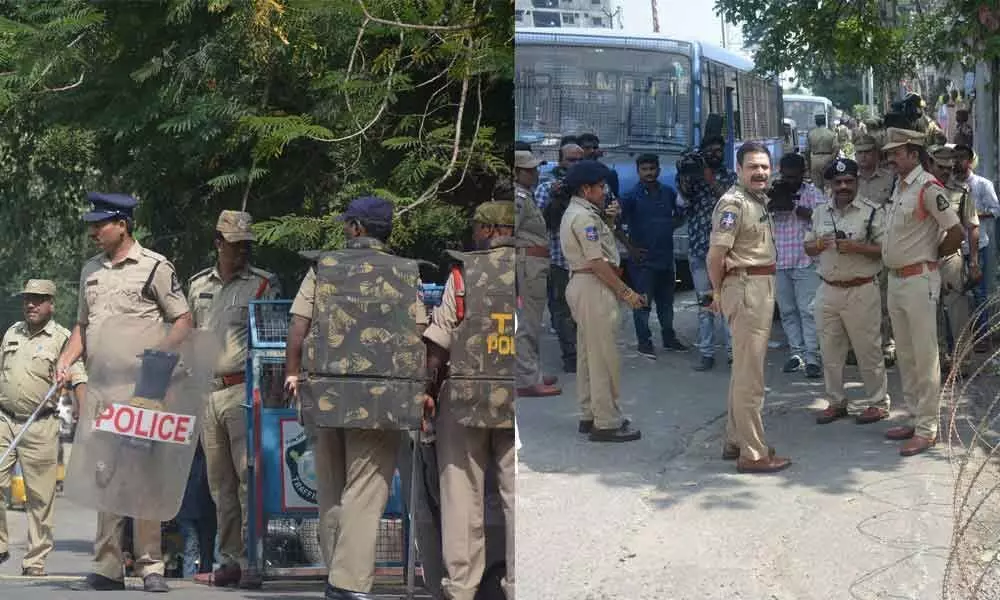 Highlights
JAC leaders Raji Reddy and Ashwathama Reddy sit on a protest at their residences
Hyderabad: TSRTC JAC's plans to up the ante by holding indefinite hunger strike and "bus roko" protests on the 43rd day of their stir were foiled by the police.
After permission was denied to JAC's indefinite hunger strike protest at the latter's union office at RTC X Roads, JAC leaders Raji Reddy and Ashwathama Reddy sat on a protest at their residences.
Police barged into co-convener Raji Reddy's residence in Reddy Colony near Sagar Ring Road and arrested the union leader, some women conductors, according to RTC workers.
Tension prevailed for some time as RTC workers and police were involved in a scuffle while Raji Reddy was being shifted into the vehicle and in the process, some women workers suffered injuries.
According to workers, police personnel reached Raji Reddy's house in two vehicles bearing Maharashtra registration numbers (MH 38 BG 6580 and MH 08 EE 1289).
Meanwhile Ashwathama Reddy continued his strike at his residence in BN Reddy Nagar keeping the iron grill doors locked from inside to bar police from entering and forcefully arrest him and other workers who also were inside. A large number of police personnel were deployed in the area.
While four of the JAC leaders were to sit on the indefinite hunger strike, RTC workers across the State planned to conduct "bus roko" agitation in front of RTC depots across the State.
However, their attempts were foiled by the police. JAC leaders alleged that police personnel dragged them mercilessly even not sparing women staff while arresting them.
Commenting on the crackdown and illegal arrests as alleged by RTC JAC, Ashwathama Reddy stated that their justified demands could be easily solved if CM thinks so.
Even after merger demand has been put aside, there was no response for talks from the government, he rued. Ashwathama Reddy said that nearly 10,000 workers and staff were illegally detained by police on Saturday.
" During the Telangana movement, we conducted 42-day strike unmindful of our salaries and family needs. We never expected that RTC staff will have to go through the same trouble again after the formation of the new state," he lamented.
According to JAC leaders, police communicated to them about denial of permission to hold the hunger strike at union office around 3 am on Saturday.
Police changed their stand after we okayed to shift our protest venue from Indira Park to our union office, they fumed.
Meanwhile, Kerala MP Binoy Vishwam, Congress senior leader V Hanumantha Rao, MRPS president Manda Krishna Madiga among others met the striking JAC leaders and expressed solidarity to their fight.