Energy Minister Jagadish Reddy releases fishlings into Nagarjuna Sagar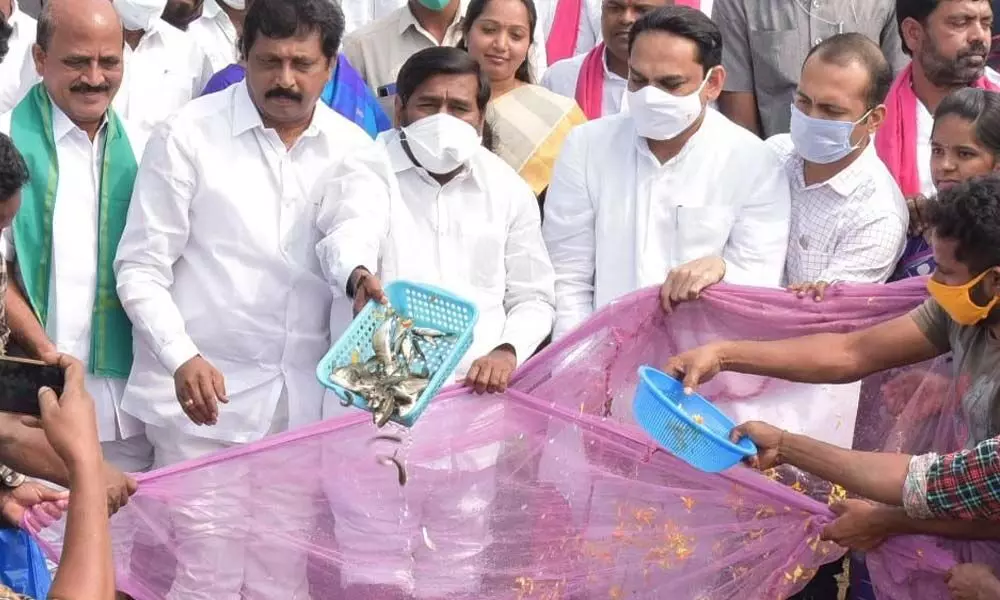 Highlights
Minister for Energy G Jagadish Reddy stated that CM KCR has taken up several welfare and development programmes to transform the State into "Bangaru Telangana''
Nagarjuna Sagar: Minister for Energy G Jagadish Reddy stated that CM KCR has taken up several welfare and development programmes to transform the State into "Bangaru Telangana."
On Sunday, along with MP Badugula Lingaiah Yadav and MLC Tera Chinnapa Reddy, he released fishlings into Nagarjuna Sagar reservoir. Speaking on the occasion, he said, rural economy is being strengthened due to initiatives taken by CM.
The Minister said that the State government is giving equal importance to the welfare sector and infrastructural development. He informed that fishlings had released into village water bodies and reservoirs under integrated fisheries development scheme by fisheries department free of cost.
He further said though the State government faced financial crunch during the lockdown, the government never stopped welfare schemes in the interest of the poor. He also added that all sections of the society were being benefited by one or other welfare schemes being implemented by the State government.
Later, he took part in the review meeting of Nandikonda municipality development and assured that Nandikonda will be developed in all aspects as a historic tourist place.
He explained the root map to develop Nandikonda municipality by shifting water supply from irrigation department to municipality, modernisation of electrification, establishment of modern crematoriums and walking tracks.
Collector Parshanth Jeevan Patil, additional collector Rahul sharma, District Rythu Bandhu committee chairman Islavath Ramchandra Naik, fisheries department official Charitha and others participated in the programme.