Hyderabad: Bar on public gatherings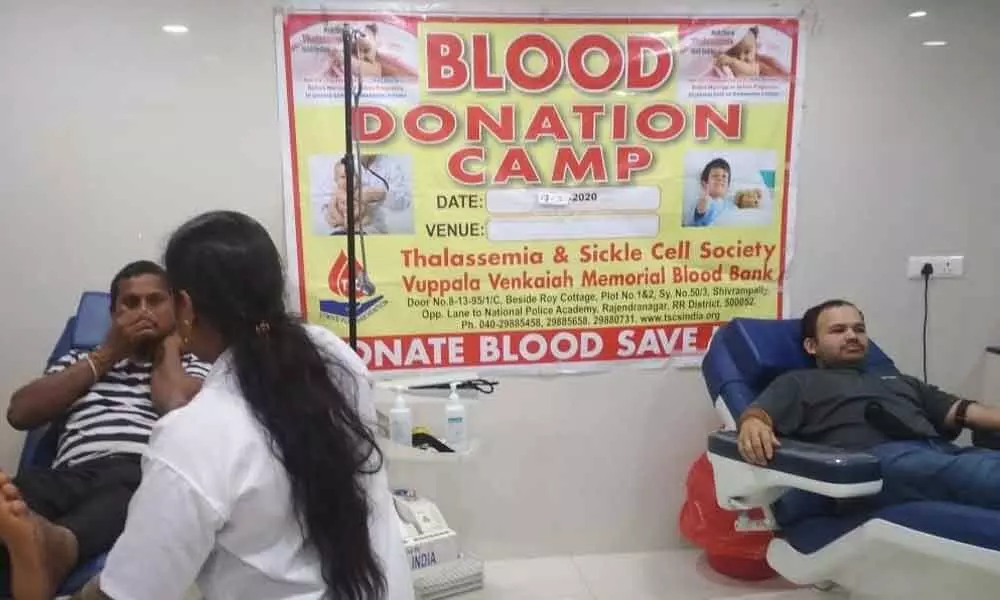 Highlights
Thalassemia patients put in peril by govt diktat
Rajendranagar: The state government's clampdown on public gatherings to arrest the outbreak of Coronavirus is unwittingly hurting a very vulnerable segment of population – Thalassemia patients.
Ban on gatherings is affecting conduct of blood donation camps, thus taking a toll on the health of the innocent and yough Thalassemia patients in the state – their lives solely depend on blood transfusion which is only possible through organising blood donation camps.
"As the ban was imposed two days ago on conducting public programmes and organising social events, though for a few days, it has become impossible to hold blood donation camps in and around the city to collect blood from donors," deplored Ratnavali Kottapalli, the Vice-President of Thalassemia Sickle Cell Society (TSCS), Rajghvendra Colony, Shivrampally.
According to her, Thalassemia is a genetic blood disorder and the affected patients depend on regular blood transfusion for survival. Usually, they need blood transfusion once in 2 to 3 weeks. The Society center has a laboratory equipped with the latest diagnostic and treatment facility to take care of Thalassemia patients and also provides day care and other facilities free of cost.
The centre also provides medicines at subsidised rates and records regular growth of children, besides providing free medical and genetic counselling. There is also periodical medical check-up for patients by a team of specialised doctors. This is the only transfusion center in entire Telangana, catering to the needs of over 2,700 Thalassemia / Sickle Cell Anemia patients in the age group ranging from 3 months to above 20 years.
Thalassemia Sickle Cell Society, Shivrampally, is a torch-bearer in striving for the cause of making the country completely thalassemia free by 2022. Having one of the finest state-of-the-art facilities, the hospital provide 24x7 free service to the Thalassimia patients. It carries most advanced technology such as ECL (Electro Chemi Luminescence) used Cobas-e 411 Analyzer to test the collected blood, she added. This facility is being supervised by Ratnavali Kottapalli, who took up this cause as a challenge several years ago when she herself became a victim of the disease when she lost her son his young age.
"The shutdown created a dangerous situation not because of the fear of outbreak of the coronavirus but because of want of blood for those 'babe in arms' who can't even survive for 15 days without red liquid that mainly comes through organizing donation camps on a regular basis," Dr Suman Jain, CEO of TSCS.
"Due to imposition of restrictions on conducting public programmes and organising social events, these blood donation camps are being affected extensively which need to be held on regular basis irrespective of any ban or shutdown," Dr Suman Jain added.
"In the larger interests of patients, whose survival depends on regular blood transfusion, the government should exempt blood donation camps from the prohibition it has imposed as we have been organizing these camps taking all necessary precautionary with sufficient stock of sanitizers and hygienic stuff," argued Chandrakant Agarwal, the president of TSCS.
Asking voluntary donors to approach the facility directly at Shivrampally for blood donation and reaching out to patients in these hard times, Chandrakant Agarwal said, "the facility is well monitored and capable to provide all necessary safety measures or they can be reached at landline Nos. 040-2988 5658 and 040-2988 0731."