Hyderabad: Biryani flavour beckons again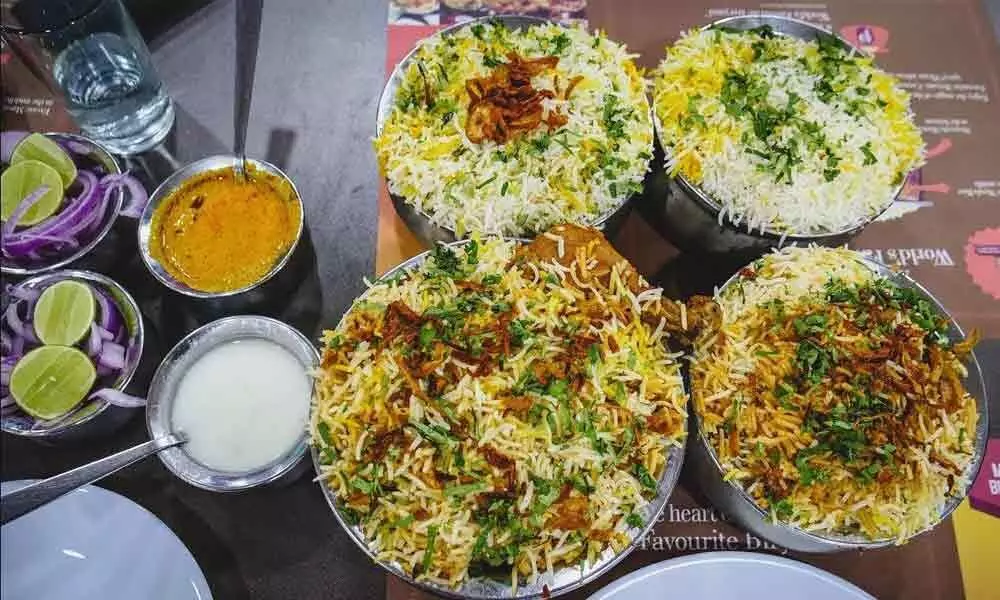 Highlights
For Hyderabadis normalcy begins with biryani
Hyderabad: For Hyderabadis, no biryani means no normalcy. As the restaurants opened its doors, there was a spike in orders for the crown dish of the Hyderabad.
The spicy dum biryani is what entire Hyderabad was craving for all these days during lockdown.
"Love for biryani brought us out from homes in this terrible pandemic. Though we make biryani at our homes but having a yummy 'dum biryani' at a restaurant is altogether a different feeling.
There is magic in the Hyderabad restaurants serving biryanis in a clean and hygiene ambience. Having biryani at these eateries make us feel we are back to normal," said Kalyan Chakravathi, a customer having biryani at Paradise along with his family on Tuesday.
Lot of Hyderabadis are posting their selfies with biryani on social sites as they celebrate the return to normalcy. Few small screen celebrities like Thanush, Parth Samthaan are also trolling the delicious biryani.
On other hand, restaurants are back with the counters ringing with an increase in biryani orders.
Ranga Raju, managing director of a restaurant at SR Nagar, said, "The orders for unlimited biryani (eating to full) by the customers was higher than orders for dum biryani hundi or special hundi biryani.
We are observing a 50 per cent pickup in sales and expect a growth in the coming weekends with around 70 per cent takeaways and 30 per cent dine in customers."
The restaurants across the city have taken up all safety measures like sanitising hotel furniture at regular intervals and following social distance norms for the safety of customers.
"For the past two months people were away from biryani so the cravings for the favorite dish seems to be high. we are serving around 150 biryanis each day through takeaways, approximately same as the figures were before lockdown," said Sarvesh, Managing Director, Platform 65, Kukatpally.
Delivery executives echo a similar experience, they say out of 20 deliveries each day, around 14 are of Hyderabadi dum biryani.
The 'dum biryani' culinary art which originated in the kitchens' of Nawabs of Hyderabad, was adapted by every household because of the cravings the biryani aroma generated among the citizens.
It is a flavoured calorie-rich diet made by mixing rice with spices and meat (chicken, beef, goat, pork, lamb, prawn, or fish), vegetables or eggs. A thick gravy is added to enhance its taste and appeal.
The word 'Biryani' is derived from the Persian word Birian, which means 'fried before cooking' and Birinj, the Persian word for rice. ... Many historians believe that biryani originated from Persia and was brought to India by the Mughals.
Biryani was further developed in the Mughal royal kitchens, says a News18 report. These are eight special types of biryani: Lucknowi, or Awadhi biryani; Kolkata biryani; Memoni biryani; Hyderabadi biryani; Malabar biryani; Thalassery biryani; Ambur biryani; and Dindigul biryani.
Till the people crave for tasty food, Hyderabadi biryani will linger on the top of the list.