Hyderabad: Hobnobbing with MIM will cost TRS dear, warns Kishan Reddy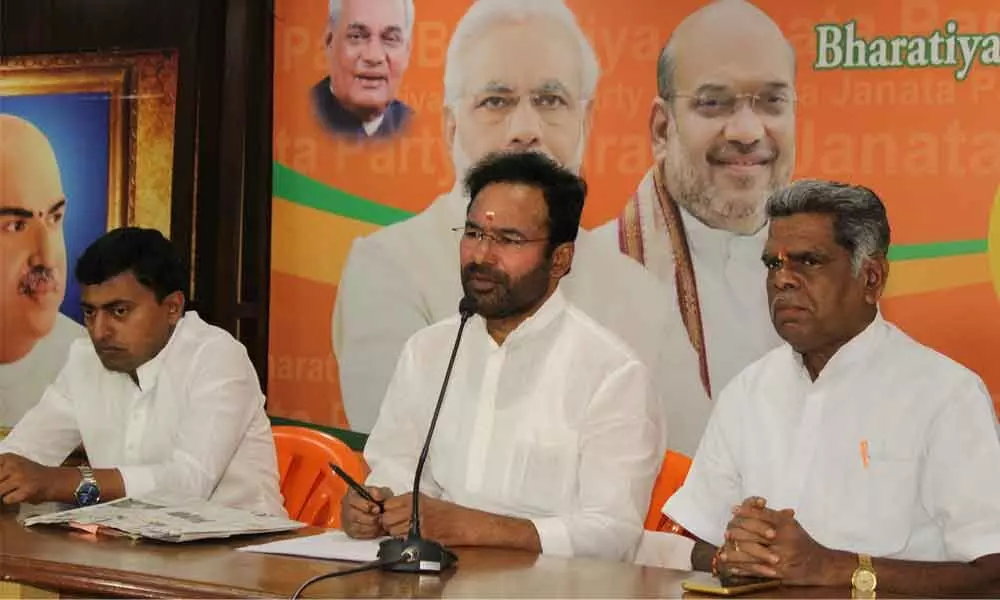 Highlights
Centre to act tough against those instigating violence in Delhi, says Union Minister of State for Home Affairs
Hyderabad: Union Minister of State for Home Affairs G Kishan Reddy said TRS chief and Chief Minister K Chandrashekar Rao and his party will have to pay a heavy price for being hand-in-glove with MIM.
Kishan Reddy said the AIMIM chief Asaduddin Owaisi, despite being a Member of Parliament has been talking indiscriminately by taking advantage of support given to him and his party by the TRS-led State government.
One MIM leader recently made provocative statements which his brother and leader of Opposition in the State Assembly had earlier made similar statements. "The TRS has been living with such people and it will have to pay a heavy price for this," he warned.
He said that time and again the Centre clarified inside and outside of Parliament that there is not a single word in the CAA which is detrimental to any of the Indian citizen.
However, dismissing the same some political parties and institutions have been mixing CAA with non-existing issues and spreading falsehoods to provoke and mislead people to create religious discord.
"It is for the first time that the nation is witnessing political parties resorting to cheap politics alleging that people in en masse would be sent to Pakistan or Bangladesh."
The CAA was enacted to give citizenship to the religiously persecuted minorities from three neighbouring countries as a humanitarian gesture to free them from living in horrible conditions for decades in these country." he said.
Further, some political parties have been propagating that they are opposed to CAA and will pass a resolution in the State Assembly. "I challenge them to show a single word in the Act which is detrimental to any Indian citizen. I also appeal to the minorities in the country not to get carried away by false propaganda," the Union Minister said.
Addressing the media here on Tuesday, the Minister while appealing to all political parties to observe restraint and not to use provocative language to instigate people leading to violence as part of their anti-CAA stand and protests.
Calling the violent incidents in Delhi were planed, the Minister said that the Centre has been observing restraint and respecting the right to protest.
However, if anyone takes it as a weakness and resort to violence, burning private properties, cause the death of people "should know that the Centre is determined to act tough against anyone resorting to violence."