Hyderabad: Non-Covid hospital doctors advised to wear PPEs to stave off infection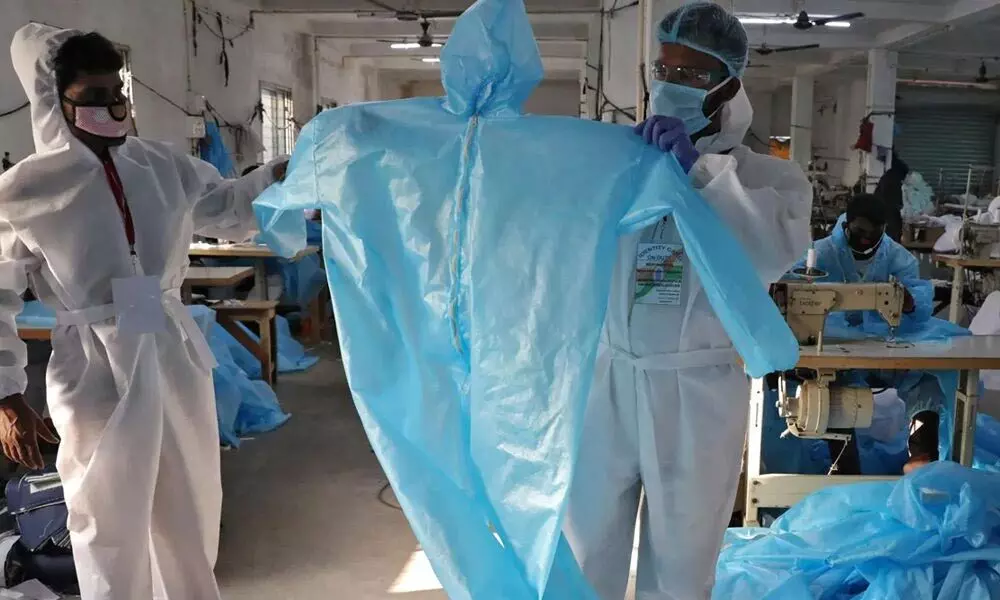 Highlights
At present PPEs are being worn in emergency and isolation wards only
Junior doctors have expressed infection concerns as patient footfall in OGH and maternity hospitals are increasing slowly after lockdown relaxations
They are now exposed to symptomatic and asymptomatic people visiting hospitals for various issues
Junior doctors have expressed infection concerns as patient footfall in OGH and maternity hospitals are increasing slowly after lockdown relaxations
Hyderabad: With Covid-19 infections among junior doctors of Osmania Medical College surfacing daily for the last few days, the State Health department has decided to up the safety measures in all State-run non-Covid hospitals.

Junior doctors and senior doctors in government teaching hospitals are being told to prefer wearing PPEs (Personal Protective Equipment) while in OP consultations, especially while discharging duties in respiratory or fever OPs and also while going for rounds in wards. Already junior doctors are being given PPEs while working in emergency and isolation wards in hospitals.
Junior doctors have expressed infection concerns as patient footfall in OGH and maternity hospitals are increasing slowly after lockdown relaxations.
They are now exposed to symptomatic and asymptomatic people visiting hospitals for various issues and they don't know whether they were infected or not as they did not get any Covid test done earlier. Doctors, nurses and other staff working in exclusive Covid hospitals like Gandhi and King Koti are all wearing PPEs and N95 masks while on duty, but these safety equipment are being used in select wards in State-run non-Covid hospitals.
Dr Nagender of Osmania General Hospital said that they told doctors to extensively use PPEs while on duty in view of surge in infections among doctors in last few days.
He also said that all staff members in OGH including nurses, paramedical and techinicians, fourth class staff will be given N95 masks to be worn by them without fail on duty. "Over 1000 staff members will be distributed five N95 masks each which can be sufficient for them for one month. Each mask can be used five times but after a gap of five days in between," he said.
Meanwhile, in wake of fresh development, the junior doctors are requesting the Health department to resume rotational duties with 2/3rd staff and home quarantine in between that was implemented during first four lockdowns.
After working for five days, each doctor used to get 5-day break where he was told to be in home quarantine.
Continuously getting exposed to Covid patients or suspected cases is not advised at this juncture when infections are on the rise, the doctors said.
Subscribed Failed...
Subscribed Successfully...