Hyderabad: Parents cock a snook at health advisory, send kids to schools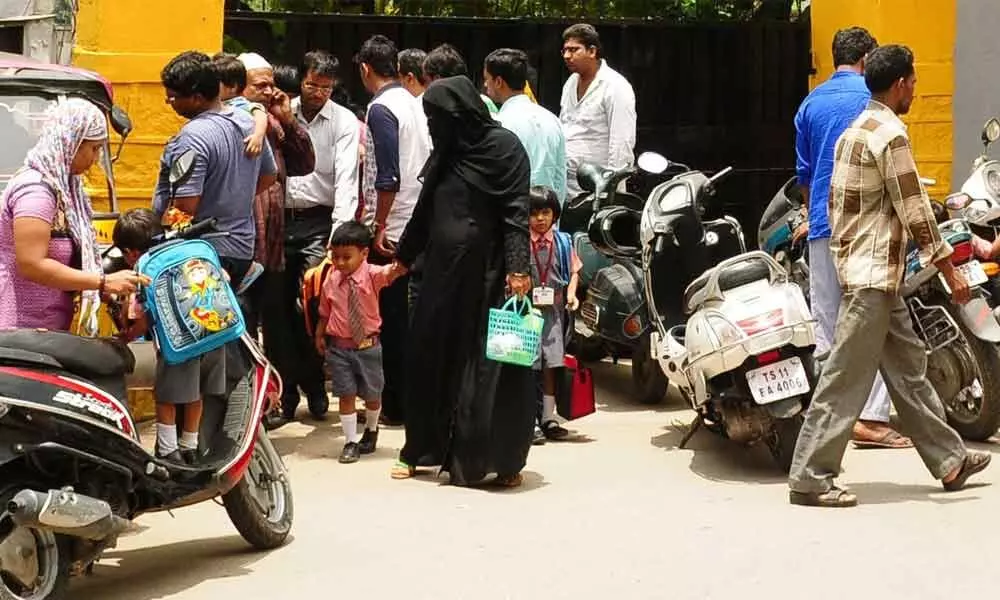 Highlights
Many private schools across the city are running classes under the sly
Hyderabad: Are parents turning irresponsible putting education above the lives of their children and insisting them to attend illegally run classes in the private schools?
If goings on are any indication both the private schools and parents seem to have joined hands in more irresponsible ways defeating the very objective of the Centre and State governments health advisory in a bid to contain the spread of the coronavirus.
It may be mentioned here that the State government has declared holidays to all the educational institutions till March 31. This is to prevent large gatherings, particularly in educational institutions.
Accordingly, both the Central and State higher educational institutions, universities and their affiliated colleges have also been directed not to run the classes till March 31.
This is, despite some universities will have to conduct degree examinations and they have to complete the academic course calendar ahead of the semester examinations.
Contrary to this, some private educational institutions have taken health advisory lightly and running the classes. Speaking to The Hans India, parent of a private school said that the schools are yet to complete the remaining part of the syllabus revision.
This kind of excuses is coming from the parents who are seen dropping their kids at the school premises. What remains a million-dollar question is that parents seem following instruction of the schools to attend their wards without wearing the school uniforms.
The Hyderabad School Parents Association (HSPA) took to twitter complaining the Star School, located in the Hill Colony, Khairatabad and one more school in the AC Guards are functioning.
The parents' association alleged that the schools are asking the staff not to enter biometric attendance and students were asked to attend without school uniforms and books.
Besides, the Ayahs in the school are asked to stay away from the ground floor and running the classes on the upper floors of the school building.
The HSPA Secretary K Venkata Sainath lodged a complaint with the education authorities like State Education Minister Sabitha Indra Reddy, District Education Officer, Hyderabad, besides, the State IT and Municipal Administration Minister KT Rama Rao seeking their intervention.
The State Education Department (SED) has already jumped into action and issued notices to about 10 schools for violating the government order of closing down the schools till March 31.
However, sources in the school education department said" We will take stringent action against the erring schools.
But, parents should also take responsibility for their children and cooperate with the government directions issued for their safety."
When asked about the role of the parents defeating the efforts of the government, Ashish Naredi, of HSPA said, parents, are happy for declaration of holidays as a preventive measure.
But,some parents are not aware of the seriousness and necessity of preventive measures and sending their children to the schools. If schools are shut down then there is no possibility of sending them to the school.