Hyderabad: Virtual schooling hits roadblock as students see teachers 'aliens'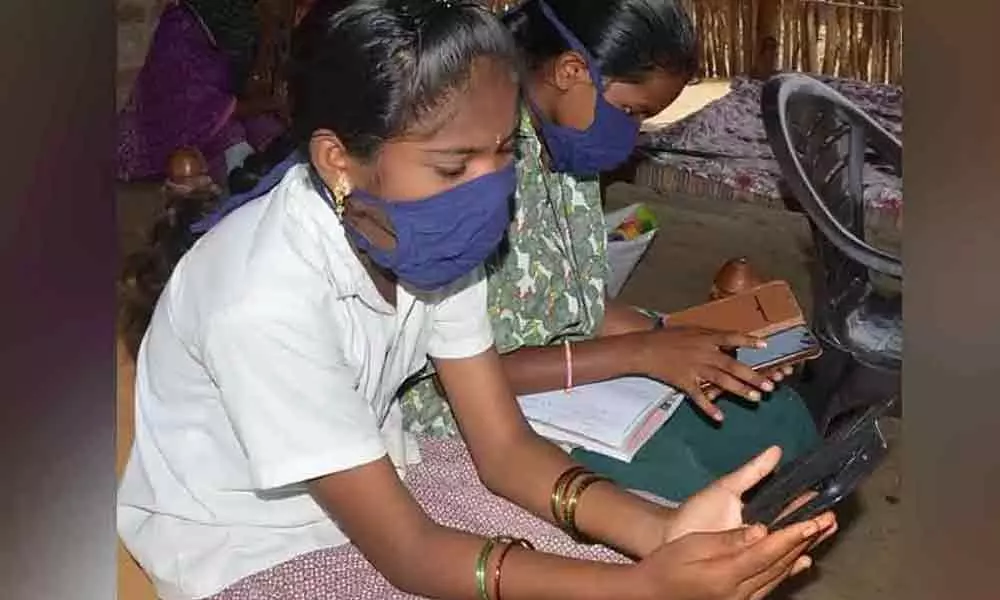 Highlights
Children shun parents' efforts to cajole them to learn from video lessons
Hyderabad: A class II student Vinay, refused to learn what a family is all about from a video lesson saying, "She is not my teacher." Bringing to end all efforts of his mother cajoling him to adapt to new ways of learning through the online mode.
Speaking to The Hans India, L Raju, who runs a tea shop in Nallakunta explained the struggles of himself and his wife to ensure that their two children are not lagging behind others in their studies.
Raju says "I am not educated. So, during the normal days my wife helps in supervising and ensuring that Vinay completes his homework and other assignments," he added. However, online education started by the school since the second week of April, teachers started sending video lesson to Raju's WhatsApp. In turn, he has to play the videos to his child. "Vinay is expected to see the video, learn and write an assignment given to him in his notebook. I have to take a photograph of what all he has written and send back to the teacher by WhatsApp," Raju said.
Against this backdrop, recently the school had sent a video lesson on the theme family. When Raju played the video on his smartphone to Vinay, he looked at it for a moment and went away to play. When her mother tried to make him sit and insisted to learn, he turned restless and started crying saying the woman in the video was not his teacher.
When contacted Srimathi (name changed), one of the teachers working in the school clarified that the video lessons were downloaded from different sources covering the syllabus prescribed for the Class 2 students. Further, she pointed out that she is also receiving feedback from the parents that either they are not able to understand. Because the English accent of the faculty in the video lessons is different from what earlier the children had regularly used to listen while physically attending the classes.
Secondly, "Some students are well bonded to their teachers that they are not accepting the lessons taught by some strangers in the video lessons." she clarified. It is not the lone incident as to how the children of the primary classes were reacting when they were asked to learn through video lessons.
For example, Madhuri working in a shopping mall in Ashoknagar has given up convincing her daughter, Priyanka and adopt the new ways of learning. She feels her child who scores good marks, spends time watching cartoon networks on TV and sees kids channel on Youtube on a smartphone. But, she said, "it seems when it comes to subjects she only accepts her teachers or her father, who helps her do her homework."
Subscribed Failed...
Subscribed Successfully...