Khammam: CPM takes out rally in support of RTC workers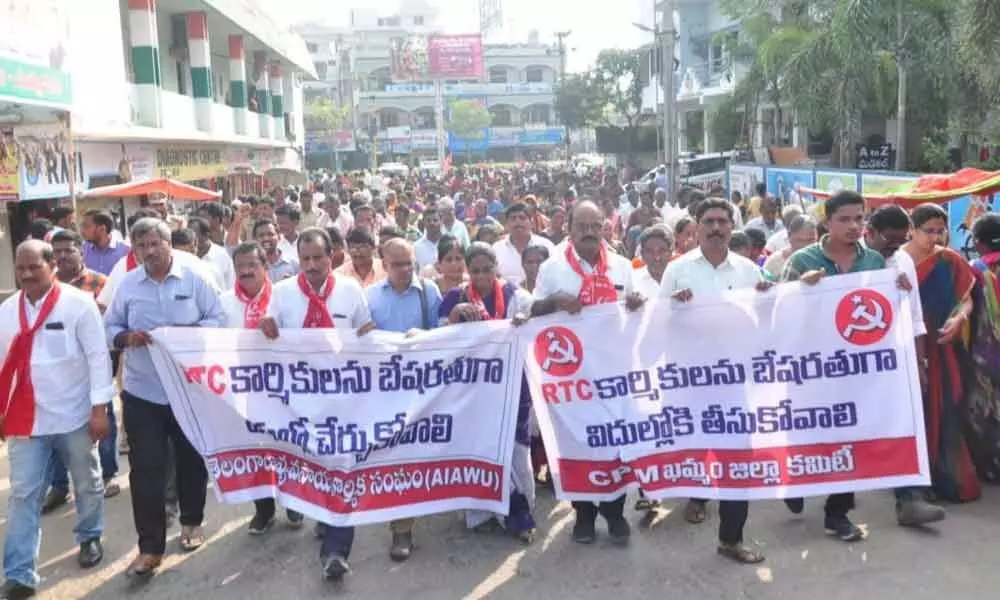 Highlights
Demands government to allow workers join their duties
Khammam: The CPM District Secretary, Nunna Nageswara Rao, demanded the government to allow the RTC workers join their duties immediately. Addressing the media on Wednesday, he sought know why the State government was not letting workers join the duties when they have called off the strike.

Adding that over 30 workers were killed during the strike, he said that Chief Minister K Chandrashekar Rao should take the moral responsibility for the deaths. He also demanded the government to consider the strike period as leave and immediately release salaries besides lifting the cases foisted against the workers. Alleging that Central government was supporting the privatisation of various government institutions and companies, Nunna said both the governments, the State and Central, have miserably failed to rule.
Prior to the meeting, the Left leaders and members took out a huge rally which was also joined by the RTC workers. They raised anti-government slogans and the demanded the government to allow RTC workers join their duties immediately and save the transport corporation.
Party district secretary Ponnam Venkateswara Rao, party leaders Y Srikanth, B Lenin, K Venkateswara Rao, B Ramesh, B Veerabhadram, M Bharathi, Venkat Ramulu, M Ramesh, Y Vikram, Y Srinivas Rao, M Satyanarayana, B Padma, Monohar and others took part in the rally.