Kishan Reddy lunges at TRS, says BJP will win GHMC Elections 2020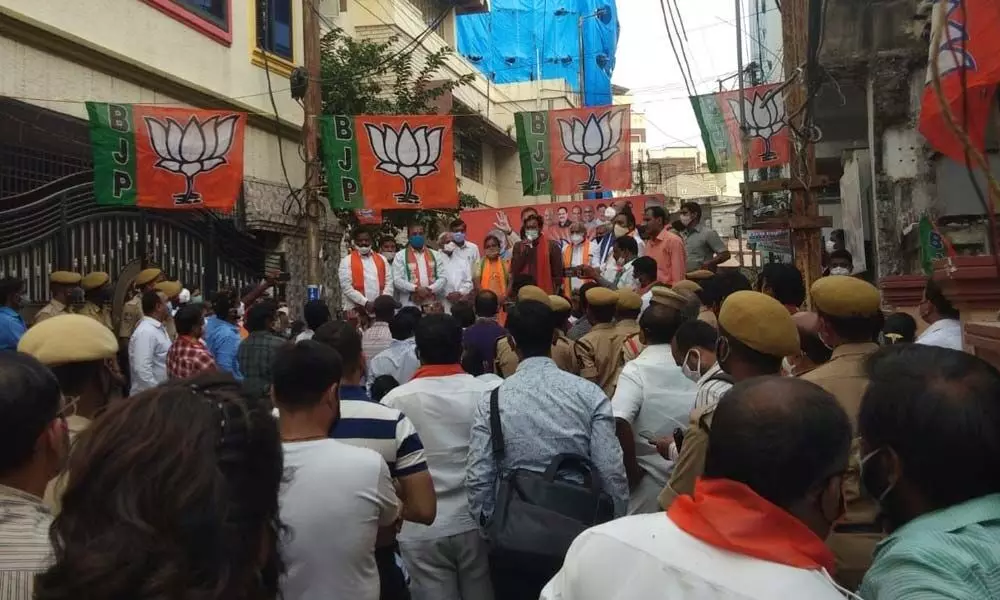 Highlights
Says BJP wave sweeping from BHEL-Haythnagar to Alwal-Jambagh
Launches tour of divisions and asks voters to defeat TRS-Majlis in GHMC polls
Asks people to question TRS about the promised 2bhk houses
Hyderabad: Union Minister of State for Home Affairs, G Kishan Reddy lashed out at the TRS party saying that it is running a dictatorial rule in Telangana.
The Secunderabad MP in his day-long tour of five divisions here on Saturday inaugurated the division party offices and addressed people asking to vote for a change and defeat the TRS-AIMIM rule in the GHMC elections.
Reddy is touching division after division to unite the party cadre and leaders, against the backdrop of too many candidates aspiring for party B forms to contest as its candidates in the elections.
Addressing the divisional level meetings at Bholakpur, Baghamberpet and Himayatnagar, Reddy said, "The arrogance of power has gone to far of the TRS-Majlis, who are running a Naya Nizam style of dictatorial regime in the State and GHMC."
Both parties have shared the city to loot and causing untold hardships to the people. While the Owaisi family of AIMIM has taken over the Old City- the Kalvakuntla family of TRS has taken over the new city.
KCR did not step out of his Pragati Bhavan when six lakh houses had been inundated with flash floods and more than 15 lakh people have lost everything in the floods and rendered homeless. Similarly, when people were fearing for their lives during Covid, CM KCR had gone hiding in his farmhouse, he said.
Kishan Reddy said that BHEL-Hayatnagar to Alwal-Jambagh, wherever one goes, "it is the wave of BJP sweeping across the Greater Hyderabad," he added.
He asked people to come forward to end the dynastic rule of the father and son (KCR and KTR) to replace with democratic governance.
At Himayatnagar, he pointed out how he had fought for the development of Melkote Park construction and development activities despite being in opposition during the YS Rajasekhara regime in united AP.
He asked people to question the TRS leaders coming to ask for votes to show them the double bedroom houses promised during the last GHMC elections. How many houses have been constructed and allocated in the Himayanagar division.
Reddy told the people how the TRS had run a riot in the recently held Dubbaka Assembly by-poll threatening and blackmailing people of dire consequences if they did not vote for it. "Even women have been sent to jails. People were threatened to deprive benefits of pensions, development, loans and it claimed winning the Dubbaka by-poll by one lakh majority."
However, the people there raised a banner of revolt against the atrocities of the ruling TRS and defeated it for a change. People of Hyderabad have also decided to support the BJP and the history going to be repeated and the BJP will be scripting his victory in the GHMC elections, he said.
Subscribed Failed...
Subscribed Successfully...