Kothagudem: Errabelli calls for improving cleanliness, greenery in villages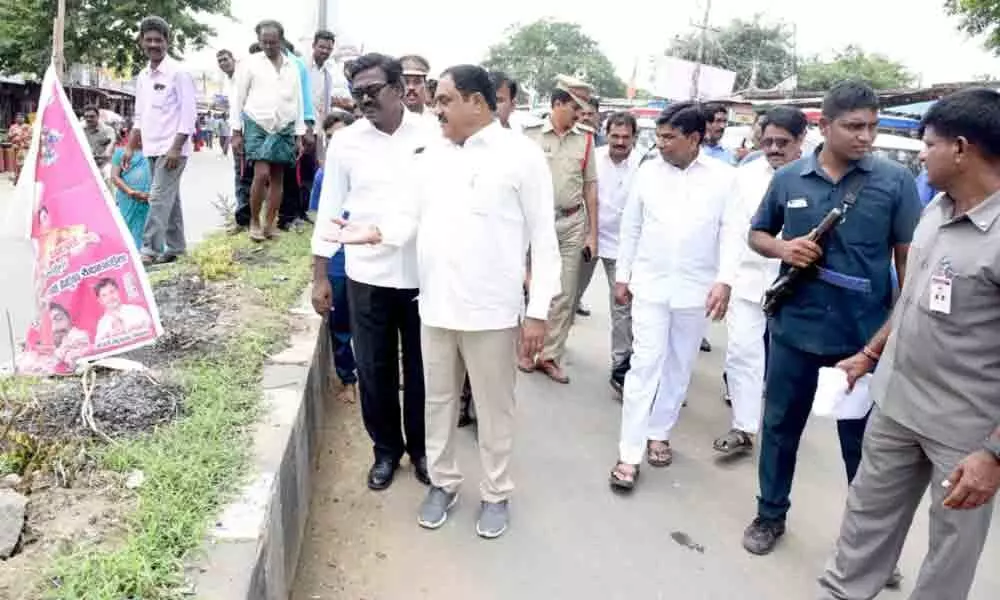 Highlights
The Panchayat Raj Minister conducts a review meeting with the district officials of Kothagudem
Kothagudem: Everyone should strive for the development of their respective villages, said Panchayat Raj and Rural Development Minister Errabelli Dayaker Rao. On Wednesday, he along with Transport Minister Puvvada Ajay Kumar and Women and Tribal Welfare Minister Satyavathi Rathod visited Kothagudem and inspected the development woks in Chinchupally mandal. Later, they conducted a review meeting with the all the district officials regarding the implementation of 30-day action plan works in the district.

Addressing the officials, Errabelli said the main aim of the programme was to develop villages in all aspects. He expressed happiness over the implementation of the programme and suggested the officials to make sure that dumping yards and cremation grounds were established in every village. The Panchayat Raj Minister said that for increasing the greenery, everyone should participate in the ongoing Telangana Ku Haritha Haram programme and plant as many saplings as possible. He also urged the villagers to take care of all planted saplings till they sustain on their own.
Errabelli informed that Chief Minister K Chandrashekar Rao would conduct a meeting with all District Collectors and District Panchayat officials on October 10 in Hyderabad and review the progress of works taken up under the action plan programme.
The Panchayat Raj Minister suggested the use of employment guarantee scheme funds for the development of villages. Stating that surprise visits would be conducted in coming up days in all constituencies, he said every constituency would get Rs 20 crore funds for taking up developmental works in its region.
Transport Minister Puvvada Ajay Kumar, speaking on the occasion, appreciated the officers involved in the implementation of 30-day action plan and said every department must conduct awareness programmes on clean and green programmes in the district.
Later, the Ministers participated in the Bathukamma programme. They also inaugurated Nivedana app for selling sand online during the programme.
Zilla Parishad Chairman K Kanakaiah, MP Nama Nageswara Rao, Government Whip Rega Kantha Rao, MLAs Vanama Venkateswara Rao and Banothu Hari Priya, Collector Rajat Kumar Saini, Joint Collector K Venkateswarlu and Sub-Collector Bhavesh Mishra and other officials attended the programme.
Meanwhile, in Khammam, the Ministers inspected the 30-day action plan works in Gubbagurthi village under the Enkoor mandal on Wednesday. They observed the roads and drainages, and ordered the panchayat officials to impose fines against those who litter the streets and open areas. They urged the villagers to maintain cleanliness in the village. Later, they went to Baghavan Naik Thanda and laid a foundation stone for the dumping yard. They also participated ongoing programme of Haritha Haram and planted saplings in the village.
Minister Puvvada Ajay Kumar informed that of the 584 panchayats in the district, 531 gram panchayats have identified land for dumping yards and 510 panchayats identified lands for cremation grounds. Khammam MP Nama Nageswara Rao, District Collector RV Karnan, Zilla Parishad Chief Executive Officer Priyanka, District Forest Officer Praveena, DRDA Project Director Indumathi, MPDO G Vara Prasad and other officers accompanied the Minister.