No option but to hike charges says KCR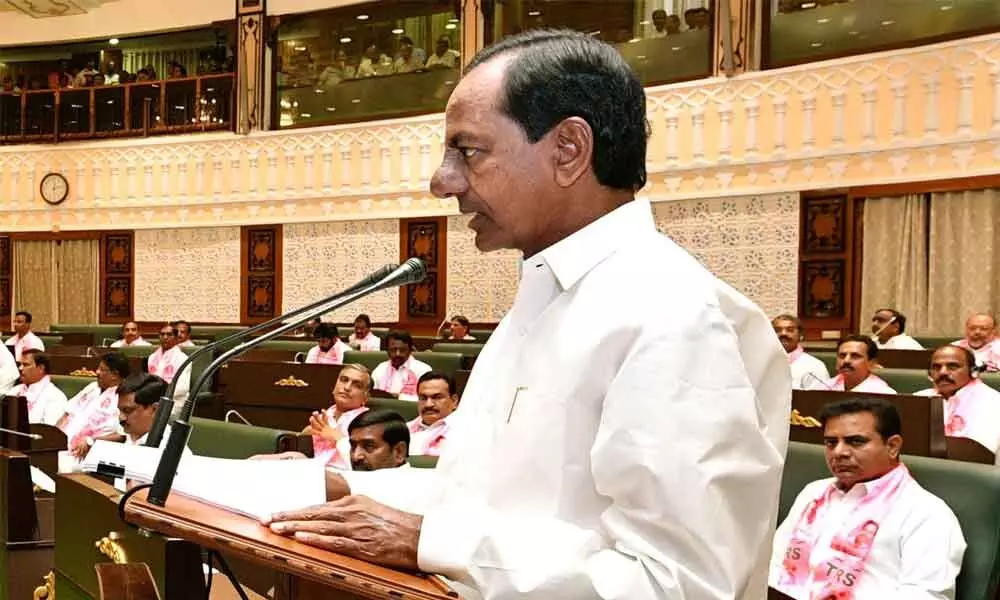 Highlights
KCR indicates likely increase of bus, power charges to mop up revenue
Hyderabad: The Telangana government which is facing the heat due to slowdown of economy is now contemplating to mobilise resources by hiking various charges and levying new taxes.
Indicating this on Saturday in the Assembly during his reply to the motion of thanks to the Governors address, Chief Minister K Chandrasekhar Rao said that though RTC rates were hiked recently, if need be there would be another increase in the tariff. He also made it clear that power tariff is also likely to be increased.
The Chief Minister said that his government had not increased charges during the last six years. Any local body, state government or Central government's revenue depends mostly on the taxes it receives and since the fiscal situation in the country was not so good, the government is left with no other option but to slap new taxes, he said.
KCR said he is aware that this move would invite strong opposition from other parties. Even he himself had protested tax hike when in opposition. He said that it had become a routine practice for all political parties to oppose tax hikes but the same parties when in power never roll back the hike.
He also gave details of how the efforts of the TRS government had brought tremendous change in the power sector. The installed capacity in the state during 2014 was 7,778 MWs and today it was 16,424 MWs.
The per capita consumption of power in Telangana was very poor but now the State stands number one in terms of per capita power consumption, he said. He criticised the Congress leaders like Komatireddy Rajagopal Reddy for opposing 24-hour uninterrupted power supply.
He said his brother had written a letter saying that there was no need for Yadadri power plant.
"Congress leaders did nothing for the people but make false statements," KCR said, adding that his government had never promised one job per family, but they go on harping this point.
Fortunately, people have not believed what they say, he added.
People continue to be with the TRS and have been exhibiting their support and hence they would not get deterred by the comments made by the Opposition but would go ahead with implementing various welfare schemes, he said.