Sircilla: Degree students told to improve their skills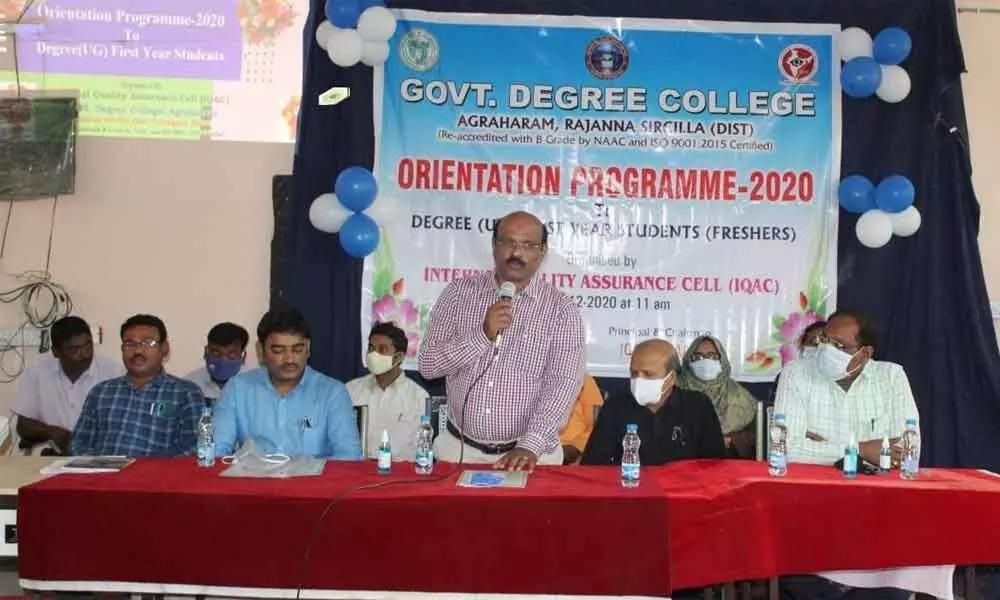 Highlights
By utilising the available resources and making right use of time, students must improve their skills with the standard education being provided to them in degree colleges, suggested Agraharam Degree College Principal Dr T Srinivas
Sircilla: By utilising the available resources and making right use of time, students must improve their skills with the standard education being provided to them in degree colleges, suggested Agraharam Degree College Principal Dr T Srinivas.
He attended as a chief guest at an awareness programme 'Internal Quality Assurance Cell (IQAC)' organised for first year students, who got admission in the college, in the college premises here on Monday.
Speaking on the occasion, Dr T Srinivas said graduation studies is most important in students' lives. Every student should establish a goal in his or her life and must strive hard to reach it with firm determination and concentrating on the studies, he stated.
IQAC coordinator Dr M Malla Reddy explained the students through power point presentation about the courses provided in the college, experience of the college faculty, digital library and classes, NSS, and various other programmes that are conducted by the college.
Agraharam Degree College is the only college, which obtained an ISO certificate with eight doctoral faculty members.
Their suggestions and experience will be highly useful to the students who are pursuing various courses in the college, Malla Reddy said. College vice-principal Madhu Rajesh, faculty members Dr V Srinivas, Dr Afsari Usman, Dr N Rama Devi, Dr E Bhadraiah, Dr M Prabhakar, V Venkateshwarlu, Dr A Srinivasulu, Y Narayana, Madhu Babu, K Malla Reddy, Nirmala were present along with the students.