Sravan condemns TNGOs, TGOs leaders for meeting CM KCR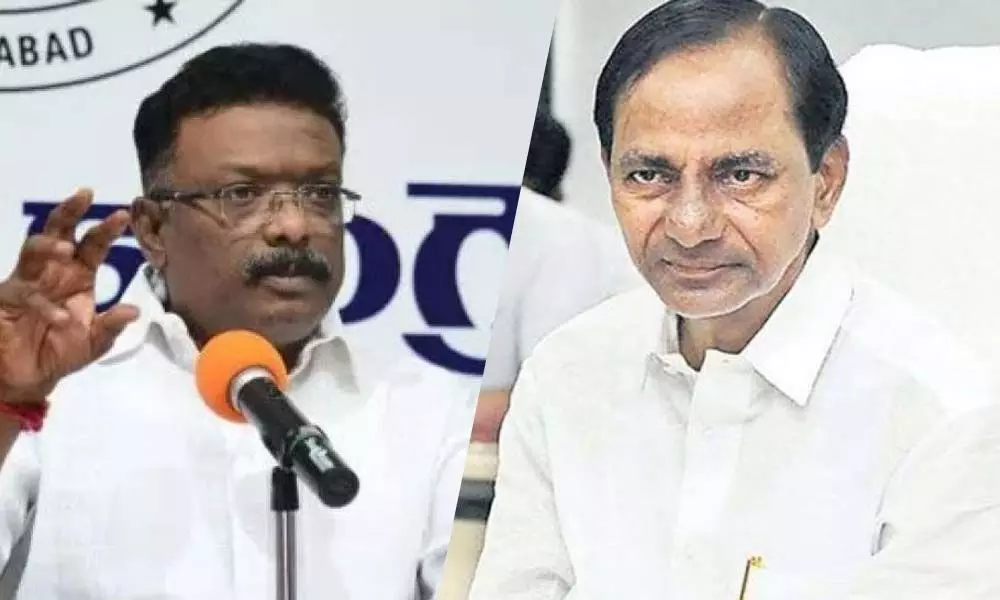 Highlights
All India Congress Committee (AICC) Spokesperson Dr. Dasoju Sravan has alleged that the leaders of TNGOs and TGOs seem have sold out the interest of employees by meeting Chief Minister K. Chandrashekhar Rao
Hyderabad: All India Congress Committee (AICC) Spokesperson Dr. Dasoju Sravan has alleged that the leaders of TNGOs and TGOs seem have sold out the interest of employees by meeting Chief Minister K. Chandrashekhar Rao at a time when nearly 50,000 RTC workers were on streets protesting against their illegal dismissal and resolution of their demands.
Addressing a press conference at Huzurnagar on Friday, Sravan asked the TNGOs and NGOs leaders to explain the reasons behind displaying urgency in meeting the Chief Minister. He said that the State Government did not implement the Pay Revision Commission nor provided any facilities to the employees. The promise of extending the retirement age to 61 years also remained unfulfilled. In such a situation, their meeting with the CM only shows that either they were sold out or accepted slavery of KCR.
Sravan also accused the Chief Minister of attempting to divide the employees' unions. He said 'Divide & Rule' has become the favourite policy of KCR. He also condemned the Warangal incident wherein an Assistant Commissioner of Police Narsing Rao misbehaved with the women conductors who were staging a protest. Demanding his immediate dismissal, he asked DGP Mahender Reddy whether the behaviour of a few policemen with women conductors falls into the category of 'people's friendly policing' which Telangana Police boasts of.
The AICC Spokesperson urged the Communist Party of India (CPI) to withdraw its support to TRS in the forthcoming Huzurnagar bye-elections. He said it was surprising that the CPI, which has a history of backing agitations for workers' rights, was supporting the TRS Government which illegally sacked nearly 50,000 RTC employees. He reminded that the CPI had backed the Congress party during Assembly elections held on December 2018. He asked CPI to explains that achievements of TRS Government in the last 9 months which prompted it to support KCR's party. He advised CPI Secretary Chada Venkat Reddy not to make an attempt to sail on two boats as it might prove fatal.
Sravan alleged that the TRS Government was trying to privatise RTC so as to acquire its assets of nearly Rs. 75,000 crore. He said that the corporation owns landed properties at prime locations across Telangana State where bus depots and stations are located. He alleged that KCR wants to take over those properties to give it to his family members, friends and party leaders.
The Congress leader said that Telangana State was in severe financial crisis with debts crossing Rs. 2.70 lakh crore. He said that the government was not having money to spend on Rythu Bandhu and other schemes. Since the TRS Government could not seek votes on the basis of performance, the ruling party was distributing cash and liquor among voters to lure them. He also alleged that the TRS leaders were misusing police and other departments to influence the voters and harass Congress party workers. He alleged that huge cash was being smuggled into Huzurnagar constituency in police vehicles. He said based a complaint lodged by the Congress party one Circle Inspector and Sub-Inspector has been suspended for supporting the TRS. However, government employees were still being pressurised to campaign for TRS candidate.
Sravan said TPCC President N. Uttam Kumar Reddy, who represented the Huzurnagar constituency since 2009, has brought immense development. He said Congress candidate Padmavathi Reddy was an efficient and highly qualified woman who had also served as Kodad MLA from 2014-2019. He said the Uttam couple have been serving the people of Huzurnagar with complete sincerity and dedication. On the other side, he said TRS candidate Saidi Reddy indulged in land grabbing and rowdyism. He challenged Saidi Reddy for an open debate on his illegal activities. He appealed to the people of Huzurnagar to ensure the grand victory of Congress party in Huzurnagar.
Subscribed Failed...
Subscribed Successfully...