Hyderabad: Techie says new NPR is backdoor entry for NRC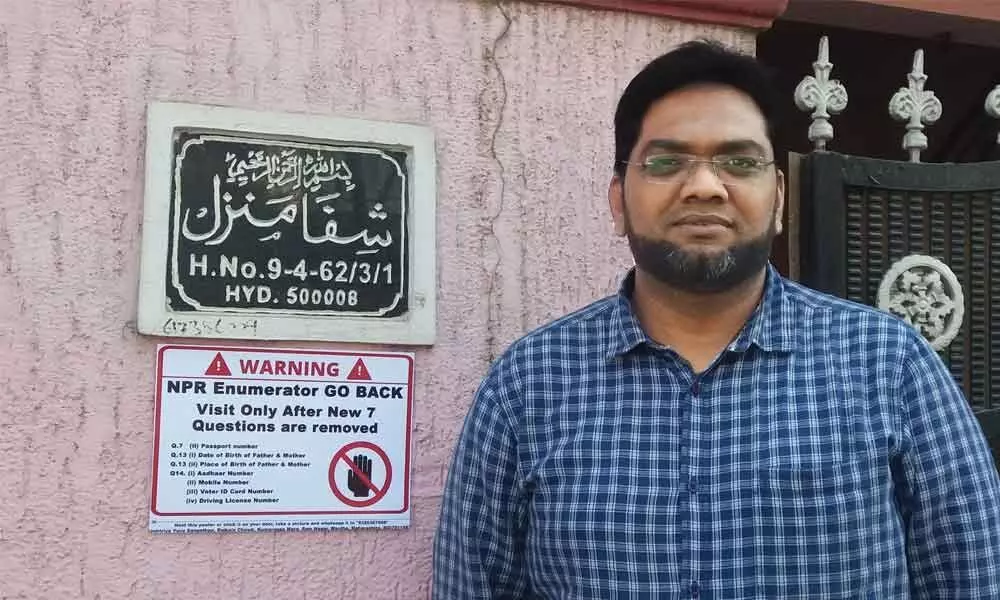 Highlights
After he posed with the 'NPR Enumerator Go Back' poster in front of his house in Tolichowki, scores of netizens adopted it and created quite a ripple effect
Hyderabad: Meet the man behind the poster 'NPR Enumerator Go Back' a warning that created ripples on social media with scores adopting not only across the city, but many places in northern India. Syed Khalid Saifullah, who works for American-based company, spares time from his busy schedule to focus on social issues.

With the technological know-how at his disposal, the techie, who embarked on the path to help people, caught the attention with his 'Mission Voters' App during the 2019 General Elections. After he found that people were facing difficulties in getting voter IDs, he developed the app which now has helped over 1 lakh 'missing voters' get their voter IDs. "Through this App people are able to get their Voter IDs, irrespective of religion, caste and creed. After they apply, we keep pursuing the matter with the help of 'tracking number' from Election Commission. Our programmes help in identifying and forwarding complaint to EC till the voters receive their IDs,"
With the government coming up with notification of conducting NPR (National Population Register) in the State, Saifullah who had already developed the App 'Defeat NRC' has decided to come up with additional features, which include 'posters help,' 'protest calendar,' 'advocate help,' other than 'polling booth data' and 'build family tree'. The App which comes in handy was already being used for developing poster 'NPR Enumerator Go Back', which makes clear as why the people were opposing the NPR, which most of the analysts consider it as a 'back door' entry for NRC.
"This is more than a symbolic protest, which is going on across the country. In this poster, the enumerator is warned because, as unlike NPR exercise conducted earlier, the official is armed with questions on passport number, date of birth of father & mother, place of birth of father & mother, Aadhaar, mobile, Voter ID Card and even driving licence number. Now it's clear that NPR is NRC," he felt.
After he posed with the 'NPR Enumerator Go Back' poster in front of his house in Tolichowki, scores of netizens' active on social media adopted it and created quite a ripple effect, even as the Telangana government held cabinet meeting with one of the subjects being NPR on the agenda on Sunday.
Defeat NRC App Features
NRC Calculator: Users can build family Trees. select the documents names they have, enter their names present in the documents. App will calculate and display if persons have valid documents to prove their citizenship as per Citizenship Act 1955.
Protest calendar: To view protest happening in area, to add protest, Team will verify and will update them.
Help in organizing protest: To request help in organising protests, namely, creating posters, placards; permissions, advocate help when get detained; chat, promotions in social media The app team provides free services.
Chat: Users ask questions on NPR,CAA, NRC and the team will reply to the questions.
Downloads: Till date 62,500 people have downloaded the app and many users have been benefited from the app
The enumerator is warned because, as unlike NPR exercise conducted earlier, the official is armed with questions on passport number, date of birth of father & mother, place of birth of father & mother, Aadhaar, mobile, Voter ID Card and even driving licence number. Now it's clear that NPR is NRC

– Syed Khalid Saifullah