Tribals, CPM plunge into Huzurnagar bypoll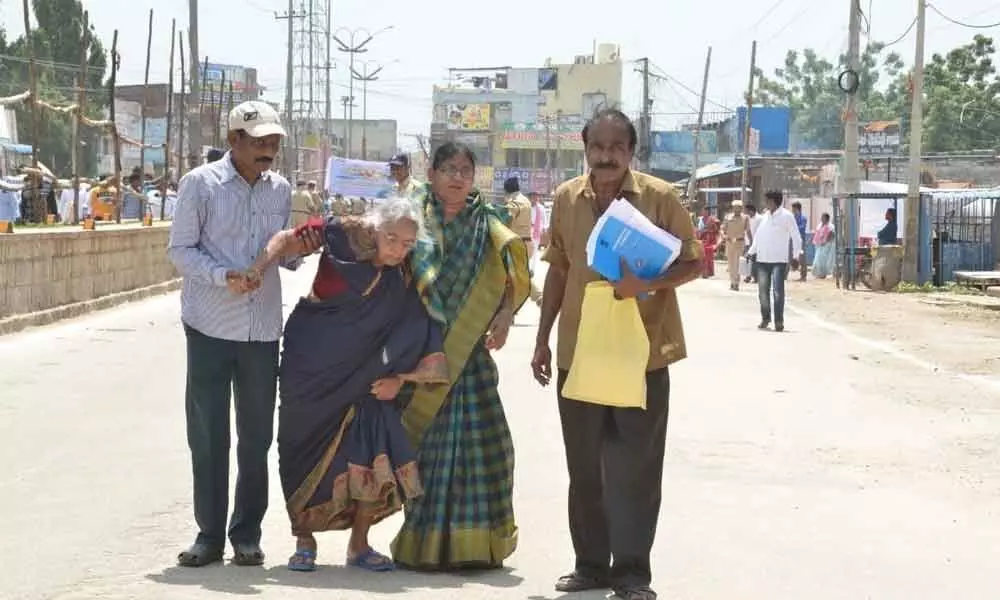 Highlights
A mega political battle seems to be in the offing in the byelection to the Huzurnagar Assembly constituency in Nalgonda district.
Hyderabad: A mega political battle seems to be in the offing in the byelection to the Huzurnagar Assembly constituency in Nalgonda district. After the end of nominations 120 candidates are in the fray.
Along with the contestants from main parties like ruling TRS and opposition parties – Congress, TDP, BJP and CPM, Telangana Sarpanch Association and a group of tribals also filed their nominations.
As a mark of protest against the government for non-issuance of pattadar passbook to 100 acres owned by her family members, an 85-year-old Lakshmi Narasamma also filed nomination and drew the attention at state level.
The octogenarian contestant said she possessed 100 acres in her name and her family members but the government was not issuing pattadar passbooks even after her repeated appeals to the local authorities concerned. Narasamma said she will take up the government's failure as the main issue in the poll campaign.
Tribals from Mattampally mandal also filed nominations and demanded the government to issue pattadar passbooks immediately.
If the government did not budge, they will not withdraw the nominations on Wednesday which happens to be the last day. The tribal group alleged that previous Congress and also the present TRS government neglected their plight being faced in getting ownership of their lands officially.
Sarpanch association led by Bhamann Yadav also filed nominations. The association alleged that the government was not releasing the funds for the local bodies.
Ch Naveen, who is popularly known as Teenmar Mallanna, also filed nominations with donated money from the locals and is seeking the support of all social and civil organisations.
Leaders said that the byelections is going to be a tough battle for all political parties mainly TRS and Congress which are claiming their victory as a cake walk.
TDP and CPM's eleventh-hour decision to field the candidates in the byelections triggered speculations that the polarisation of voters will help TRS to win the elections in TPCC chief N Uttam Kumar Reddy's pocket borough.
Uttam is ahead of TRS in the campaign as he has been camping in Huzurnagar for the last two weeks and holding series of meetings and rallies every day.
State Energy minister G Jagadish Reddy and Government Chief Whip in Legislative Council P Rajeshwar Reddy were entrusted with the responsibility of poaching of local leaders of all parties to ensure the TRS candidate S Saidi Reddy win the elections.
BJP had fielded K Rama Rao and Ch Kiranmai from TDP is testing the waters.