TSRTC strike fails to impact public transport in Mahbubnagar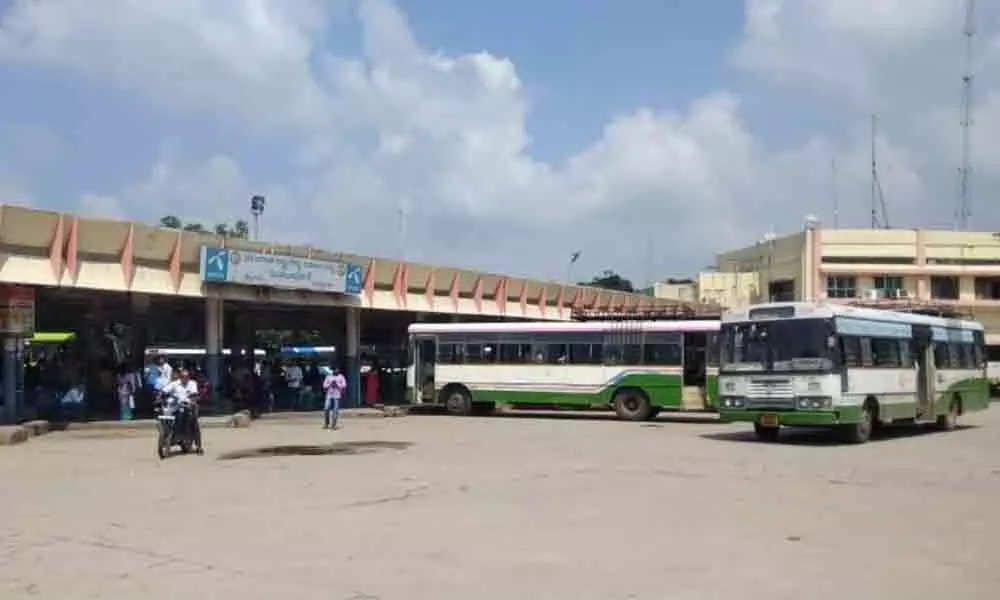 Highlights
The RTC strike failed to impact public transportation in the erstwhile Mahbubnagar district.
Mahbubnagar: The RTC strike failed to impact public transportation in the erstwhile Mahbubnagar district.

Except one or two incidences of stone-pelting and breaking of window panes and glasses of RTC buses in Achampet, Peddakottapally, Shandagar and Paraji mandals, overall the strike call given by the RTC unions could not impact the public transport on its first day on Saturday.
Though earlier, the district administration and the public feared that the strike call given by the RTC employees would impact adversely to the public transport as majority of people move from one place to the other during the Dussera vacation, however, the police, RTA officials and the district administration across erstwhile Mahbubnagar took it as a challenge and as advised by the higher ups in the government at the state level, they succeeded in plying majority buses and helped provide better transportation in the district.
From almost all the 14 major bus depots of Mahbubnagar, Wanaparthy, Nagarkurnool, Narayanpet and Gadwal districts, maximum number of buses from all divisions in these districts plied freely on to the roads facilitating easy transportation without causing any incontinence to the people.
However, though the RTC union leaders tried to create some problem and the RTC JAC leaders took out a rally to stop the buses, the district police took all the leaders into preventive custody and foiled their attempt to stop the buses.
Despite of all these measures by the police, some small incidents occurred in a few routes like Parigi to Vikarabad in Vikarabad district, where some striking RTC employees and their supporters attacked the buses with stones and broke the window panes despite of police escort to the buses.
In another case, an unidentified person pelted a stone at an RTC bus in Satapur village of Peddakottapally mandal of Nagarkurnool district. However, fortunately nobody was injured in both cases.
Subscribed Failed...
Subscribed Successfully...