Warangal: RTC employee joins duty, reverses move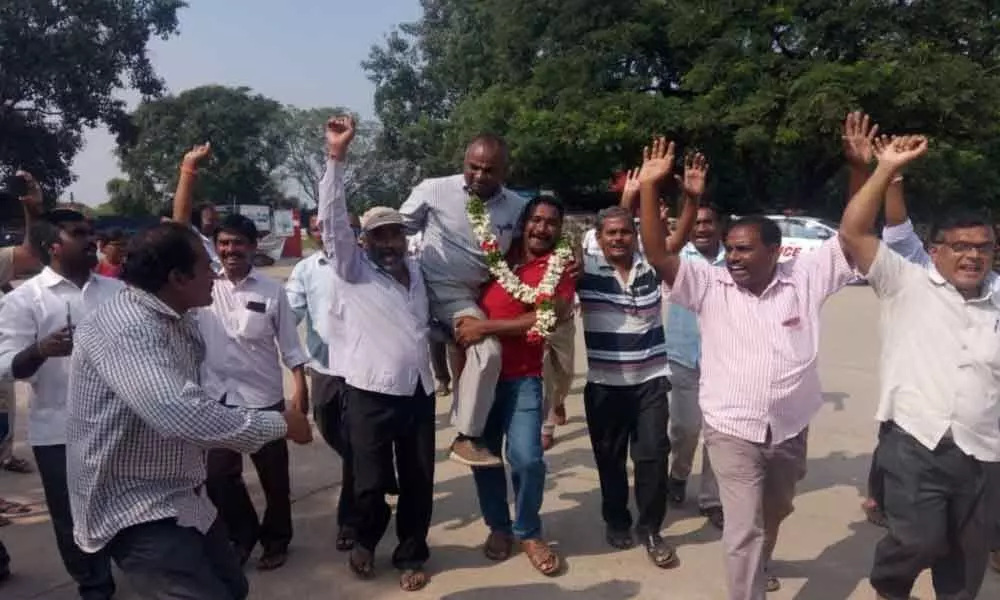 Highlights
Srihari working as superintendent in Narsampet.

Decides to join duty after ultimatum given by KCR.

Realising it was a selfish decision, he decides to participate in stir.
Narsampet (Warangal Rural): In a turnaround, a TSRTC employee, Srihari, working as the Narsampet Depot Superintendent reversed his decision to join the duty within an hour on Monday. Srihari, who announced that he was joining the duty following the ultimatum given by the Chief Minister K Chandrashekar Rao, decided to continue the strike along with the other employees.

A large number of RTC workers, who gathered outside the bus depot tried to stop Srihari. However, he went inside the depot with the help of police to join the duty. Following which, the RTC staff raised slogans against the State government for its ignorance towards their problems. They vowed to continue their strike until their demands are met.
The employees urged Srihari not to join the duty. They said that it would hit their morale. At one stage, the protestors also burned the effigy of Srihari accusing him of sabotaging the strike. Following this, Srihari walked out of the bus depot and announced that he would be continuing his strike along with others.
Srihari said that he was under a lot of pressure fearing about job security. "As I am nearing retirement, I was worried about the post-retirement benefits. I am also worried about my financial position as we were not getting salaries. Against this backdrop, I met the regional manager and with his encouragement I decided join the duty. But now I realised that it was a selfish move. Now, I made up my mind to continue the strike until the government accepts our justifiable demands," he said. It's learnt that so far seven workers returned to duties in Warangal region. There are 4,031 regular employees in Warangal region, who operated 942 buses in various routes.