7 mandals in Vizag cyclone-prone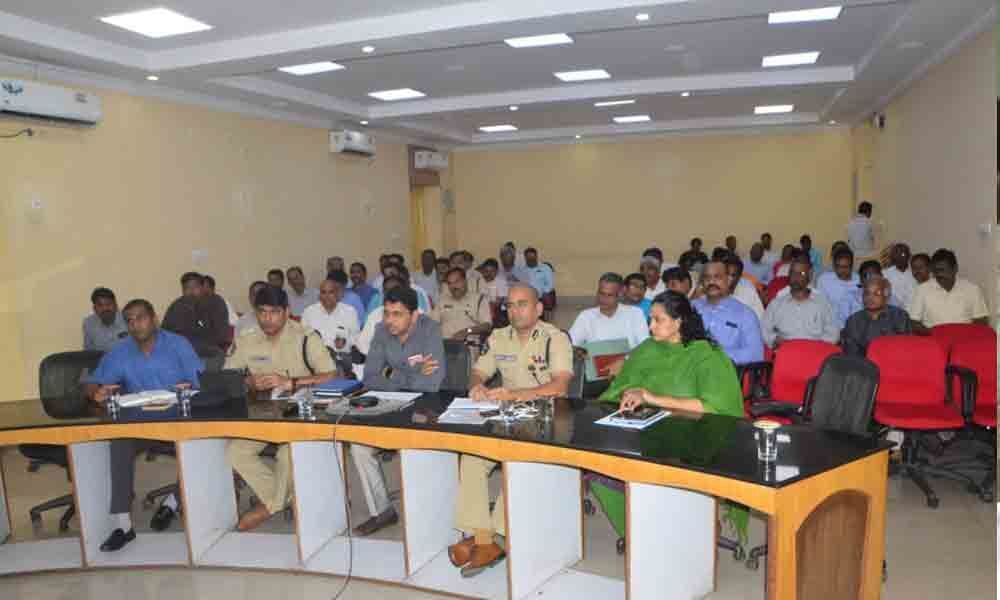 Highlights
The district administration has identified 65 villages in seven mandals as cyclone-prone areas.
Visakhapatnam: The district administration has identified 65 villages in seven mandals as cyclone-prone areas. According to the IMD alerts on cyclonic storm Fani, the administration has identified cyclonic-prone areas in Bheemili, Atchutapuram, Parawada, Pedagantyada, Gajuwaka, Visakhapatnam Rural and Urban mandals.

Addressing the media here on Wednesday, Collector K Bhaskar said that rehabilitation centres have been arranged in all the identified villages and all mandal-level officials have been directed to available at identified mandal headquarters.
As per the IMD alerts, the rehabilitation centres would be increased based on the demand. Diesel generators, LPG, and other essential commodities besides cooks are being arranged at rehabilitation centres. The PWD, RWS, and GVMC officials have been directed to keep water tankers at villages. Police personnel have been deployed at each rehabilitation centre, the collector informed.
ENC Preparedness
The Eastern Naval Command (ENC) is closely monitoring the movement of Fani. Ships at Visakhapatnam are standing by with relief material for immediate deployment to affected areas to undertake Humanitarian Aid Distress Relief (HADR) operation. Diving and medical teams are also kept ready as part of rescue and relief efforts in AP and Odisha. Naval aircrafts are kept ready at Naval Air Stations, INS Dega and INS Rajali to undertake aerial survey of most affected areas, casualty evacuation and air drop of relief material as required by the state administration.
King George Hospital
All the staff, doctors, nurses, paramedical and class-IV employees have been directed to attend their duties from May 2 to 4. According to KGH Superintendent Dr L Arjuna, 400 litres of diesel was kept ready for generators besides enough candles and torch lights in the hospital. Gas (Oxygen, Nitrus oxide), if the central oxygen supply fails due to breakage pipeline alternative arrangements with bulk cylinders with 20 placed at critical areas and ICCUs. Water stored in important places with enough drums. Necessary vegetables, eggs, pulses, rice other items stored for a week. A five-member committee deployed for clearance of trees in the hospital premises. Emergency care and causality wing were kept ready with more beds and emergency drugs.
CELL TOWERS
The Collector directed the telecom operators to deploy diesel generators at all cell towers to ensure 24/7 working hours, if power supply was interrupted with cyclone. He asked the operators to deploy one responsible person at each cell tower for the coming four days. He directed the operators to provide mobile phones to staff and provide same numbers to Tahsildars of respective mandals for better coordination.
Trains cancelled
Keeping in view of cyclone 'Fani,' East Coast Railway cancelled few trains. Trains cancelled on Thursday Train no. 12842 Chennai - Howrah express leaving Chennai, Train no. 17480 Tirupati - Puri express leaving Tirupati, Train no 17016 Secunderabad - Bhubaneswar express leaving Secunderabad, Train no 12508 Silchar - Tiruvananthapuram Central express leaving Silchar and Train no 18047 Howrah – Vasco da Gama express leaving Howrah are cancelled on Thursday.
This apart, Train no 18646 Hyderabad – Howrah express leaving Hyderabad on Friday is cancelled.
Indian Coast Guard
Indian Coast Guard ships and aircraft at Visakhapatnam and Chennai are kept in highest state of readiness to provide immediate assistance for disaster relief and search and rescue operations. The ships have been stocked up with disaster relief material consisting of lifesaving boats, lifejackets, lifebuoys and essential provisions.
The Coast Guard State Headquarters are in constant liaison with the state administration and disaster management authorities to harmonise disaster relief efforts.