BJP will take up agitation to continue capital at Amaravati: Somu Veerraju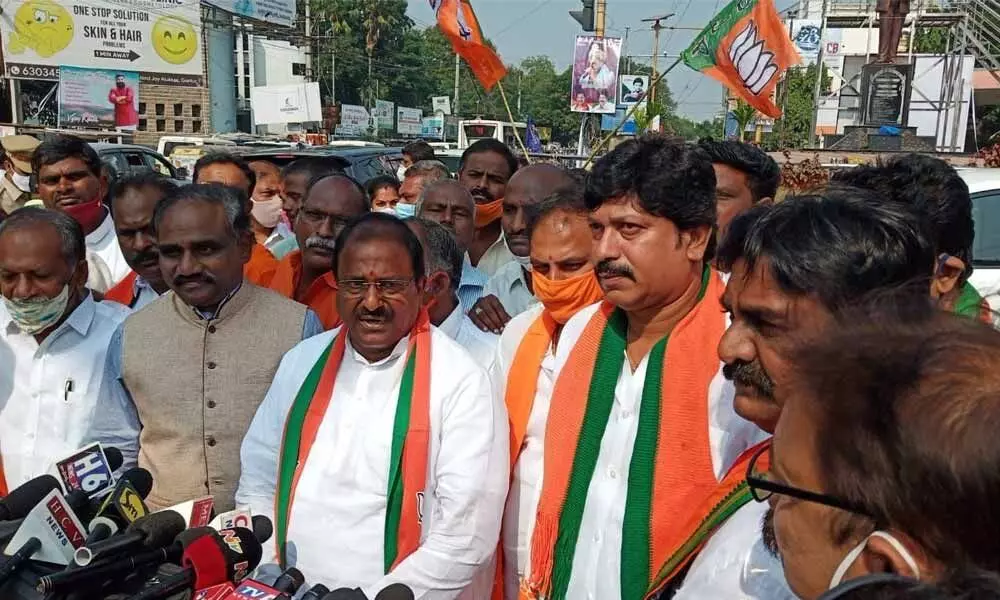 Highlights
BJP state president Somu Veerraju demanded that Chief Minister YS Jagan Mohan Reddy continue state capital at Amaravati
Guntur: BJP state president Somu Veerraju demanded that Chief Minister YS Jagan Mohan Reddy continue state capital at Amaravati. He warned that if the government did not take steps to continue capital in Amaravati, the BJP will take up agitation to mount pressure on the government to continue state capital in Amaravati. He visited Guntur city on Thursday and garlanded the statue of Dr BR Ambedkar at Lodge centre and paid tributes.
Speaking on the occasion, he recalled that the Central government had released Rs 7,200 crore for the construction of state capital. However, the then Chief Minister Chandrababu Naidu did not construct state capital in Amaravati. He felt that if the latter had constructed the state capital, there was no need to conduct Deeksha to continue state capital in Amaravati. He said any Chief Minister may meet the leaders at Centre. BJP will take steps to develop the state.
Replying to a question, he said the TDP committed irregularities. "That is why the leaders have no right to criticise anybody," he said.
He said the Centre had released funds for the construction of Polavaram Project.
He criticised that the CPI leader Dr K Narayana had no right to criticise the Vice-President M Venkaiah Naidu. He recalled that the BJP government at the Centre had constructed buildings for All India Institute of Medical Sciences near Mangalagiri.
Earlier, BJP leaders and activists welcomed Somu Veerraju at Autonagar and took out a rally up to Dr BR Ambedkar statue at Lodge Centre in Guntur city.
Addressing the media in Sattenapalli, he said that state development is possible with the development of ports and added that if ports were developed, industrialists will come forward to set up industries. He promised that the BJP will develop Uttarandhra, Rayalaseema districts.