Dip in production dims hopes of mango growers in Visakhapatnam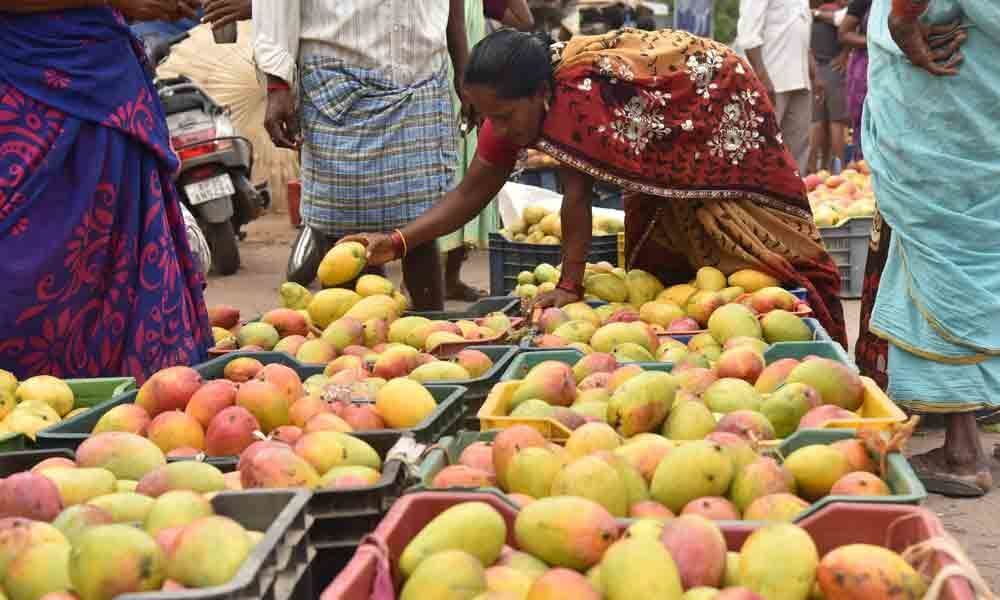 Highlights
The yield has dropped drastically due to scarcity of water in some mandals.The crop was also damaged significantly due to sudden unseasonal rains coupled with gales in some other mandals.
Visakhapatnam: The main road at Kothavalasa springs to life at 5:30 a.m. as mango growers from neighbouring villages arrive to strike a deal with the traders and wholesale dealers.

Although the price of the mangoes has improved compared to previous year, farmers say that the yield turns out to be the most disappointing factor this year.
The dip in the mango production is attributed to inadequate rains, hostile weather condition during the flowering stage and pest attack during the later phase. This has impacted acres of orchards, dimming the hope of mango growers who bank on the seasonal produce.
For Appala Raju, a farmer from Gandhinagar village, Kothavalasa mandal, the yield has dropped to 50 crates from 200 last year. "I grow varieties such as Banganapalle, Suvarna Rekha and Paraya in my village. Last year, I made a sale close to Rs.5 lakh. However, I am pretty sure that I won't be able to recover investment costs which alone turned out to be Rs.3 lakh this year," he laments.
Like Appala Raju, mango growers from various villages share similar concerns. "Last year, the yield was good, but the price was quite low. This season, it is the other way round. But, this year, even a quarter of the amount invested in the harvest is hard to realise as a major chunk of the mangoes were blown away by gales," shares Adi Lakshmi, a farmer from Rangapuram village, Lakkavarapukota mandal.
In Panukulu-dominated Vizianagaram district where mango cultivation is spread over 45,000 hectares, Assistant Director of Horticulture Department, Vizianagaram, GV Lakshmi says, "Strong winds during cyclone Fani damaged banana crops over 300 hectares in the district. Likewise, it also affected the mango orchards in parts of Vizianagaram." Officials say that 'Panukulu', the early variety of mangoes, are saved to an extent compared to the level of damage suffered by Suvarna Rekha and Banganapalli crops.
Assistant Director of Horticulture Department, Visakhapatnam, K Sailaja says, "In Visakhapatnam district, the mango crop has been slipped to three-four tonnes per hectare (grown over 15,000 hectares approximately) as against 10-11 tonnes per hectare registered last year."