Kurnool: SEB intensifies checks nabs 48 for carrying liquor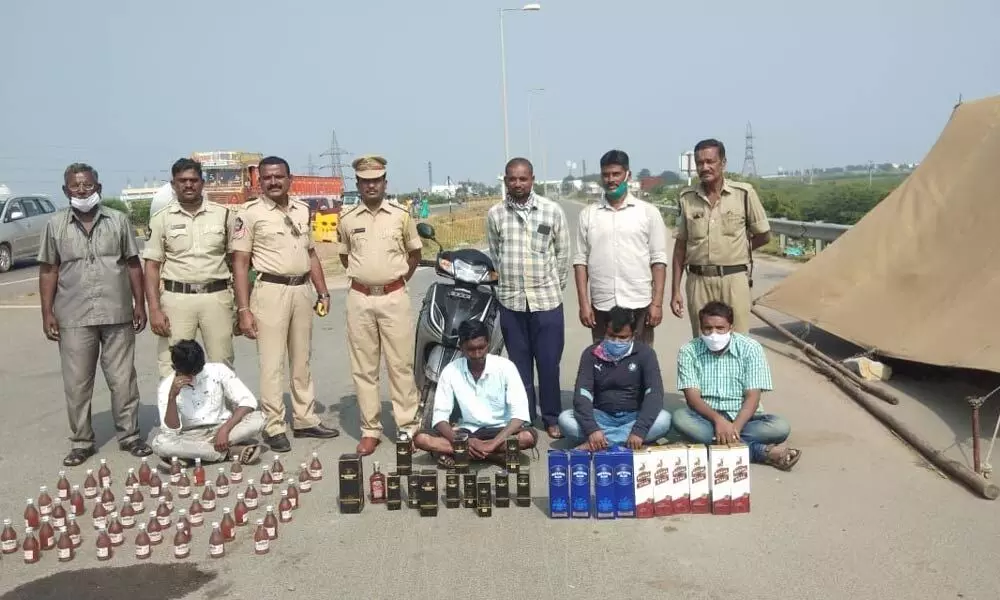 Highlights
The personnel of Special Enforcement Bureau (SEB) on Monday arrested 48 persons for transporting illegal liquor
Kurnool: The personnel of Special Enforcement Bureau (SEB) on Monday arrested 48 persons for transporting illegal liquor. Despite continuous raids and intensive checking at border check posts, the accused were fearlessly transporting Non-Duty Paid Liquor (NDPL) from the adjacent states Karnataka and Telangana, said Lakshmi Durgaiah, Circle Inspector of SEB.
Speaking to media, Lakshmi Durgaiah stated that following the orders of Additional Superintendent of Police (ASP) Gowthami Sali, raids were conducted across the district by the teams of SEB, cops of civil and excise departments. During the raids, he said around 3,205 liquor bottles of various brands, 3,197 gutka packets, 278 liters of country-made liquor, 40 litres of toddy and 6 vehicles were seized. Even 6,150 liters of country-made liquor was destroyed.
The CI further stated 47 cases were filed and 48 persons were arrested with regard to transportation of liquor and gutka. In addition to transportation of liquor and gutka, a case was also filed on sand transportation and one person was arrested. The CI has appealed to the people to not spoil their valuable lives by transporting liquor and banned products.
He also urged the people to cooperate with the police in curbing the illegal transportation of liquor, sand and other spurious products. He asked them to forward the information, photos or videos, to WhatsApp number 7993822444.