Nellore: 7 smugglers held precious sand boa recovered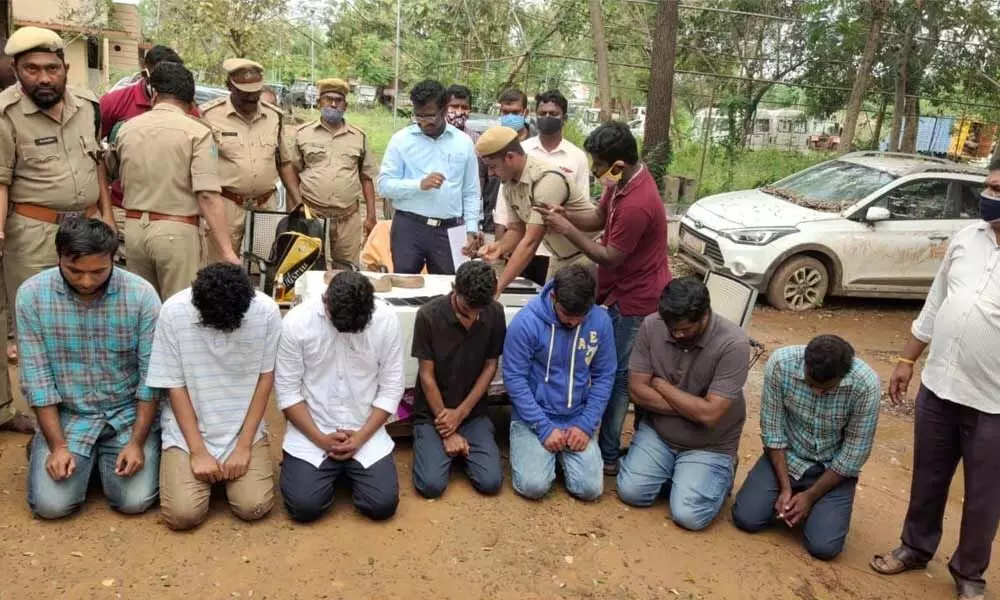 Highlights
District Forest officials along with South India Region Central Wild Life Crime Control Bureau of Chennai in a joint operation apprehended an inter-state gang involved in smuggling of valuable red sand boa, which popularly known as two headed non-venomous snake
Nellore: District Forest officials along with South India Region Central Wild Life Crime Control Bureau of Chennai in a joint operation apprehended an inter-state gang involved in smuggling of valuable red sand boa, which popularly known as two headed non-venomous snake.
The team arrested seven accused of gang and rescued a reptile, seized 8 mobile phones, 2 laptops and 2 cars from them. The accused were identified as D Ashok Reddy, B Ravindra Reddy, V Vamsi Sekhar, R Jeevan Kumar, G Govardhan Reddy, N Munikrishnamachari, and K Bhaskar.
According to District Forest Officer Shanmukha Kumar, a team led by the Forest Range officer of Venkatagiri B Rajendra Prasad and Circle Inspector Sk Rangeswaran from Wild Life Crime Bureau South Region, Chennai conducted a sting operation and arrested the accused on the National Highway-16 at Naidupeta on Friday.
"The inter-state gang was trying to transport red sand boa to Tamil Nadu from the region. The price of snake is around Rs 70 lakhs and it is decided by its weight. The snake is a non-venomous snake which lives in semi-desert areas and foothills. This is widely smuggled and traded to black market. The myth that sand boa brings luck. There are superstitions that sand boa is widely used for rare medicines and it is not correct. Killing sand boa is a crime under Wildlife Protection Act," said the DFO Shanmukha.
A case was registered against the accused under relevant sections of Wildlife Protection Act, 1972.