Tirupati: Offline Sarvadarshan tokens issued till June 30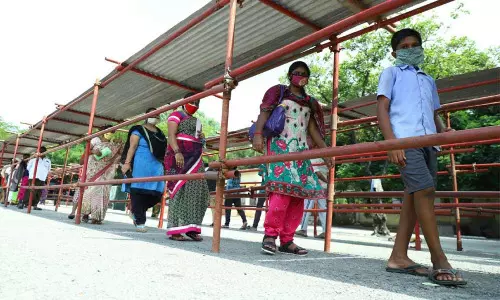 Highlights
The Sarvadarshan tokens were issued from 18 counters at various places from 5.00 am
All the tokens meant from June 27 to 30 have been booked by noon and large number of people were seen standing in queues since 1.00 am
Tirupati: The issuing of offline Sarvadarshan tokens began here on Friday. The tokens are issued for darshan from June 27 to 30 with 3,000 tokens daily for darshan and the entire quota of

12,000 (for four days) were booked by noon. Hundreds of people standing in the line including those who have come from far off places and could not get the tokens returned disappointed.
Ardent devotees who are keen on darshan of Lord stood in the queue since 1 am in the wee hours and the issue of tokens started at 5.00 am in the morning at 18 counters set up in Vishanu Nivasam opposite to Railway station, Srinivasam pilgrim amenities complex near RTC Bus Stand and Bhudevi complex near Alipiri.
As the additional quota of Rs 300 special entry tickets were booked within an hour, the devotees have no option except to get the offline Sarvadarshan tokens issued in the counters in Tirupati resulting in large number of people turning up to avail the tokens at the counters for darshan.
People were seen patiently standing in the long queue waiting eagerly for their turn at all three centres where the tokens issued from early in the morning.
It may be noted here that TTD increased the daily quota of Rs 300 special entry tickets from 3,000 to 9,000 while the quota of offline Sarvadarshan remained at 3,000 daily. In all TTD is now allowing about 14,000 people daily for darshan resulting in the darshan timing also extending to 9 pm in the night against 7 pm earlier.