Donald Trump the Master of Marketing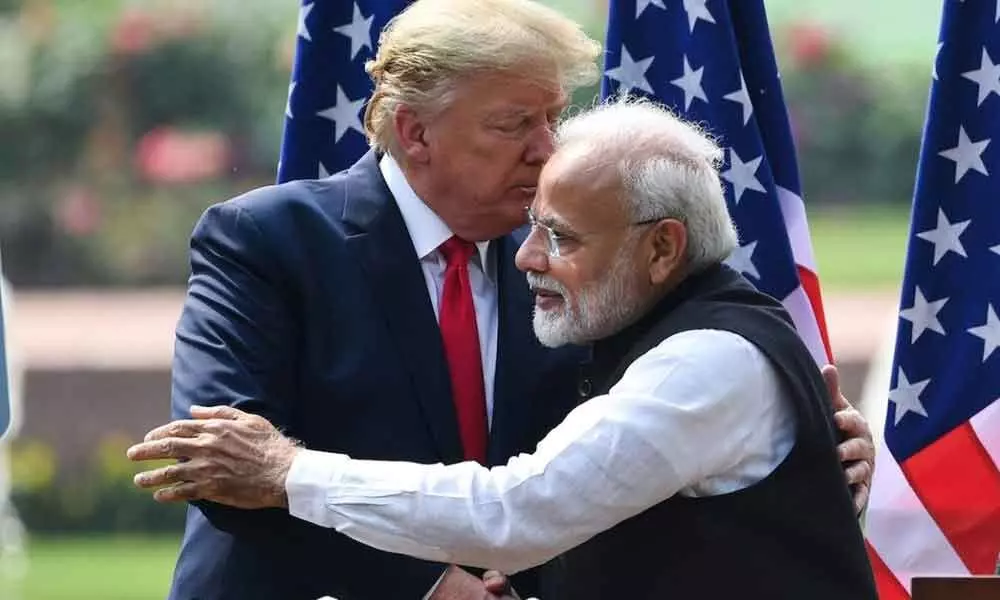 Highlights
Optics and hugs apart, maverick US President took home much more than what he offered to India - a defence deal, more LNG imports and a good bit of nice campaign content for his re-election bid
Do Indians love the United States of America (USA) more than their motherland? The answer is obvious though many hardcore Indian patriots may not agree with this reality. Further, a recent conversation reveals the truth and beyond. A man who runs a small photocopier and documentation shop in Hyderabad was proudly speaking on his phone recently. He could not hide pride in his voice and glow on his face when he was informing the person on the other side how his relatives were spread across the United States. "My cousin and his family live in Los Angeles. We have a close relative, working in Washington DC. The other cousin is in Pittsburgh. We also have one who works in San Francisco," he said.
Do Indians talk about their relatives working in India with such a pride in their voices and glow on their faces? Absolutely not. For, people working in the US earn in dollars while their counterparts in India earn in rupees. And job in the US is a sure way to riches and rich lifestyle. So, a job and life in the US gets more respect. No surprise that Indians love the US, its visas, its high-paying jobs and its way of life more than anything else. If given a chance, the India's growing middle class would love to shift to the US lock, stock, and barrel and stay put there. Unfortunately, that's not possible.
Though majority of Indians love the US, their disdain for Donald John Trump, the maverick US President, is no secret. For, Indians strongly feel that Trump is creating hurdles to their passage to the US and the riches that it offers. There is a valid reason for this. Trump, who won 2016 elections with 'America First' slogan and his anti-immigration stance, imposed curbs on work visas and acted tough on illegal immigrants to please his core constituency of native American whites.
Interestingly, Trump stuck to his 'America First' stance when he came on a 36-hour official tour to India earlier this week. Optics and frequent hugs with Prime Minister Narendra Modi notwithstanding, the maverick US President, known for his Tweets at odd timings and controversial statements, took home more than what he offered to India. During the Trump's maiden visit to India after becoming the US President, India signed an agreement with the US to buy military helicopters worth $3 billion from the superpower. Further, another agreement signed would facilitate more imports of liquefied natural gas (LNG) from the US into India. Moreover, he also took home nice campaign content for his re-election bid months before election fever peaks for US Presidential Poll scheduled for coming November. Indian Americans traditionally support the Democratic Party. Trump belongs to the Republican Party.
Surveys revealed that 80 per cent of 1.2 million Indian American voters opted for Hillary Clinton, Trump's main rival and Democratic Party candidate, in 2016. In this year's election, the number of Indian American voters is expected to rise to 1.4 million. Trump will obviously use his recent Indian trip and his closeness to PM Modi to lure more Indian American voters this time around. But sadly, India has not gained anything concrete from this high-profile visit. The much-awaited trade deal between India and the US is still elusive though Trump during his stay in India has indicated that a comprehensive trade deal between the two countries will be signed by the end of 2020. However, he complained about high import tariffs in India on American products including Harley-Davidson bikes. That means the US will not okay the proposed new trade deal unless India reduces such tariffs.
The fact of the matter, however, is that Trump will first have to win 2020 elections for the trade deal to go through. Otherwise, the trade pact issue will be back to square one.
However, as in the past, Trump proved himself to be the Master of Marketing during his short visit to India. That's Donald John Trump, the quintessential American.
However, whatever may be the present situation, India is at an inflection point and has a great opportunity to emerge as a global leader and a worthy economic rival to the US if our leaders and planners play right cards, plan right moves and propose right strategies. Not long ago, the USSR, popular as Soviet Union, challenged the supremacy of the US and as consequence, the world went through a cold war till the communist country disintegrated into Russia and a few other smaller countries in 1991. Subsequently, our neighbour China, another communist country, rose to prominence in world affairs, albeit gradually. China which surprised everyone by embracing elements of capitalism in late 1970s succeeded in emerging as an economic power in the last few decades.
At $14.3 trillion (Rs 1,032 lakh crore), the China's economy is now second only to the US, the world's largest economy. In 2019, the US economy was estimated at $21.44 trillion (Rs 1,547.43 lakh crore). However, whatever maybe the form and finer points of the collaboration, communism and capitalism can't coexist for long. As the world experienced in the collapse of the Soviet Union, authoritarian regimes would also not last long. So, on a longer horizon, China can't challenge the dominance of the US. As the aftershocks of coronavirus revealed, China's economy is as fragile as we can imagine. The world needs an able alternative supply source of China's magnitude.
It's a fact that China and India have many similarities. While China is the world's most populous country, India is the second most populous nation in the world. While China is the word's manufacturing powerhouse, India has carved a niche for itself in software technology. Both are home to cheaper labour compared to the developed world of the US, Europe and other economically advanced regions. But there is a big differentiating factor between the two. While India, like the US, is home to a thriving democracy, China is shackled by communism and authoritarian power structure. India also has the advantage of demographic dividend thanks to its relatively young population. But the main drawback is the country's weaker economy compared to the US and China. India's economy was at $2.75 trillion (nearly Rs 200 lakh crore) in FY19, less than a fourth of China's.
India should bring in measures to spur economic growth over the next few decades. It should follow a two-pronged strategy to achieve this. The main strategy is to put the country's economic growth on a higher growth track. Secondly, it should see to it that Indian currency becomes stronger against US dollar. That way, it can have a higher economic upswing in dollar terms, which helps bridge the economic gap with China. If that happens, India can outgrow China in next few decades. Thereafter, the country will not take much time to challenge the dominance of the US in the unipolar world. But the moot question is whether our leaders have that kind of vision. PM Modi seems to be taking some steps in that direction.
But India and its leadership need to do more. Then only, the country can dream of becoming a developed country and superpower. When the US, which came into contact with the world not more than 400 years ago, could emerge as developed country and a superpower, why India, which has a rich history of over 5,000 years and is endowed with talent, can't dream big and become a developed country? That too when it has the advantages of democracy, diversity, human resources, talent and what not? If India becomes a developed country, the cream of India's talent will remain in the country instead of going overseas with a begging bowl and falling in love with countries like the US. So, will also be the country's middle class. Is anyone listening?
Interested in blogging for thehansindia.com? We will be happy to have you on board as a blogger.