Praj Industries (PRJ IN) - Q4FY23 Result Update - Healthy performance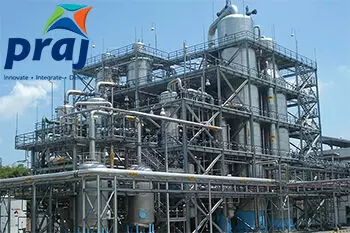 Highlights
Gross margin improvement (expanded 420bp YoY- on low base) visible with execution of newer contracts. Order inflows declined 5.8% YoY, owing to decline in Bio-energy segment (down 15% YoY).
Praj reported healthy quarterly performance with revenue growth of ~21% and EBITDA margin expansion of 148bps YoY to 10.4%. FY23 order inflows came in at Rs50.6bn, up 17% YoY, driven by 1G ethanol orders in Bio Energy segment (up 22%-Rs33bn). As 1G order inflows are likely to peak out in FY24, order inflows sustainability in FY25 from newer opportunities will be closely watched. Recent trials of commercial flight with blend of Sustainable Aviation Fuel (SAF) by Praj, IOCL and Air Asia, augers well for future opportunities. (likely requirement of 140mn ltr SAF/yr to meet 1% blending). Praj has envisaged capex of ~Rs2bn, including 1) setting up a modern manufacturing facility for Energy Transition and Climate Action (ETCA) segment (Rs1bn- having revenue potential of 30-40x over time) and 2) demo plant for Polylactic Acid (PLA) for commercialization of bioplastics (Rs600mn).
We believe PRJ is well poised to benefit from upcoming opportunities given 1) its strong leadership in domestic ethanol plants (~50% market share), 2) global presence and 3) focus on future-ready technologies like 2G plants, Compressed Bio Gas (CBG), ECTA, SAF etc. We expect PRJ to report revenue/PAT CAGR of ~8%/16% from FY23-25E. The stock is currently trading at PE of 23x/21.3x FY24/25E. We maintain 'BUY' rating with revised TP of Rs475 (Rs495 earlier) valuing 27x FY25E (28x FY25E earlier), owing to plateauing order visibility post FY24.
Strong revenue growth of 20% drives PAT growth: Praj reported strong revenue growth of 20.8% YoY to Rs10bn (vs PL estimate of ~Rs10.2bn), owing to strong execution in Bio energy segment (up 31% YoY to Rs7.1bn). Gross margins came in at 41% (vs 36.8% in Q4FY22 being partly impacted by commodity inflation). EBITDA grew 40.8% YoY to Rs1bn (PL estimate of ~Rs968mn), with EBITDA margin expanding by 148bps YoY to 10.4% (PL estimate of 9.5%), despite factoring in higher other expenses (up 36.8%, YoY). PAT grew 52.9% YoY to Rs881mn (vs PL estimate of Rs761mn) aided by higher other income (up 77% to Rs200mn).
Order book healthy at Rs34bn: Order inflows for Q4FY23 came in at Rs10.4bn, down 5.8% YoY, owing to decline in Bioenergy inflows (down 15% YoY to Rs8.5%), while it increases for HiPurity (up 88% to Rs830mn) and Engineering Business (up 71% YoY to Rs1bn). Enquiry pipeline continues to remain strong from 1G ethanol plant in near term. Order book stands healthy at Rs34bn, (1x FY23 revenue) comprising of Bio energy (84%), Hi-Purity (5%) and Engineering (11%). Within exports market, Low carbon ethanol is emerging as good opportunity in the USA.