Self-reliance, the way forward for India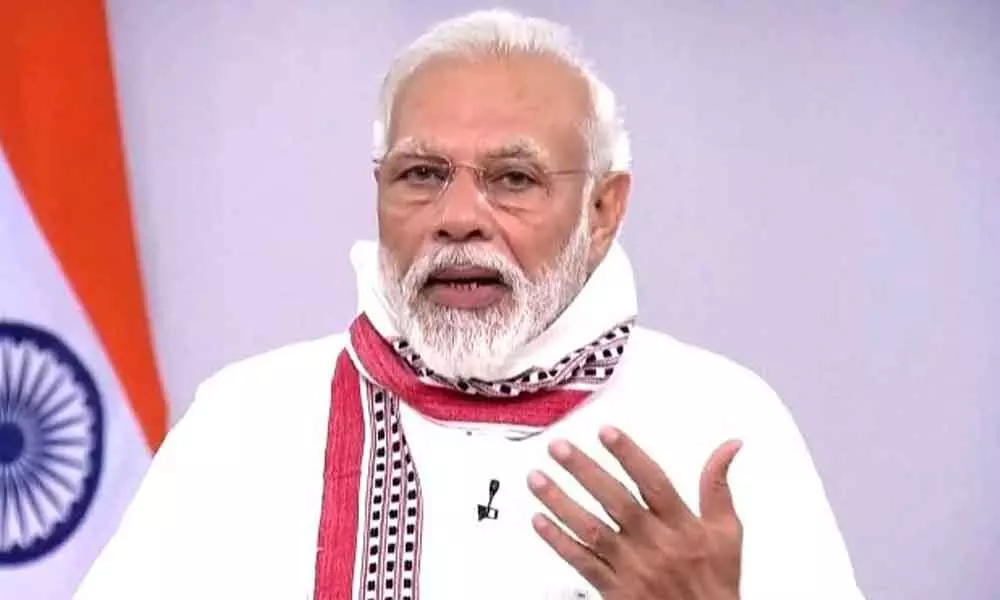 Highlights
Prime Minister Narendra Modi on Tuesday said the 'Atma Nirbhar Bharat' would be based on five pillars: Economy, infrastructure, technology-driven system, vibrant demography and demand.
Prime Minister Narendra Modi on Tuesday said the 'Atma Nirbhar Bharat' would be based on five pillars: Economy, infrastructure, technology-driven system, vibrant demography and demand. When India speaks of self-reliance, it does not advocate for a self-centred system. In India's self-reliance, there is a concern for the whole world's happiness, cooperation and peace. The package, first in the series, is timely in supporting the neediest segments of the economy - MSMEs, farmers, taxpayers and the middle class. "The package is predicated to make the Indian economy self-reliant by leveraging our inherent strengths of demographics, technological skills and domestic demand by building infrastructure and robust supply chains that would give a boost the 'Make in India' programme," according to industry circles. So far, the fight against Covid-19 was on medical front but now it is going to be a multi-pronged fight. On one hand to ensure that coronavirus is contained and on the other, to give a stimulus to the economy. For this, the Prime Minister's emphasis on being 'Vocal about Local' and to buy local is a message to rekindle India's sagging manufacturing sector.
In a bid to provide support to the struggling MSME sector, the government announced loans worth Rs 3 lakh crore which would be collateral free automatic loans. It also changed the definition of MSMEs by revising upwards the investment limit and bringing in an additional criterion of turnover size of the company. Further, it said it would no longer allow global tenders for the government procurement of up to Rs 200 crore. This certainly would help the MSMEs not only to re-bounce but also grow at faster pace. However, along with this, the Centre should also focus on improving the marketing facilities because for any product buyers are very important.
Another major step taken by the government is that only 'Made in India' products will be sold in paramilitary canteens from June 1, the government said on Wednesday, a day after Prime Minister stressed on the mantras of 'Atma Nirbhar Bharat' or self-reliance and 'Vocal about Local' while announcing a mega economic package to tackle the economic impact of coronavirus. The government feels that this is not the time to lag behind, but to turn a crisis into an opportunity. If every Indian resolves to use only 'Made in India' products, then the country will become self-reliant. In this direction, the Home Ministry has already issued instructions to all Central Armed Police Forces (CAPF) canteens to sell only swadeshi products. This will apply from June 1. Around 10 lakh CAPF personnel and 50 lakh members of their families will use swadeshi products. Paramilitary canteens record around Rs 2,800 crore in sales annually. The CAPF includes the Central Reserve Police Force (CRPF), Border Security Force (BSF), Central Industrial Security Force (CISF), Indo Tibetan Border Police (ITBP), Sashastra Seema Bal (SSB), National Security Guard (NSG) and Assam Rifles.
For taxpayers, the government reduced the rates of Tax Deduction at Source (TDS) and Tax Collection at Source (TCS) by 25 per cent, with effect from May 14, 2020 to March 21, 2021. It has extended the date for filing IT returns to November and tax audit to October 31.
The government has now made its policy very clear. It now apparently means that India will reduce its dependence on other countries. This is being seen especially in the context of China, which is constantly making such a snowstorm, which has increased the concern among Asian countries. The most troubles are being faced by countries like India, Bangladesh, Myanmar, Taiwan, Japan and South Korea. In such a situation, the rest of the countries including India need to evolve strategies which can catapult India into a major and self-reliant economy. It is clear from Modi's address that now the government is going to give opportunities for self-employment to the people at the local level. Emphasis is also being laid on the use of manufactured goods in that region, so that our dependence on China can be reduced.