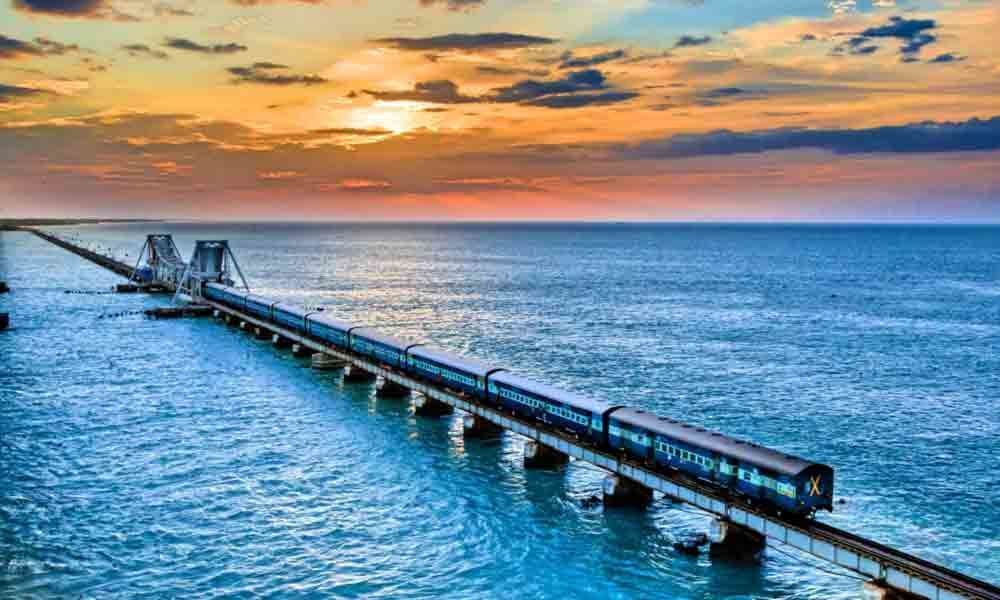 Highlights
Take these delightful train journeys while planning your next travel to rejuvenate yourself
Train journeys have always helped its travellers ponder upon themselves while they travel by it, falling into a trance of the train's gradual movement that remains consistent throughout one's journey. Despite having alternate options like flights and buses, trains wholeheartedly, still hold the essence of any itinerary for any traveller.
Tamil Nadu: Rameshwaram (Rameshwaram Express)
The train traverses through the magnanimous Godavri river and one can never have enough of the splendid blue waters since it enchants and holds you still in that very moment. Furthermore, what's not worth missing is the mystic Pamban Bridge that helps bridge the gap between the rail and the road. The itinerary lasts for about 5 hours.
Mumbai – Goa (Tejas Express)
This splendid 13-hour journey brings to you utter joy. Tejas runs from Mumbai CST to Karmali of Goa. This luxurious journey provides one with the top – notch amenities, Hand Dryers, Braille Display, Tap Sensor, Bio-Vacuum Toilets, LED TV, Phone Sockets, Chef Menu, Wi-Fi, Coffee Machine, CCTV camera, Smoke Detector, Snack Table, Magazine and Water Level Indicator to name a few.
Pune – Lonavala (Deccan Express)
This mesmerising journey is traversed in not more than an hour. The requisite train provides with an AC Chair Car which is convenient to book. There also exists the option of travelling by the swift Intercity Express that too comes with a sitting accommodation.
Delhi – Jaipur (Ashram Express)
On the way to Jaipur, you come across some of the beautiful tunnels that can definitely take you back to your childhood days of train journeys. Nonetheless, the standard time taken to reach Jaipur is three hours 45 minutes.
Nilgiri – Ooty (Mettupalayam – Ooty MG Pasanger)
The Nilgiri Passenger train is one of a kind because it runs on a Steam Engine and passes through the mesmerising Nilgiri Mountains. Throughout the five hours, you witness a total of 16 tunnels, huge forests and bridges in addition to the route's twists and turns. The train runs from Mettupalayam to Ooty via Coonoor.
Bhubaneshwar – Brahmapur (Prasanthi Express)
A mere 2 hour 40-minute expedition helps you savour all the natural beauty on the planet. One of the best train window views is of the rising sun at Chilika lake in addition to the magnificent lakes and lush greenery all around.
Subscribed Failed...
Subscribed Successfully...