Cooking right for a healthy Diwali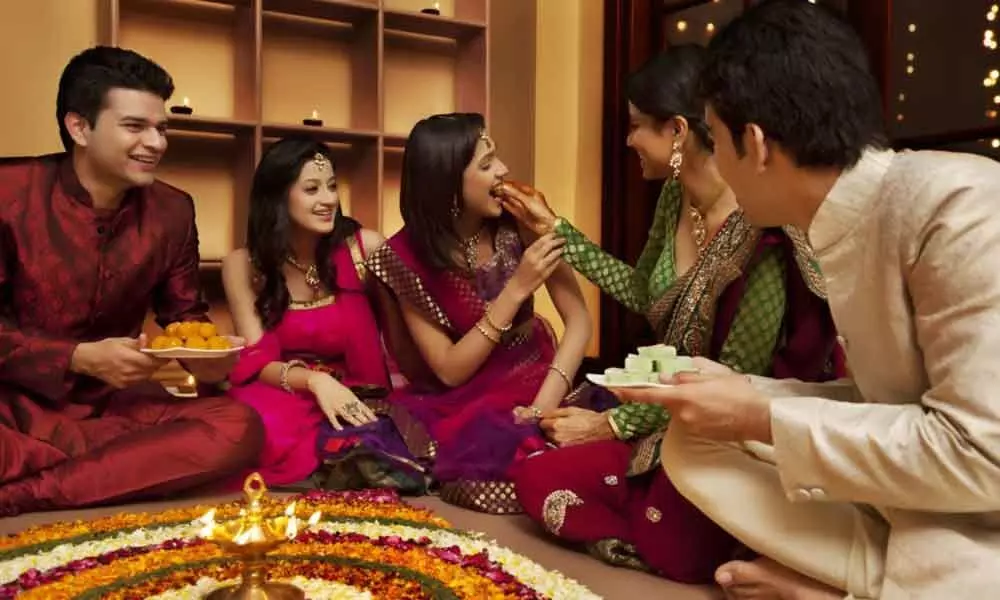 Highlights
Come festive season, and I have clients coming to me with the usual excuses – "It's Diwali, I cannot resist the sweets!" or "I'm surrounded by all...
Come festive season, and I have clients coming to me with the usual excuses – "It's Diwali, I cannot resist the sweets!" or "I'm surrounded by all kinds of fattening foods; how can I find anything healthy to eat?"
This is extremely simple instead of gorging on the sugar-laden and fried confectionaries find healthy substitutes to your favourite Diwali snacks, and you will see an easy way to get through Diwali without putting on the unwanted calories.
Things that are commonly served during Diwali are milkshakes, fruit juices, fried sweets, fried savouries, nuts and dry fruits.
Savoury
1. The deep-fried lentil balls in a traditional dahi wada can be swapped with salt-roasted fox nuts making it a non-fried curd chaat slightly sweetened with date chutney.
2. Simply avoid the papdi in a dahi papdi aloo chaat and trust me it will be just as delectable as it would be with the papdi in it.
3. A standard fried savoury snack in all households chooses smartly to eat a baked samosa with a side helping of green chutney instead of the fried version.
4. If you are expecting guests at home, then surprise them with a roasted nutrient-rich nuts and seed mix instead of the ordinary fried chivda. The nuts could be roasted and salted pistachios, almonds and cashew nuts. The seeds could include pumpkin seeds and melon seeds.
5. The white flour deep-fried at high temperature with oil constantly being reused clogging your arteries and increasing your weight samosa chaat can be easily substituted by the lip-smacking chatpata pan roasted aloo tikkis with radga, rock salt, roasted cumin powder with coriander mint green chutney and you could top it with chopped onions and tomatoes and a dash of pure date chutney with no added sugars.
Sweets
1. Milkshakes which would be anything between 115-120 calories, they can be replaced with cold coffee with stevia which turns out to be almost half the calories. Fruit juice an orange juice uses about 4-5 oranges and gives you a sugar rush and also eliminates the fibre of the fruit. You can simply replace this with a few cut fruits which will leave feeling satiated. Sprinkle some chaat masala on the fruits to get an extra energy boost.
2. Shreekhand this sugar-rich sweet preparation can easily be replaced with natural sweeteners like stevia or simply cut pieces of pineapple and add it to your shreekhand to make it into a delicious fruit yoghurt!
3. Barfis commonly found during Diwali these mawa and sugar barfis can be exchanged for sandesh. If you choose Noleen gur sandesh then even better as this cottage cheese and jaggery preparation of Bengal, simply crumble in your mouth.
4. Shakkarpara gives these diamond-shaped white flour and white sugar-filled cookies a miss this Diwali and chooses to reach out to the diamonds made of gud and jaggery and wheat flour that is gud papdi.
5. Kaju katli this mithai is a calorie-dense sweet made of sugar syrup, cashew nuts powdered and oil. Just replace with a mithai made purely of nuts and dry fruit such as pistachios, almond slivers, dates and figs.
With Diwali round the corner, you see multiple shops in preparation of bulk load of orders for white sugar-laden Indian confectionaries. As tempting as they all are to gorge on, let's aim at choosing what is good for you. It's not about deprivation but the addition of fresh unprocessed natural foods and being aware of which is good and bad for the body.
Subscribed Failed...
Subscribed Successfully...