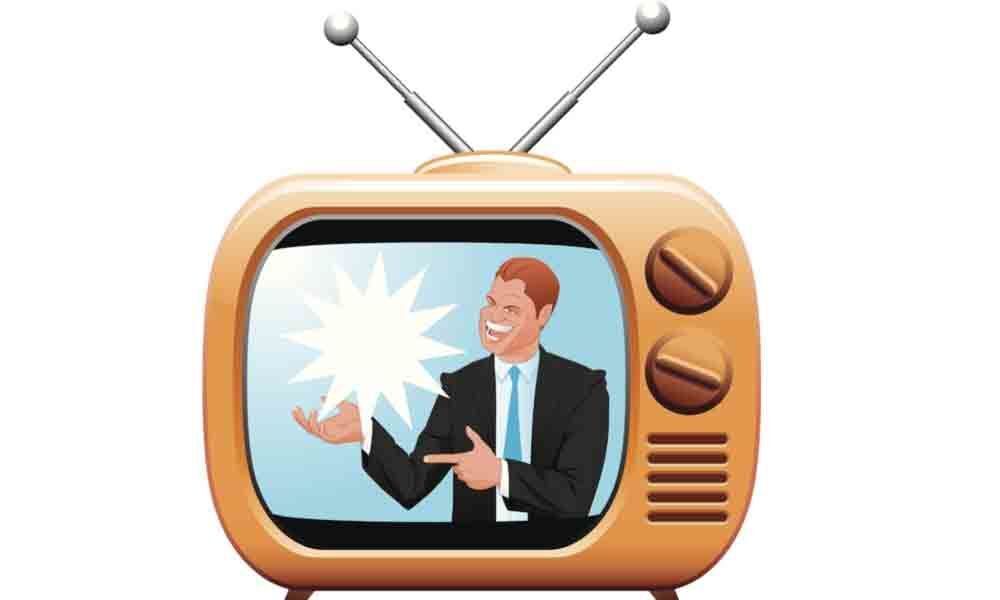 Highlights
There is a deep-rooted conspiracy,' said Subbu. 'Only a few people and their families are hogging everything. At our cost.'
'There is a deep-rooted conspiracy,' said Subbu. 'Only a few people and their families are hogging everything. At our cost.'

'Are you referring to politicians?' I asked.
'No, not them,' said Subbu. 'Didn't you notice? There are only a few people on TV all the time. Out of a billion people, all we get to watch are these five-ten faces. What about the rest of us? We must protest.'
'Are you referring to politicians?' I asked.
'Arre, watch TV carefully for five minutes and you will know,' said Subbu.'
'I was watching a World Cup match on TV and guess what? I find the same two-three fellows on the screen all the time. And in the break after every over, we get a break from cricket. Not from these guys.'
'What do you mean?' I asked.
'These guys immediately change their clothes and come back to advertise,' said Subbu. 'They act like middle-class or poor people and try to sell us all kinds of stuff that they never use. Completely misleading.'
'What kind of stuff?' I asked suspiciously.
'Arre anything. From taxi rides to wedding clothes, chips to credit cards, and everything else. Then when the break is over, they change clothes and go back to playing cricket where they sell different cricket bats.'
'Oh, you're talking about cricketers!' I said. 'They are very popular Subbu. Like movie stars.'
'Not with me,' said Subbu.
'Then watch something else on TV,' I said.
'I tried,' said Subbu. 'Even on the movie channel, there are movies made on them. Tell me, why can't they leave us in peace?'
'Search for your favourite actors,' I suggested.
'Even those guys are involved. I switched on the TV and saw my favourite hero. But he was not acting in a movie. He was interviewing cricketers, dancing at the cricket ground, singing with them. He is apparently selling his movie based on cricketers. I am up to my gills with cricketers and movie stars.'
'What are you suggesting?' I asked.
'I want a policy that says that no cricketer and movie star should appear more than five times in a day in ads,' said Subbu. 'Definitely not 500 times like they are now. These guys are on screen so often that sometimes when I look in the mirror, I see their faces only. They are popping up in my dreams and selling me stuff. That's' how bad it is.'
'Hmm,' I said.
'That's not all. Some of them have teamed up with their wives to advertise, acting lovey-dovey, which is not how husbands and wives behave. I can't stand the lot anymore. I demand that they give a chance to other families too. Especially those who are really using the products they are advertising.'
'Subbu,' I said. 'People like them. That is why they are modelling for those products. And the game is popular.'
'To me, it's become very unpopular,' said Subbu. 'I stopped watching cricket and put on kabaddi and football. Guess what - they are there as well. It's the limit.'
'It's sad if ads have driven away from a genuine cricket fan like you. How do you catch up on cricket?'
'I started watching highlights,' said Subbu. 'But there is an even bigger danger lurking there.'
'What?'
'Ex-cricketers!' said Subbu in tears. 'From the last forty years! They are all back as experts jostling for space in the studio. It's traumatic, to say the least. Get some new faces, please. There are a billion more in our country.'
'I really think you need a break,' I said.
'Nooo…,' said the traumatised Subbu. 'I don't want a break. Because they will appear in the break again.'
Subscribed Failed...
Subscribed Successfully...