It's time you loved your heart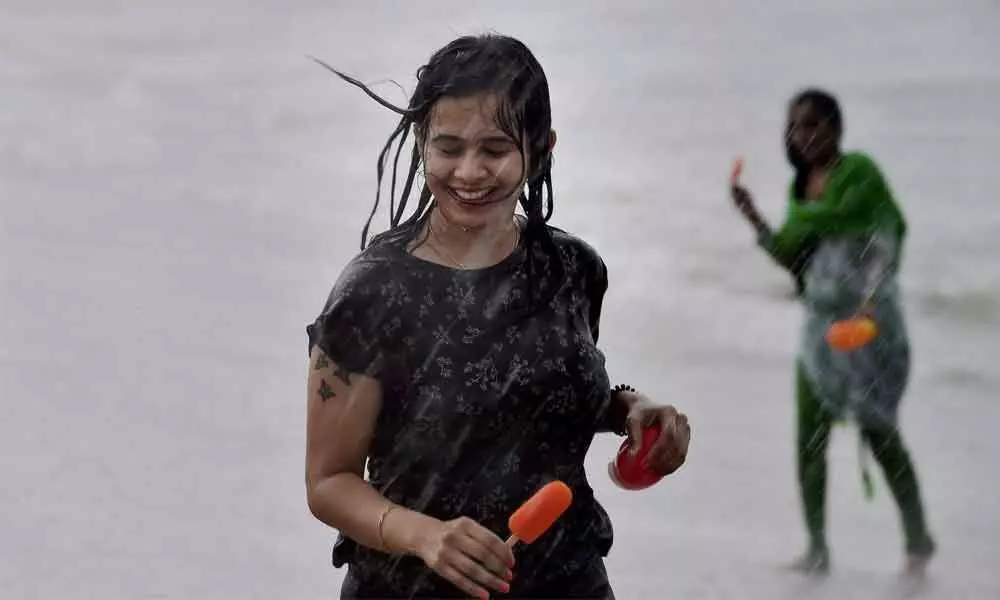 Highlights
As we celebrate World Heart Day today, the situation is not just far from satisfactory, but also alarming.
As we celebrate World Heart Day today, the situation is not just far from satisfactory, but also alarming. We are literally sitting on a powder- keg which might explode at any time.
According to international experts, India is poised to become the worst hit by heart diseases and hypertension by 2020, barely a year from now. Our entire country is at high risk of cardiovascular diseases.
Medical research is developing and technology is progressing, along with facilities and quality of medicines too, but the worrying thing is the prevalence of heart diseases is ever increasing, posing a challenge to us all, medical fraternity, public and private healthcare infrastructure and society in general.
Importantly, now it is the duty of every individual to love her or his own heart than ever before.
Hyderabad and Telangana or erstwhile combined Andhra Pradesh in particular or South India in general project trends in heart ailments in tune with the overall India or for that matter, Asia Pacific region of countries.
Without going into statistics, I can only say that more and more young persons are falling prey to heart diseases now, compared to a quarter century years ago.
As incidence of heart failures, attacks and other related disease goes up, sadly we are lagging behind in coping with the challenge.
Lack of awareness at individual level or society in general or insufficient public infrastructure and trained personnel and primary treatment equipment at public places in cases of emergency are some of the problems before us.
There is also change in profile of patients and their average age group over the last few decades. Earlier, about two decades ago, heart diseases were reported mostly in middle-aged persons particularly from urban background.
However, since recently, we have been witnessing younger people, those in their late 20s or early 30s too are suffering heart ailments.
Around mid-90s, about 70 per cent of beds in an ICCU were occupied by heart patients above the age group of 50 years, but now it has come down to below 40 per cent.
This is an alarming issue as our young generation is more exposed to heart problems putting them in a vulnerable condition, both socially and economically.
Both urban and rural people as well as men and women are equally vulnerable to this major health issue in recent times. Usually, women up to the age of around 40 or 45 years are protected from heart problems thanks to estrogen generated in their bodies.
But, of late, we have been seeing women of all ages suffering from heart ailments. This is a worrisome phenomenon.
Major reasons for higher prevalence of heart diseases in Asians are high level of lipoprotein (a), high small density LDL and abdominal fat in body, lifestyle changes, from more physical work, to sedentary jobs, lack of physical exercise, high prevalence of diabetics, consumption of tobacco and bad eating habits are contributing to higher rate of heart problems.
Craving for fast food and reused cooking oil too are not good for a healthy heart.
We must remember as our part of the country, and Hyderabad is already a major zone of high incidence of diabetics, which is a gateway to heart diseases also are arteries in the heart are damaged by higher sugar levels in blood.
Hypertension or stress at workplaces or outside too is emerging to be a major risk factor for heart diseases.
Another major worry is suddenness of heart attack which sometimes may go unnoticed by patients themselves. There will be symptoms of heart ailment in most cases but there are also cases the problem may come without any noticeable symptoms.
There is a higher risk to life of patients in such cases. There is a need to take indirect symptoms too seriously, to avoid bigger problems.
People should always be careful about symptoms like breathlessness, sudden exhaustion, giddiness, pain in chest or even if their body mass index (BMI) is more than 25.
Such people, especially if they are above 30 years age group, better go for a heart check-up. I recommend periodical heart check-ups for persons above 40 years, at least once a year.
The social and economic costs of uncontrolled heart diseases, which might turn into fatalities, are definitely higher for both the patient and the country on the whole.
What I suggest on this World Heart Day is that it is the duty of all of us to see that more care should be taken to prevent heart disease, instead of spending huge amounts on their treatment.
Luckily, the costs of treatment of heart diseases in both public and private sector are at a reasonable level and thanks to the initiatives taken by the government, the prices of stents too are standardised.
There is enough modern state-of-the-art technology and research to take care of the heart patients who are far better placed today than those a few decades ago.
I and my team of eight doctors have done over 30,000 procedures of radial interventions and another 1,500 procedures in chronic total occlusions in the last two decades.
With this experience, I can say that there is an urgent need to educate our people on the lurking threat of heart ailments. Timely medical help will drastically improve the condition.
What is now needed is widespread education to keep our heart healthy and focus on preventive steps, through a series of simple habits.
Eating more fibre, instead of carbohydrates, keeping away from tobacco, leading healthy lifestyles by adding daily routine of walking etc, making efforts to reduce stress levels.
We should also impart training to our police and other staff who are on duty at public places so that they can come to rescue by CPR (Cardio Cresusistation Techniques) of patients who collapse due to heart problems.
In advanced countries like the USA, Japan and Europe, they keep enough equipment available at public places like malls, major public places. Also, we should upgrade our ambulances with enough medicines and equipment to deal with heart patients.
(The writer is Head of the Department - Cardiology, Century Heart Institute, Century Hospital, and founder member of Indo-Japanese Chronic Total Occlusions Club)