Why pre-poll alliances need legal sanctity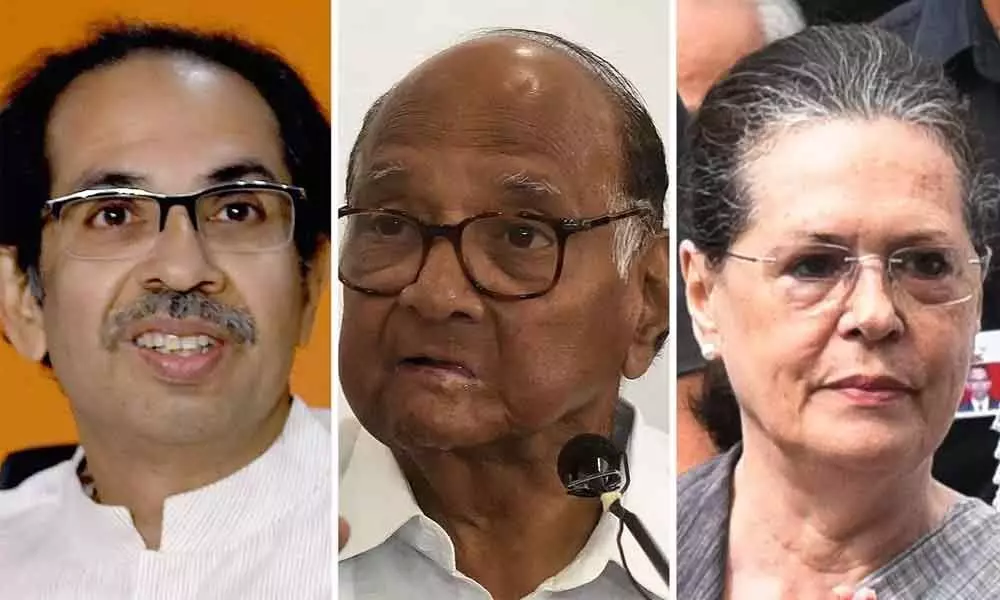 Highlights
Dumping pre-poll alliance partners violates the fundamental premises of democracy- the voters' will
The fast-paced political developments that are taking place in Maharashtra look like a dexterous remix of a Bollywood potboiler with that of a Hollywood thriller. From Ajit Pawar's shifting of loyalties and Devendra Gangadharrao Fadnavis's swearing-in as the saffron party's Chief Minister of Maharashtra in the wee hours of Saturday to Supreme Court taking up the case on Sunday and finally Fadnavis' resignation on Tuesday, every political development in the past one week resembles a dramatic filmy scene.
But there is a key element missing in all the political drama, din, discourse and shameless public display of affection between parties of divergent ideologies. The missing element, sadly, is voters' will, the bedrock of any democracy.
In recent elections to 288-member Maharashtra Assembly, BJP-Shiv Sena contested as an alliance under Maha-Yuti (mega alliance) banner. BJP which fielded its candidates in 152 seats won 105 seats with a strike rate of 69 per cent. That means 69 per cent of BJP candidates won in the elections.
Shiv Sena, now an estranged ally of the saffron party, emerged victorious in 54 seats of 124 it contested, at a strike rate of 43 per cent. That means just 43 per cent of Shiv Sena candidates won the election.
The two parties collectively won 159 seats which are well above the half-way mark needed for the government formation. But Shiv Sena, known for its hardcore Hindutva plank and unpredictable behaviour, played the spoilsport by demanding 50:50 share in Chief Minister's post.
The fact of the matter is that it has just half of MLAs that BJP has. Furthermore, BJP is in power at the Centre. A close look at the numbers reveal that BJP has clear edge in popularity index.
In this backdrop, Sena's demand is unrealistic and illogical by any measure. But Sena and its power-hungry leadership stuck to its unrealistic demand and dumped the alliance partner. But it did not stop there.
The hardcore Hindutva party, in its quest to quench its power thirst, joined hands with Sharad Pawar's NCP and Congress which contested as an alliance, but did not get requisite majority. Through this move, Shiv Sena violated the will of voters who voted for Maha-Yuti.
For that, it will pay a heavy political price even if it wins this round of bout. Interestingly, Congress party which claims itself as the champion of secularism joined hands the hardcore Hindutva brigade for the sake of power in Maharashtra.
The Grand Old Party of India will further be marginalised across the country as through its action in Maharashtra, it diluted its core plank of supporting minorities. Even if Sen-Cong-NCP group succeeds in forming the government this time, their dispensation may not last long and Maharashtra will have to head for mid-term polls sooner or later.
Frankly, Maharashtra people are the losers in the whole issue.
However, this is not the first time that people's verdict has been subverted in our democracy, when it comes to pre-poll alliances. As recently as in 2017, Janata Dal (United) led by Nitish Kumar dumped its pre-poll partners- RJD and Congress - to form government with BJP which was in Opposition then.
In November 2015 elections to 243-seat Bihar Assembly, JD(U) joined hands with Lalu Prasad Yadav-led Rashtriya Janata Dal (RJD) and Congress to form Mahagatabandhan (Grand Alliance). BJP cobbled up its own alliance with Lam Vilas Paswan-led Lok Janshakti Party (LJP).
However, the Grand Alliance which went to polls declaring Nitish Kumar as its chief ministerial face won the elections with RJD bagging 81 seats followed by JD (U) with 70 seats.
RJD stuck to its word despite bagging more seats than Nitish Kumar's JD(U) and backed him for the CM's post. BJP's tally in that elections fell to 53 from 91 seats it won in the previous elections in 2010 when the saffron party allied with JD(U).
But the wily Nitish Kumar dumped RJD and Congress in July 2017 and joined hands with BJP to form the government. Though he resigned as Bihar CM after RJD's Tejashwi Yadav, son of Lalu, refused to quit as Deputy Chief Minister following allegations of corruption against the latter, and then got himself re-elected with BJP support within hours, the fact remains that Bihar people voted for the Grand Alliance, not for JD(U)-BJP alliance.
That way, Nitish Kumar who prides on his clean image as a politician violated the fundamental premises of any vibrant democracy - voters' will. Instead, he should have dissolved Assembly and gone for mid-term polls. Maybe, he was not confident of winning the elections. Therefore, he chose the backdoor route to power.
The saffron party also played its own part in this sordid drama by joining hands with him.
When Nitish Kumar, a six-time MP, Union Minister for multiple times, and six-time Bihar Chief Minister, resorted to such politics, expecting dogmatic Shiv Sena and its power-hungry, but confused leader Uddhav Thackeray to play to moral book is far-fetched.
The only way to curb such mindless political games is to have a legal framework and sanctity for pre-poll alliances. As election is for five-years, the Centre and Parliament should evolve a fair mechanism under which the Election Commission of India can recognise pre-poll alliances and monitor them for five years or till the elected house lasts.
When there is anti-defection law to safeguard the interests of political parties, then why can't the country have a law that can protect the interest of pre-poll political partnerships?
Otherwise, the country and crores of its voters will have no other option except remaining mute spectators while politicians, throwing voters' will and democratic decency to winds, indulge in shameful political games and machinations to grab power by hook or crook. As for Maharashtra is concerned, voters opted for a BJP-Shiv Sena government with Sena as the junior partner.
But that is not possible now. Therefore, the other best option is the re-election. Any other arrangement is against the will of voters. In democracy, it's the will of voters and people that should prevail. Nothing else.
Sadly, Supreme Court, the country's highest temple of justice, did not even allude to pre-poll alliance between BJP-Shiv Sena when it handled the floor test issue. An oral comment on the pre-poll alliance would have upheld democratic values and prevented such blatant violation of people's verdict in future.
Hope the apex court take steps, in future at least, to see that the will of voters prevails in democracy even if such steps cost money in the form of re-election. Democracy should come first, not the money.
Subscribed Failed...
Subscribed Successfully...