Mysuru-Mangaluru flight launched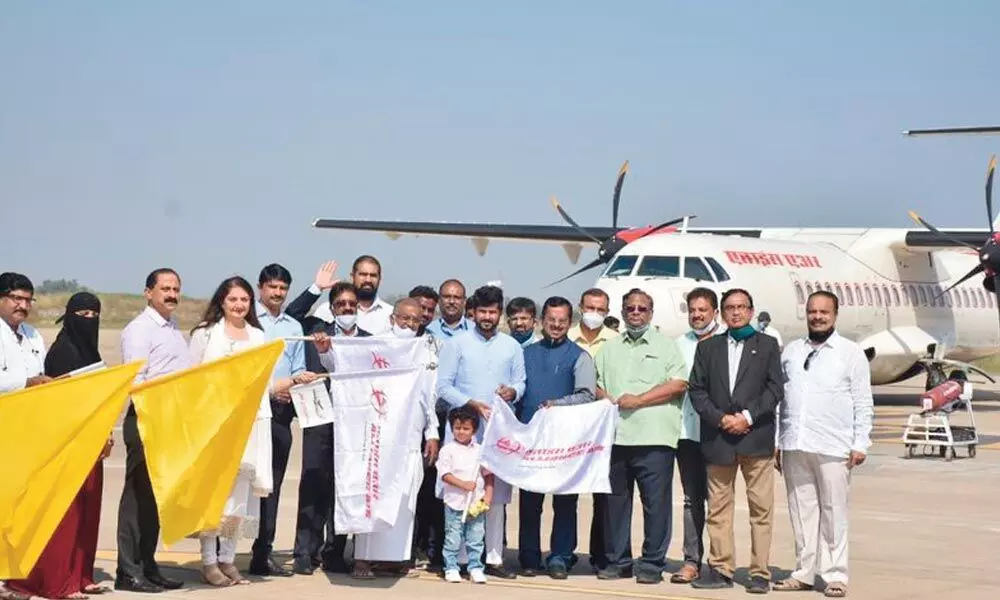 Highlights
Mysuru Kodagu MP Pratap Simha launched the much awaited flight from Mysuru to Mangaluru on Friday morning
Mysuru: Mysuru Kodagu MP Pratap Simha launched the much awaited flight from Mysuru to Mangaluru on Friday morning. The flight which arrived from Kochi was welcomed with a water cannon salute.
The flight from Kochi to Mangaluru via Mysuru, carried 23 passengers who appeared delighted to reach their destination in two hours, instead of a grueling 12-14 hours if they travelled by road. Similarly, the flight takes one hour to reach Mangaluru from Mysuru. It's about eight hours journey by road between the two cities.
On the first day, 72-seater flight 9I 532 which departed Kochi at 9:20 am, arrived at Mysuru at 10:20 am and left for Mangaluru by 10.50am after the formal launch.
The flight will operate on Wednesday, Friday, Saturday and Sunday. Due to operational reasons, flight timings were changed on Friday. As per the regular schedule, the flight from Mysuru airport will depart at 11:20 am and arrive at Mangaluru airport at 12:30 pm. And it will depart Mangaluru at 12:55 pm and arrive at Mysuru airport at 1:55 pm.
Chamundeshwari MLA G.T. Devegowda, Mysuru airport director Manjuanth, Mysuru hotel owners' association president C. Narayangowda, former FKCCI president Sudhakar Shetty and others were present on the occasion. Tourism stakeholders said that the air connectivity will boost tourism and investments in Mysuru.
Currently Alliance Air and TruJet are operating flights from Mysuru airport to Bengaluru, Belagavi, Hyderabad, Chennai, Cochi and Goa under UDAN regional connectivity scheme.
Addressing on the occasion, Pratap Simha said that shuttle services would be arranged for passengers to reach the airport from Mysuru city.
The Mysuru Kodagu MP said that the process of land acquisition for the airport expansion would begin in a month's time.
The Mysuru airport runway is suitable for landing of ATR flights with 72-seater capacity. Officials of Airport Authority of India have come up with a master plan to expand the runway from the existing 1,740 meters to 2,750 meters at an estimated cost of Rs 700 crores. The Mysuru airport authorities have sought 240 acres of land for the purpose. The runaway expansion will facilitate landing of bigger flights like Airbus 320.
The land for the project was identified in 2007-8 by KIADB. The Price Advisory Committee fixed price for 161 acres one year ago, and KIADB has approved it. And final notification has already been issued. The file in this regard is pending with the infrastructure development department.