Srikalahasti temple witnesses heavy rush of devotees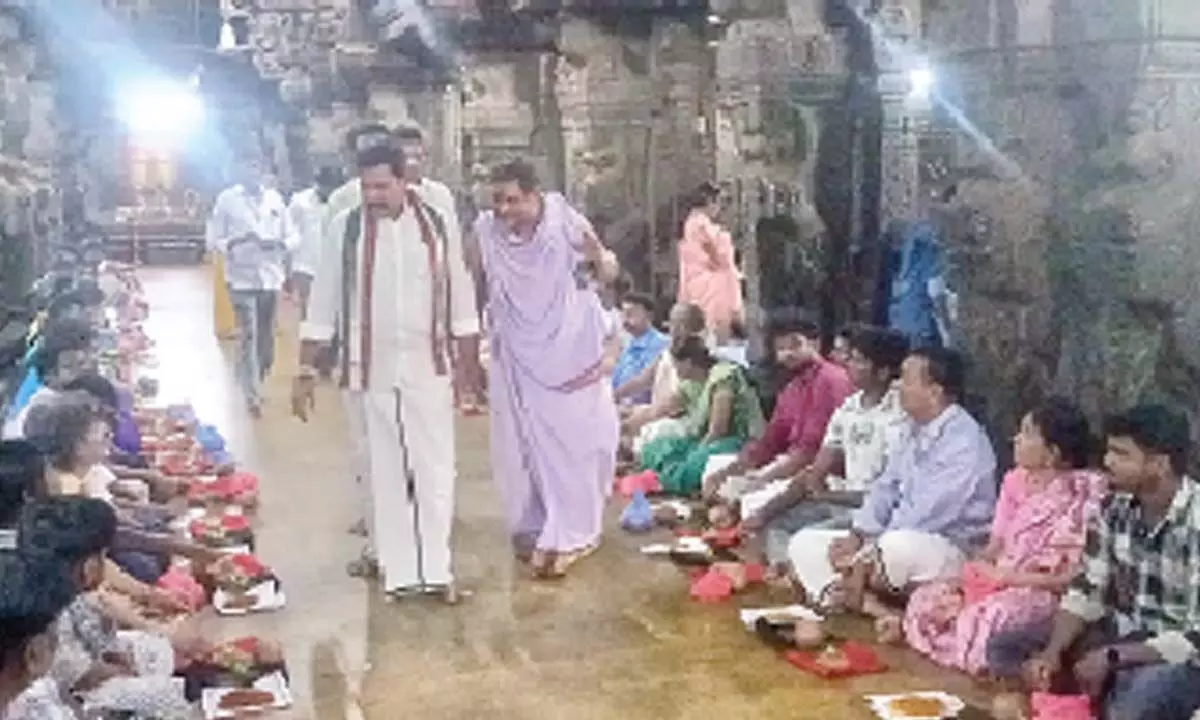 Highlights
Around 30,000 devotees offer prayers till evening
5,375 devotees performed Rahu Ketu pujas fetching the temple Rs 42.62 lakhs revenue
Temple Chairman Anjuru Taraka Srinivasulu monitoring Rahu Ketu puja mandapams and queue lines
Tirupati: Srikalahasti devasthanam witnessed a heavy rush on Sunday with around 30,000 devotees have worshipped Lord Siva. The temple has been drawing huge crowds during this summer which was surging further during weekends to offer prayers to the presiding deities. The temple is famous for performing Rahu Ketu pujas from morning to evening. Especially, most of the devotees prefer to perform these pujas during Rahu Kalam time. As such a record number of 5,375 devotees performed Rahu Ketu pujas on Sunday increasing the temple revenue by Rs 42.62 lakhs with these pujas alone.
According to temple information, 3,224 devotees have purchased Rs 500 tickets to perform Rahu Ketu pujas, followed by Rs 750 tickets by 1,446, Rs 1,500 tickets by 347, Rs 2,500 tickets by 298 and Rs 5,000 tickets by 60 devotees. Further, 1,174 devotees have purchased Seeghra Darshan tickets while 2,047 others have worshipped the Lord and Goddess by buying special entrance tickets. The devotees have also purchased about 20,500 packets of prasdams which include Pulihora, big laddu, small laddu, vada and Jilebi.
There was huge rush at everywhere in the temple throughout the day. The queue lines for darshan of Lord and the Goddess, Rahu Ketu puja and prasadam counters were jampacked. Temple authorities have monitored the queue lines and made arrangements for the hassle-free darshan of the devotees.
Temple Chairman Anjuru Taraka Srinivasulu also visited the Rahu Ketu puja mandapams and prevented brokers there. He enquired about the facilities provided in view of the large number of devotees have turned up and asked the Archakas to perform pujas to the satisfaction of devotees. The temple staff were asked to ensure darshan for all the devotees who performed Rahu Ketu pujas and personally monitored the ordinary queue lines to reduce their waiting time. The temple authorities are expecting more rush of devotees in the next one week as the holidays to schools are ending.