Tirupati: BJP condemns attack on JS leaders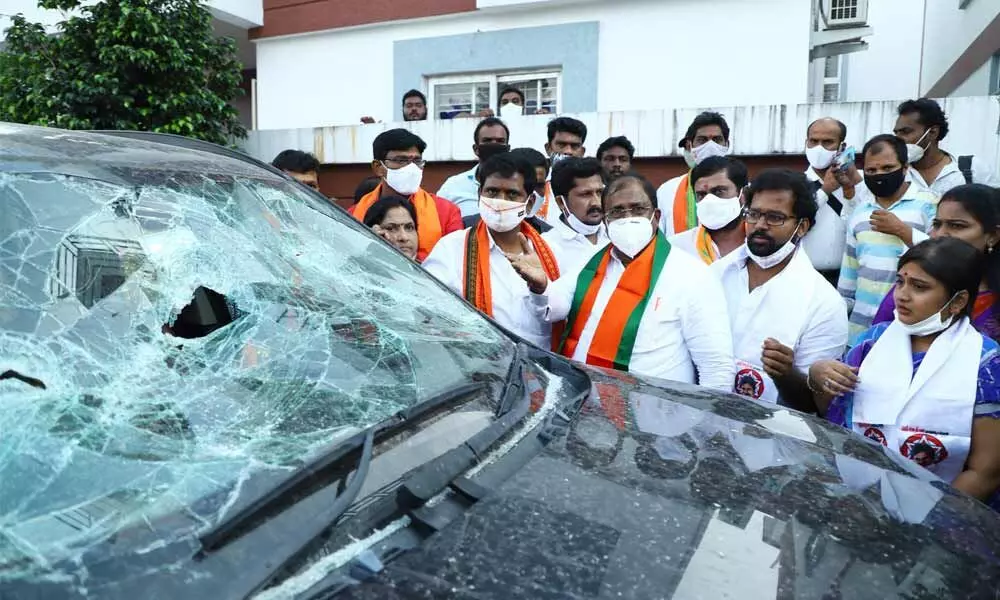 Highlights
Warns the YSRCP govt that his party will not remain a silent spectator on such incidents
Holds the ruling party leaders behind the attacker filing SC/ST atrocities case against the victim couple
Demands action against local police for their silence on the case
Tirupati: BJP state president Somu Veeraju along with district party leaders on Monday met Srikalahasti constituency in-charge Vinutha Kota and her spouse Chandrababu in Renigunta and enquired the recent incident of attack on their house and damaging of their car.
After his meeting with Vinutha and Chandrababu, the BJP leader, speaking to the media, strongly condemned the incident and warned the government that his party would not remain silent on the incident as it amounts to attack on the Jana Sena leaders.
He was highly critical of the local police and wanted the higher officials of the department to initiate an inquiry and take action on them for acting in a biased manner.
The local police instead of taking action on the attacker who damaged the car and also ransacked the house of Jana Sena leaders, filed an SC, ST (atrocities) case against the victims Vinutha and her husband clearly revealed that the attack was at the behest of ruling party leaders, he said , and made it clear that BJP and Jana Sena would not tolerate such violent attacks on their party activists.
On the reports that the attacker was earlier with Vinutha and worked for Jana Sena, he said that it was immaterial that to which party the accused belongs and the action must be taken.
It may be recalled that a youth identified as Siva damaged the car and ransacked the house of Vinutha on Saturday which evoked strong protests from district Jan Sena and BJP leaders who visited the house of Vinutha after the incident.
On Sunday, Jana Sena Party chief Pawan Kalyan also condemned the attack on Vinutha family. With the BJP and Jana Sena jointly coming out against the attack, the incident is snowballing into a major issue much to the discomfiture of YSRCP.
BJP sources revealed that the party will make the attacks on opposition party activists and the land grabbing which is on the rise everywhere more so in the pilgrim city where the land value is very high due to heavy demand as the issues in the byelection to Tirpati Lok Sabaha.