Tirupati city suffers road damages amid heavy rains, officials directed to restore roads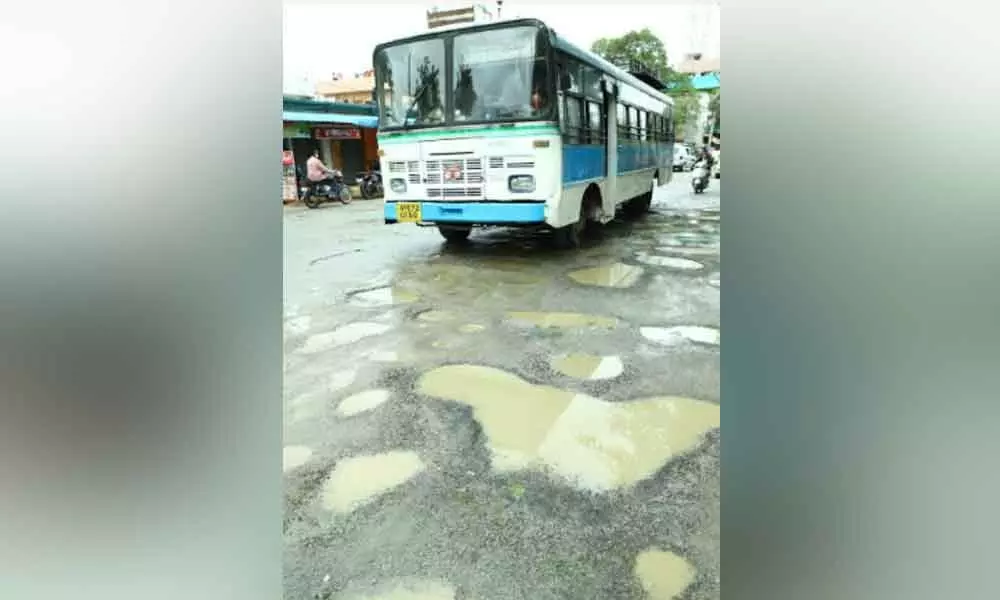 Highlights
Due to heavy cyclone rains recorded in Tirupati city, all the roads were seen like water ponds and deep ditches with rain water and mud.
Due to heavy cyclone rains recorded in Tirupati city, all the roads were seen like water ponds and deep ditches with rainwater and mud. Many main roads have turned worse. Both internal roads in the city as well as outskirt roads were damaged and not able to commute on vehicles smoothly. MCT officials did not restore all the roads which were in bad shape, the municipal engineering wing laid temporary gravel upper layers to fill up the ditches on the roads. Due to financial constraints and other technical problems, MCT is not in a position to lay blacktop roads in all the wards where old roads were hit by severe cyclone rains.

In the City outskirts, Jyothi Nagar, Yerramitta, Madhava Nagar, Upadaya Nagar, Karakambadi road, Subba Reddy Nagar, Koramenu gunta, Chennagunta, Bliss backside area, Tiruchanur Road, Bairagipatteda road and Korlagunta, Chintalachenu and other dwelling areas roads were in bad shape. City residents are facing tough times to commute one place to another place in the city for the last one week. The impact of Nivar cyclone Tirupati Corporation was also suffered from crores of rupees due to cyclone rain damages. As well as UpparaPalle-Mahila University outskirt road, Ramapuram-Rayalacheruvu road were severely damaged and these roads were in terrible condition for commuting people over their daily works.
Major roads were damaged in eastern part of the city where the low lying areas were located in between Renigunta and Tirupati city. And also SV University flyover construction works were going at a snail pace due to heavy rains. This flyover construction area has turned into mini water pools with rain water and mud. Flyover Construction Company has dumped the quarry dust and gravel on ditches and abandoned them without repair.
With the uneven surface on the service roads commuters from Chandragiri and Tirupati rural are suffering a lot to enter into the city via this under construction flyover service roads.
In addition, MR Palli Police Station road was severely damaged by the cyclone rains and was seen with potholes on the road, which The gravel spread on these holes were also washed out by rain water flows.
In this regard MCT Commissioner PS Girisha inspected various roads in the city and instructed the officials to restore all the roads on a temporary basis at least in view of commuters difficulties.