TTD EO inspects SV Ayurvedic College, seeks plan for development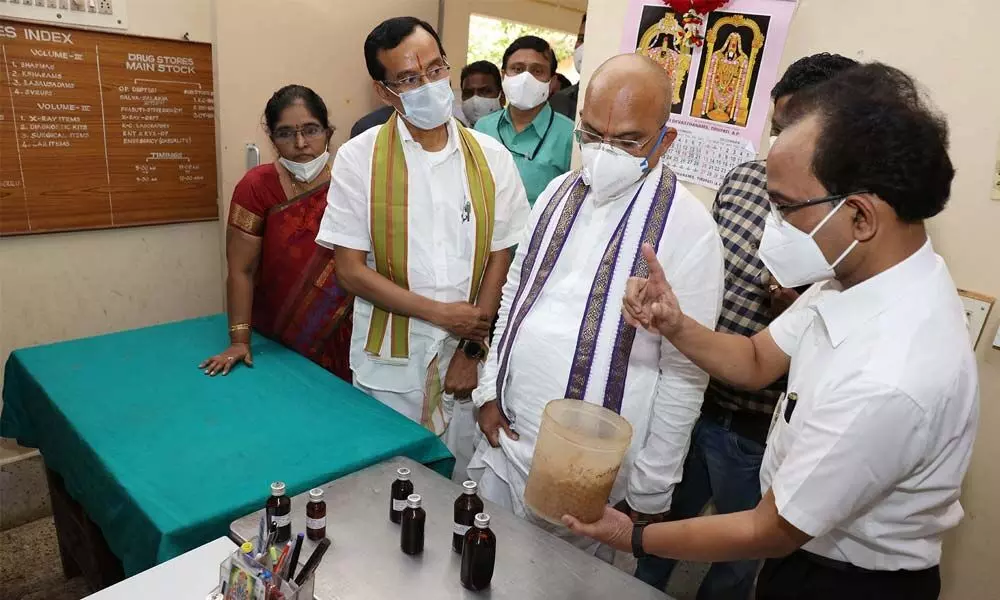 Highlights
Instructs officials to visit Ayurvedic institutions located in Hassan and Belgaum in Karnataka to study the facilities there
Tirupati: TTD Executive Officer Dr K S Jawahar Reddy who inspected the TTD-run Sri Venkateswara Ayurvedic College here on Tuesday sought the hospital authorities to come up with an action plan to develop the ayurvedic institution to offer more services.
EO along with JEO P Basanth Kumar during his extensive visit covering various departments in the hospital and college discussed with authorities on the facilities being available in the ayurvedic institution.
He directed the officials concerned with the management of the Ayurvedic college and hospital to visit and observe the facilities available in Hassan and Belgaum ayurvedic institutions in Karnataka which are top-grade institutions in this ancient Indian traditional medicine system gaining national-level reputation to follow suit.
The EO instructed the Tirupati JEO to take up measures to fill up the vacancies on the teaching side to strengthen the Institution.
Later, he also inspected the lab, Panchakarmasala, medicines store room, existing courses for the students and other amenities available to patients etc and made necessary instructions to the college and hospital authorities to improve the facilities.
The 37-year-old TTD-run S V Ayurvedic College and Hospital has bed strength of 220 and it has been treating 700 outpatients daily. It also offers a graduate course and six post graduate courses with total student strength of 700 and has emerged as one of the leading Indian tradition medicinal system institutions in the State. S V Ayurvedic College Principal and in-charge Superintendent of then hospital Dr Padmavathi and other senior doctors were present.
Earlier, the EO inspected all TTD projects located in SVETA Bhavan here including the Central Library where he verified the books printed and published with TTD financial assistance, children's books, spiritual magazines, books on Vedas, philosophy and linguistics etc.
Laterm he paid a visit to the online classes being conducted to employees and also visited HDPP, Dasa Sahitya, SV Higher Vedic Studies, Pura Ithihasa, SV Vaibhavotsava, Alwar Divya Prabandha and Dravida Veda Nalayira Divya Prabandha projects. JEO (Health and Education) Sada Bhargavi, HDPP chief Rajagopalan, Dasa Sahitya Project Special Officer Ananda Theerthacharya, Annamacharya Project Director Dakshinamurty, SVETA Director Ramanujulu Reddy, Kalyanam Project chief Satya Gopal, Higher Vedic Studies in-charge Dr Vibhishana Sharma and AEO Jagadeeswari were also present.