TTD to record 10K Annamaiah Sankeertans soon: Additional EO AV Dharma Reddy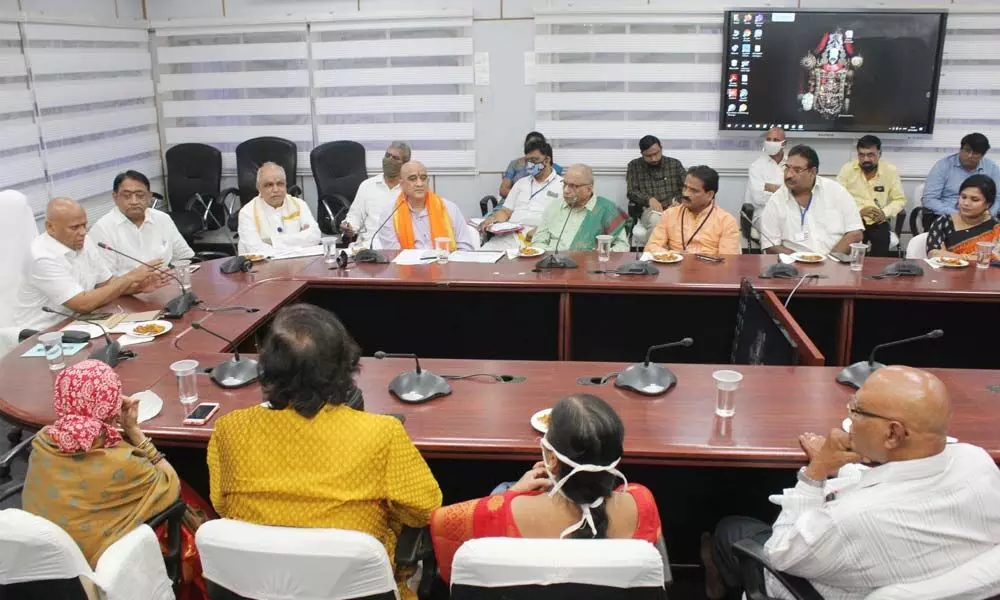 Highlights
A V Dharma Reddy says the objective of the spiritual crusade is to put all the sankeertans in format with commentary, music and voice by reputed singers boosting up the devotional music
Tirumala: TTD is all set to compose all Sankeertans of Saint poet Tallapaka Annamacharya in four to five years' time, says additional EO A V Dharma Reddy on Sunday. Addressing a meeting of music composers and exponents of classical music at Annamaiah Bhavan, the Additional EO said as directed by the TTD EO, the objective of the spiritual crusade was to put all the sankeertans in format with commentary, music and voice by reputed singers boosting up the devotional music.
Of the 32,000 sankeetans composed by the saint poet, 14,000 were retrieved by the TTD Annamacharya project and of these so far 4,000 sankeertans have been put on format with music and voice, the Additional EO said adding that on a pilot project basis each composer will be allocated 8-10 sankeetans to compose music and give voice for recording, At the three-hour long session with singers and composers from several states, the Additional EO said the TTD aimed to format all sankeertans with a narrative about the period and circumstances of composing for the remaining 10,000 sankeertans along with commentary on content as part of its propagation of Hindu Sanatana Dharma, he said.
TTD would not only upload them on TTD website and permit free downloads but also upload in the SVBC Youtube to promote devotional music which in turn help propagation of Sanatana Hindu Dharma. He also appealed to music composers to become partners in the TTD holy project of recording and publishing the Annamacharya keertanas and took the occasion to invite the music composers and singers to participate in the Sundarakanda, Bhagavad Gita and Virata Parva Parayanams at Nada Niranjanam.
He said the TTD was contemplating on sending teams of artists to America and Australia to propagate Annamaiah Sankeertanas after the end of Covid-19 pandemic. Speaking at the meeting SVBC Chairman Sai Krishna Yachendra urged composers and singers to make the rendering of the Keertans more spiritual than like filmy music and not to intend to please anyone but reverently move the devotees. It is pertinent to note that the recording of Annamayya Keertans for one reason or another slowed down resulting in the concerned officials deciding to rejuvenate the recording project to cover all the Keertans with TTD.