Vijayawada: Call to shun smoking to avoid lung cancer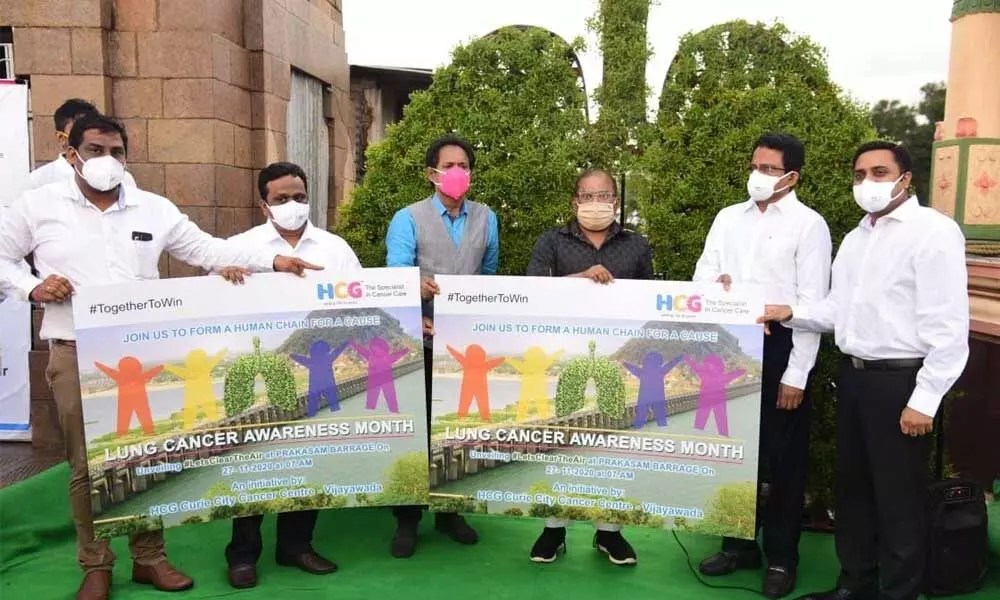 Highlights
Krishna district collector Md Imtiaz on Friday said that consumption of tobacco and smoking was injurious to health and appealed to the people to desist smoking and taking tobacco products
Vijayawada: Krishna district collector Md Imtiaz on Friday said that consumption of tobacco and smoking was injurious to health and appealed to the people to desist smoking and taking tobacco products. He said that tobacco products damage the lungs and underlined the need to protect the lungs for good health.
Collector participated in an awareness programme conducted by HCG Cancer on Prakasam barrage on Friday. He said that tobacco has deadly effects and leads to cancer.
HCG Cancer Centre (A unit of Health Care Global Enterprises Limited) undertook a campaign on "Lung Cancer Awareness" by forming a human chain. As part of it a 9 feet lung shaped structure made of plants was unveiled with a message of "Lets Clear The Air". Dr Gopichand M, medical director, HCG Cancer Centre, Vijayawada, Dr Sridhar Muni, AVP- Business Development, HCG Cancer Centre, Vijayawada and others, representatives of the NGOs participated in the event.
Addressing the media, Dr Gopichand said that lung cancer was the deadly disease and is the most common type of cancer with approximately 20 lakhs patient being diagnosed and around 18 lakhs deaths take place per annum around the world. In India around one lakh patients were being diagnosed every year with lung cancer out of which around 70,000 people die every year. He said that 90 percent of the lung cancer was due to smoking and added that around three percent of lung cancer was due to passive smoking.