Centre treating protesting farmers like terrorists: Raut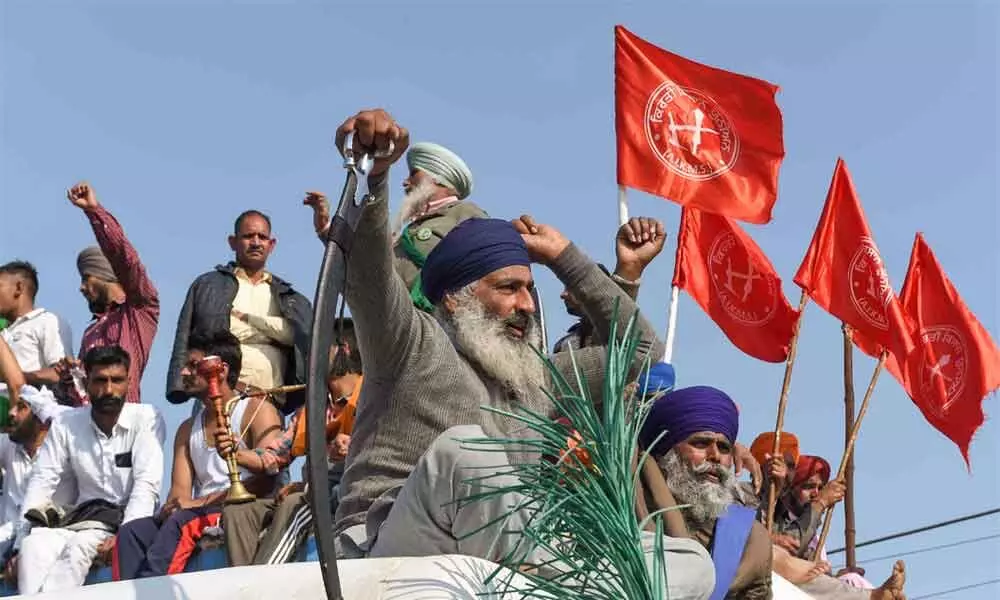 Highlights
PM hailing farm laws shows govt drunk with power, rigid in face of protests: Congress
Mumbai: Shiv Sena MP Sanjay Raut on Sunday said farmers protesting against the Centre's new agri laws are being treated as if they are "terrorists", and it is sad that they are not being allowed to enter Delhi. The government should consider the farmers' demands sympathetically, Raut said.
Thousands of farmers, protesting against three agriculture laws enacted by the Centre, have gathered at border points of the national capital as part of their 'Delhi Chalo' march. "It is sad they are not being allowed to come to Delhi and are being treated as if they are terrorists and have come from outside the country. The government should consider the demands of farmers sympathetically," Raut said.
"Farm laws is one issue. Consider all other demands sympathetically. Different states are not doing well. It is up to the Centre to step in and help them," the Rajya Sabha member said. Replying to a query, Raut claimed farmers were being dubbed as "divisive" because they come from Punjab. "Do you want to create instability by reminding the Punjab farmers of the Khalistan movement period?" he asked the Centre.
Hitting out at Prime Minister Narendra Modi for reiterating that the new agri-laws are beneficial for farmers, the Congress said the insistence in support of the legislations shows that the government is "drunk with power" and is rigid even in reconsidering the laws.
The Opposition party also demanded that PM should immediately announce the suspension of the three "anti-agriculture" laws. Congress leader Rahul Gandhi attacked the government over the protest by farmers, alleging "promise was to double farmers' income, the Modi government did double income, but that of Adani-Ambani". "Those who are still defending the black farm laws, what solution will they find in favour of farmers?" he said in a tweet in Hindi, adding that, "Ab hogi (now there will be) #KisaanKiBaat". Congress' chief spokesperson Randeep Surjewala said the prime minister's "obduracy, arrogance and rigidity in dealing with 62 crore farmers and farm labourers of India is writ large" over his insistence in the 'Mann ki Baat' that the three "anti-farmer, anti-agriculture" laws are correct.
"For the prime minister to say that these three laws are absolutely right when lakhs and lakhs of farmers are sitting around Delhi agitating, demanding their withdrawal, shows that the Modi government is drunk with power.