AP government failed to tackle drought: CPM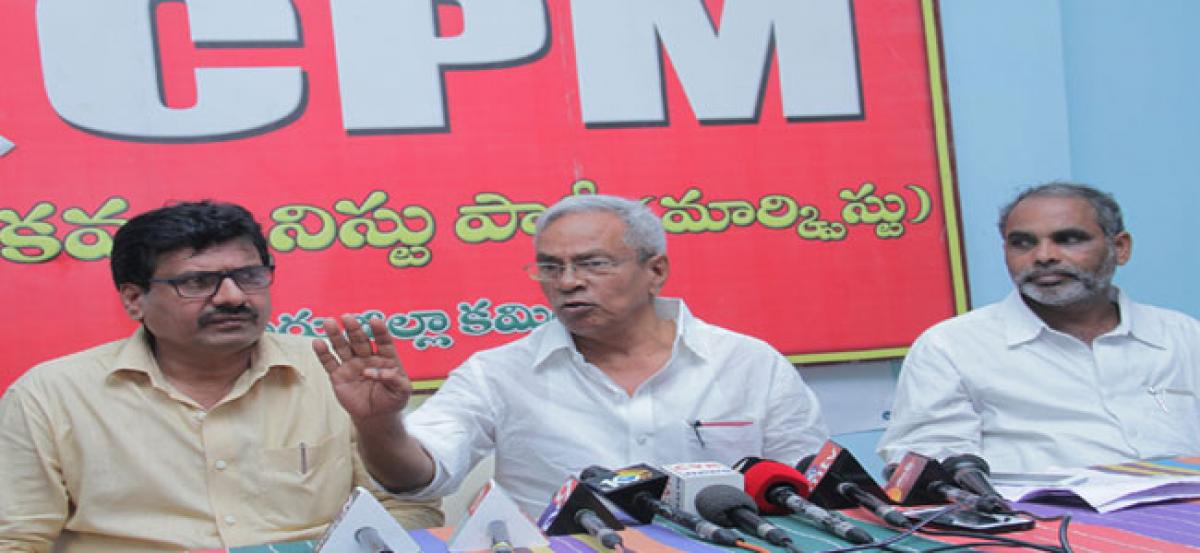 Highlights
Communist party of India ( Marxist) state secretary P Madhu slammed the state government for failing to tackle drought in Rayalaseema region. Addressing a press meet here on Monday, Madhu found fault with the government for not taking up a single relief measure till now. It reflects the negligence of the policy makers towards backward region, he added. The CPM leader flayed the government for not
Tirupati: Communist party of India ( Marxist) state secretary P Madhu slammed the state government for failing to tackle drought in Rayalaseema region. Addressing a press meet here on Monday, Madhu found fault with the government for not taking up a single relief measure till now. It reflects the negligence of the policy makers towards backward region, he added. The CPM leader flayed the government for not releasing the funds for mitigating drought even after declaring several mandals drought-hit.
Highlights:
Madhu gives call to make success of Rayalaseema bandh on Wednesday
Alleges government failed to pay Rs 500 crore input subsidy to farmers
He called upon the people to make success of Rayalaseema bandh call given by the Left parties on Wednesday. Due to severe drought conditions, people from Chittoor, Kadapa, Kurnool and Anantapur districts are migrating to other states like Tamil Nadu, Karnataka and Kerala as daily wage workers," said Madhu.
The CPM leader demanded that the government should release Rs 4,500 crore input subsidy to farmers immediately and grant special package for Rayalaseema disitrict which was already assured by the central government. He mentioned that the Left parties have been asking the YSRCP and Jana Sena leader Pawan Kalyan to come forward for fighting against the TDP government as it failed to tackle drought.
He lamented that milk production drastically fell in the Chief Minister's home district due to severe drought conditions. Private companies are not paying the insurance amount to the farmers, he alleged.Madhu recalled that drought arrears Rs 500 crore are yet to be released by the government.
He clarified that the Left parties will discuss about alliance with other political parties prior to the elections. The CPM leader warned the Police department not to obstruct bandh, otherwise, they have to face the consequences. CPI district secretary Kumar Reddy, CPM town secretary Rama Naidu, SFI district secretary Madhav Krishna and others were present.