Students to turn  Zero-Budget Natural Farming in AP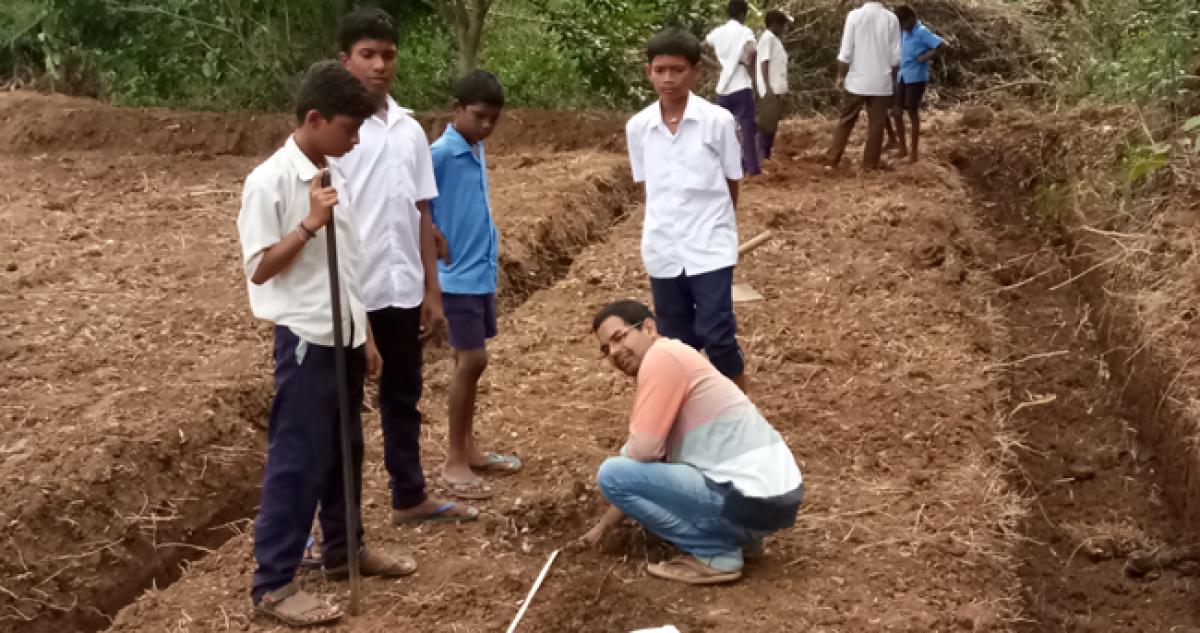 Highlights
The state government, which is giving top priority to implementation of ZeroBudget Natural Farming ZBNF in the state, has been conducting a number of training and awareness programmes through Subash Palekar, a renowned votary of the method
Vizianagaram: The state government, which is giving top priority to implementation of Zero-Budget Natural Farming (ZBNF) in the state, has been conducting a number of training and awareness programmes through Subash Palekar, a renowned votary of the method.
Having set a target of bringing five lakh farmers into natural farming, the government has even recruited a number of cluster resource persons and cluster activists among others. All the farmers would be imparted training to use Jeevamrutham, Neemastram and other herbal tonics as natural fertilisers and insecticides.
The farmers can reduce their crop investment by minimum of Rs.10,000 per acre through natural farming methods. Now Karnataka also looking towards Andhra Pradesh to implement the scheme to support its farmers.
In addition to farmers, the state government has embarked on a new programme under which schoolchildren are being deployed to propagate natural farming. Departments of agriculture and school education jointly would implement this programme under which students of 131 schools in 131 clusters all over the state would be involved in it as a pilot project.
For this, the government has designed a programme named 'School to field school' (Badi nunchi Polam badiki) and students of these schools would be provided with awareness on natural farming.
The government with the support of non-governmental organisations (NGOs) would develop a minimum of half-an-acre land under Zero Budget Natural Farming in all these 131 schools. The students of these schools would be involved in farming works like planting saplings of vegetable seeds and saplings of fruit plants, cultivate millets and leafy vegetables.
Each of the students would be given responsibility to protect one plant and he or she needs to water and save it till it grows. The students of that schools would take part in farm work under the Social useful productive work(SUPW) in school time table. Students and teachers concerned would also be given training on this programme and they would be taken for knowledge , awareness tours on this project.
T Vijay Kumar, advisor to the AP government on agriculture and cooperative sectors, told The Hans India that they were of the view that the message of natural farming would be spread easily by roping in students. "The students can understand the importance of protection of environment and will tell this to their parents.
They will come to know that consuming of naturally-grown vegetables is good for health whereas vegetables, fruits covered in chemicals can cause many health ailments. So we are working with department of school education and involving students in this unique programme.
Here they can learn working on their school premises and enjoy the job. After getting good results, we will cover every school under 'School to field school' programme," he said.
Dr D Parinaidu, founder of Jattu Trust, Parvathipuram, who has been practising natural farming for the past few years, said, "This is a good initiative. We are implementing it in ZP high school Thotapalli with the support of Rythu Sadhikara Samstha.
The students of that school will participate in that programme and know the importance of natural farming. They will enjoy working in their school and feel proud for producing fruits, vegetables on their school premises. It would help to expand the ZBNF to new areas as the students will explain about this type of farming at their parents."
Interested in blogging for thehansindia.com? We will be happy to have you on board as a blogger.