FinTech coordinator foresees boom for blockchain market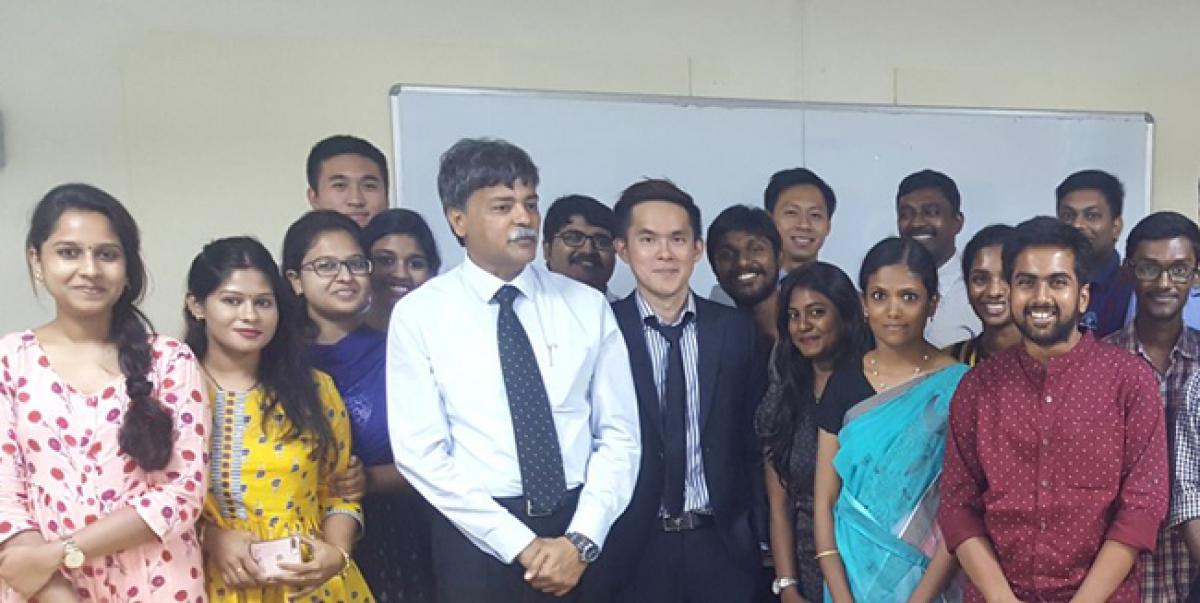 Highlights
While interacting with team members at GITAM FinTech Academy representing various Australian Universities here on Thursday, Leben Johnson said that India is not far behind on the growth within the FinTech sphere and the latest collaboration is the partnership between Unified Payments Interface UPI and WhatsApp
Visakhapatnam: GITAM FinTech Academy Coordinator Leben Johnson said that Global FinTech Blockchain market is expected to grow at a CAGR of 75 per cent, as per the latest NBC report and the future growth opportunities for market include the rising adoption of blockchain applications, including payments, clearing and settlements, smart contracts, identity management, and a new breed of programmable blockchain platforms.
While interacting with team members at GITAM FinTech Academy representing various Australian Universities here on Thursday, Leben Johnson said that India is not far behind on the growth within the FinTech sphere and the latest collaboration is the partnership between Unified Payments Interface (UPI) and WhatsApp.
The UPI is a real-time mobile-to-mobile payment system for money transfer, developed by the National Payments Corporation of India. WhatsApp is the nervous system that keeps almost every Indian connected, with more than 200 million active users in India, the largest anywhere in the world, he added.
The Andhra Pradesh government has a head start and has already taken a big lead in the FinTech ecosystem, by setting up of FinTech Valley in Vizag partnered with Monetary Authority of Singapore (MAS) and has attracted global institutions such as Fidelity Financial Services, Conduent, Paytm to name a few, to the shores of Vizag, Leben informed.
GITAM is an early contributor to the FinTech ecosystem and initiated with MBA (FinTech) programme, which is unique and specifically designed with corporate partners that amalgamate finance and latest technology like Big Data, Artificial Intelligence, Business Analytics, Cryptography and Blockchain, he briefed.
The team from Australian Universities headed by Associate Professor Barney Tan, Business Information Systems, University of Sydney and Dr Felix Tan, School of Information Systems, University of New South Wales, has shown interest to take up joint research with FinTech. Later, the team members visited FinTech Valley to study the ecosystem.