TDP leader dons Hitler's look to protest over special status for AP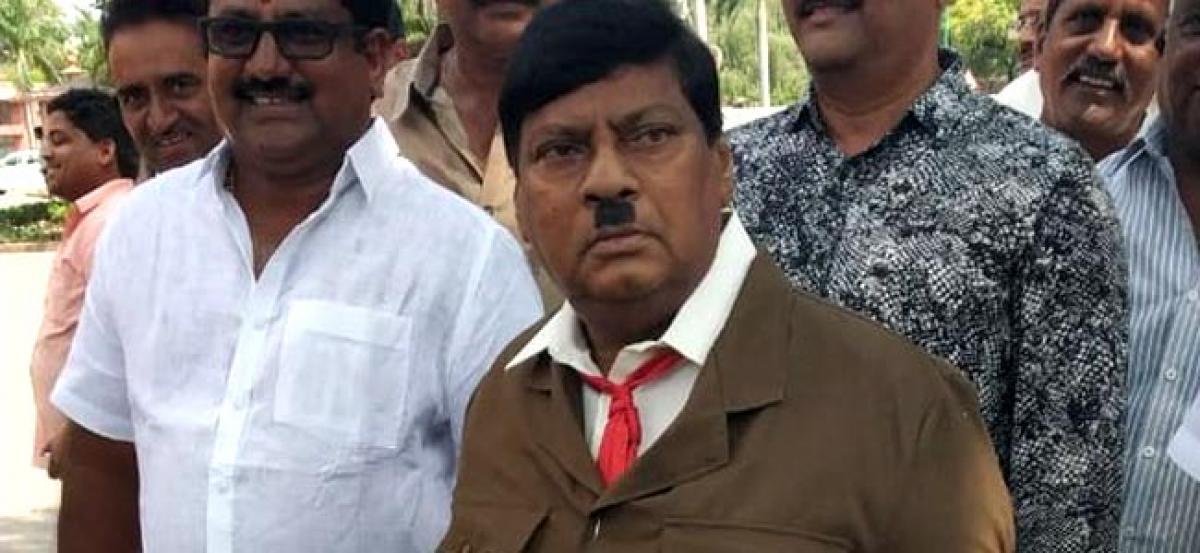 Highlights
Telugu Desam Party TDP MP Naramalli Sivaprasad on Thursday disguised himself as German dictator Adolf Hitler to protest in Parliament along with other members of the party over the demand for special status for Andhra Pradesh
New Delhi: Telugu Desam Party (TDP) MP Naramalli Sivaprasad on Thursday disguised himself as German dictator Adolf Hitler to protest in Parliament along with other members of the party over the demand for special status for Andhra Pradesh.
As the TDP leaders protested in front of the Mahatma Gandhi statue, Sivaprasad - donning a Nazi uniform, toothbrush moustache and a stick in hand - enacted Hitler while urging his fellow party members to take a stand against the Centre.
Few days back, Sivaprasad donned the Sathya Sai and Narad Muni avatar to protest over the same issue.
A doctor by profession, Sivaprasad has acted in movies too. He became a lawmaker in 1999 and has served in Andhra Pradesh Chief Minsiter N. Chandrababu Naidu's cabinet as a minister.
As part of the protest, TDP leaders brought various placards featuring Prime Minister Narendra Modi and Chandrababu Naidu's photograph on it. Meanwhile, some placards had "We want Special Status for Andhra Pradesh" written over it.
Asked why they have used the Prime Minister's photograph on the placards, TDP MP Jayadev Galla told ANI: "In Telugu it's written that, 'Everything he says is false and everything he does in false.' We are saying that he is not a man to be trusted. He doesn't keep his words. He makes promises and doesn't honour them. As he is called, 'Jhumla' seems to be the right word in Hindi. In Telugu, we call him 'Mosagadu,' which means to cheat someone."
The Centre and the ruling TDP have been at loggerheads for the past few months over the issue.